We'll show you how to get better and more creative at photography!
Photography is one of the most accessible forms of creative expression, and many of us have used cameras since we've been old enough to hold one in our hands. Venture Photography Workshops is here to show you how you can get the most out of your camera, by taking creative control of it and getting you started on your own image-making adventure!
All our workshops are hands-on and full of activities and shoots. We explain everything in everyday language (we're not a fan of "technical photography jargon") to make sure you understand all the key ideas and concepts you need to learn. You learn by doing and you'll get plenty of opportunities to put what you have learned into practice and to refine your skills!
Meet the Team
Seng Mah (Owner and Lead Instructor)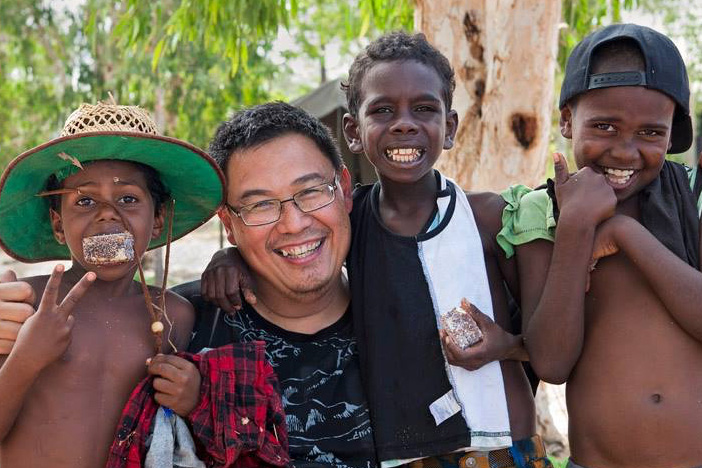 Seng is a professional photography instructor based in Fremantle, Western Australia.
He is an award-winning accredited professional photographer and photography educator – having taught at high school and university, designed courses for TAFE, universities and corporations, and project managed IT and eLearning development before he decided to combine his love of photography and teaching into Venture Photography Workshops.
He loves to travel, which is perfect for someone who likes discovering new places with his camera. He's taken his camera across Australia and to Europe, India, New Zealand, Kenya, Nepal and South East Asia and has photographed everything from landscapes, street portraiture, architecture, street scenes and more on his travels.
Seng's images have been exhibited in Australia, the UK and Lithuania and he has published two photography books on surf life saving. Seng is also involved in a range of community-based photography projects, from organising the FotoFreo Fringe Festival to running photography workshops for the likes of CanTeen, Propel Youth Arts and the Edmund Rice Institute of Social Justice. He is part of the organising committee for the Fremantle International Portrait Prize 2017 and is also a member of the Western Australia Photographic Judges Association (WAPJA). Seng is a regular judge at camera club exhibition and competition nights.
Seng is familiar with a range of different cameras, including Nikon, Canon, Olympus, Pentax, Fujifulm and Sony digital cameras.
Craig Franke (Macro Photography Instructor)
Craig Franke, like Bear Grylls, can often be found rummaging in the undergrowth in his search for interesting subjects for macro photography. Craig is an avid photographer who specialises in macro photography — the art and science of taking magnified photographs of small things such as flower parts, plant parts, insects and other tiny creatures. Craig is also the president of The Aperture Group, a camera club in the northern suburbs of Perth, and has run macro photography events and workshops for a number of camera clubs and photography groups. Craig runs our macro photography workshops and you'll have a great time learning from him in these hands-on shoot-and-learn events.
You can follow his work on Instagram.
Steve Humpleby (Photography Tour Co-instructor)
Steve Humpleby is an award-winning astrophotographer whose works have been exhibited in Astrofest, the annual festival dedicated to all things astronomy. He has been the recent winner of the Nightscapes category at the David Malin Awards and has had his work published by Canon Australia and Olympus Australia. Steve is also a leading member of the Australian Cosmic Landscape Group, a photographic collective dedicated to fostering the love and art of astrophotography.
Ty Stedman (Photography Workshops Assistant – Landscape Photography Weekends)

Ty Stedman is a landscape photographer based in Busselton, Western Australia, who shoots landscapes from both on the ground and in the air (aerial photography). For Ty, landscape photography is a great excuse to explore new horizons and escape the trap of a modern sedentary life, a way to see the world that is unique the way most of us see it, whether it is from the elevation of a plane or the addition of time through a long exposure. You can follow more of Ty's work on his website.
Russell Nastasi (Photography Workshops Assistant)
Russell Nastasi assists in our beginner's photography workshops and makes sure that everyone is able to find the right buttons, functions and menu items on their cameras. Russ is a returned ex-serviceman who has taken up photography in a big way since entering civilian life. He runs Nastasi Photography in Perth and photographs weddings, couples, portraits and events, and loves traveling out of town in search of awesome landscapes to photograph. When he's not shooting away with his Nikon cameras, Russ enjoys spending time with his family (he has two young kids) and four-wheel driving.
Julie Brooker (Photography Workshops Assistant)
Julie Brooker is someone who lives a life immersed in photography. Not only does she own and run River Road Studios in Perth (where you can hire studio space at very affordable rates), she is also a studio fine art photographer, a web designer and assists in our beginner's workshops. In her spare time (what little is left of it), Julie helps run the Perth Photoshoot Group (PPG) where photographers, models, stylists and make up artists get together once a month to explore themed shoots. Julie shoots with Canon gear.