Bunbury Photo Walk Competition – Da Winnah!
53 South West snappers went for a photo walk one day in Bunbury, organised by Bunbury photographers Christian Byrt and Graeme Marsh, and we received 22 entries for the Bunbury Photo Walk competition. The images ranged from streetscapes to urban abstracts to portraits — there was certainly a very wide selection of images entered, which definitely helped make judging not an easy task.
At the end, there was a shortlist of images that stood out: because of the way the photographers had used light, or composed the frame, or had picked an eye-catching subject. There could, however, only be a winner and this was awarded to the image that was all three of the above: clever use of light, a strong composition and an eye-catching subject!
Before announcing the winner, I'd like to showcase the images which are to be highly commended for their visual strength and appeal. My comments follow each image.
Photographer: Belinda Poole
Belinda writes: "I used my iPhone 4 to capture a photo of the underwater mural painted on the side of the building across from the Bunbury Library. The mural drew me in with its vibrant colours standing tall against the gorgeous blue sky. I wanted to capture a different perspective of the wall to everyone else passing by it going about their everyday business. I thought the photo would fit the category Urban Art."
My comments: "This is a visually strong image that makes great use of colour and contrast. It goes to show that all it takes is a sharp eye and attention detail to create something eye-catching. The low angle of view and the combination of blues in the wall and in the sky work a treat!"
Photographer: Gabrielle Byrt-Barber
Gabrielle writes: "A delicious chocolate brownie drew me to the creation of this uncommon, individual image (at Bianco)! My mum and I stopped for some food and when I was snaffling some mints I saw a very unusual postcard, so I picked it up and took it with me. When Andrea (one of the photographers) asked me if she could take photos of me, I saw a big, red, loud stop sign. After Andrea finished, I went over and tried lots of different things with the sign, but nothing grabbed me. I then had a sudden inspiration; THE WEIRD POSTCARD!!! When I showed Christian (my dad) he said it was very creative. Here is the result of the picture."
My comments: "My first impression of this image was… WOW. What an eye-catching image but also one full of meaning! Gabrielle has put a lot of thought into this image, bringing together diverse elements into the one picture to create an image that is creative, original and full of impact!"
Photographer: Jude Eggleston
Jude writes: "I just loved the natural, peaceful look of this lovely young lady, which is reflected in this photo. I like the simplicity of Black and White as there isn't anything to distract from her face. Nikon Coolpix P510 1/800, f4.8-ISO 280, Auto setting :)"
My comments: "And here's another example that nothing can beat a good eye when framing and composing a photograph. Jude has made great use of reflections here to create a portrait that makes great use of symmetry to create balance and interest. The B&W works very well too. Well done, Jude!"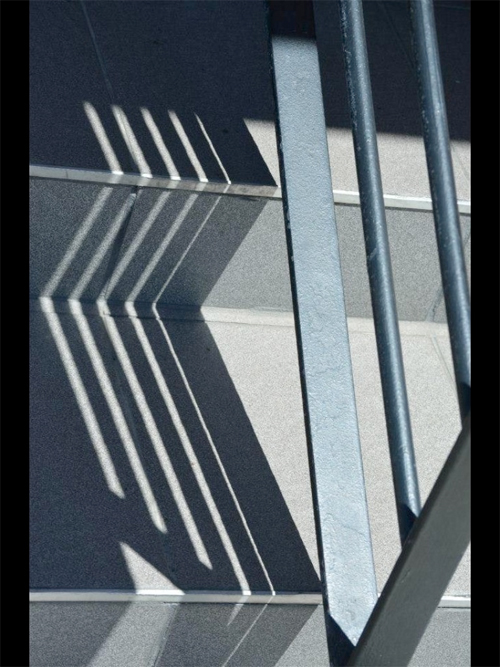 Photographer: Andrea Healy
Andrea writes: "I noticed the shadow reflecting from the railing onto the stairway – I had the setting on A and zoomed in too get the effect I was looking for."
My comments: "What drew me to this image was the curious nature of the straight bars creating zig zag shadows. I just had to have another look – and a photograph that gets the viewer to take a second look is always a great photograph! The stark lines and bold shadows give it visual strength."
And, now, for the winner of the Bunbury Photo Walk Photography Competition. What caught my eye about this image was the very strong, localised light that it has captured. Coupled with the very simple yet bold composition, it presents a very effective, visually strong image to the viewer. More than just a quick snap, there is evidence of thought put into this in regards to light and composition. The result: a very striking rendition of an urban abstract.
So, without much ado, BIG CONGRATULATIONS to competition winner, Whitney O'Callaghan!!
Photographer: Whitney O'Callaghan
Whitney writes: "When we first got to the Bunbury Tower/'milk carton', I took a liking to the corners of the building. I managed to get some awesome shots of perfectly contrasting blue and white arrows up the walls, getting smaller towards the top of the photo. At Graeme's suggestion, I decided to take some of the building with the sun's reflection creeping in. I love the lines in this picture, from the building alternating with the reflection up the building and the railing along the top, and the intensely dark left border. Usually I turn up the contrast in my photos quite a bit in editing – this one came with its own, which is why, although it's not up there in my favourite photos of all time, this one was my favourite from the walk. It's just a shame the windows were so dirty :)"
My comments: "Apart from what I've said above, I love the fact that the windows are dirty – it adds texture to the image that you could never get in post-production. Well done, Whitney!"
Whitney wins a voucher to our Getting Started in DSLR Photography workshop on Saturday 16 February in Bunbury. Get in contact with us, Whitney, to confirm your registration for this workshop, and we look forward to seeing you there!
My big thanks to the Boyz from Bunno, Graeme Marsh and Christian Byrt, who had organised this amazing event for the photographers and snappers of Bunbury! We're really pleased to be able to support the photo walk with this competition and prize.
Thanks to everyone for entering and congrats to the highly commended photographers and to Whitney!
Banner image by Christian Byrt