Safari Photography – Part 1: Cameras, lenses and gear
I'm sitting at The Ark in Aberdare National Park in Kenya, watching Cape Buffaloes, warthogs, elephants and a range of birds at the watering hole adjacent to the lodge. I'm about 7 days into a 12 day photographic safari and I have shot (with camera) a range of African wildlife. It's been amazing seeing these animals in their natural habitat, behaving as they do in the wild.
Photographing wildlife has its challenges and part of the learning curve is adapting your shooting style to the type of animals you're photographing because each type of animal has its own movement, rhythm and behaviour. Gazelles and impalas buck and jump, so you'll need to be quick with your shutter finger; elephants, despite their size, shift and turn quickly and rapidly, which makes composing for them quite tricky. Lions are easier as they're often spotted padding slowly through the grass, or just lying there enjoying a snooze. Hyenas are very fast and their suspicious, jittery nature means that you need to pre-empt what they're going to do next and shoot before you see it happen.
Then, there are environmental challenges — the tall grass of the savannah makes focusing on an animal difficult; your focus will as often lock on blades of grass as they will on the animal, and you'll need to manage your focusing to take this into account. Birds on branches and birds in flight against a bright sky require a solid understanding of exposure control, or you run the risk of turning that bird into a very dark silhouette.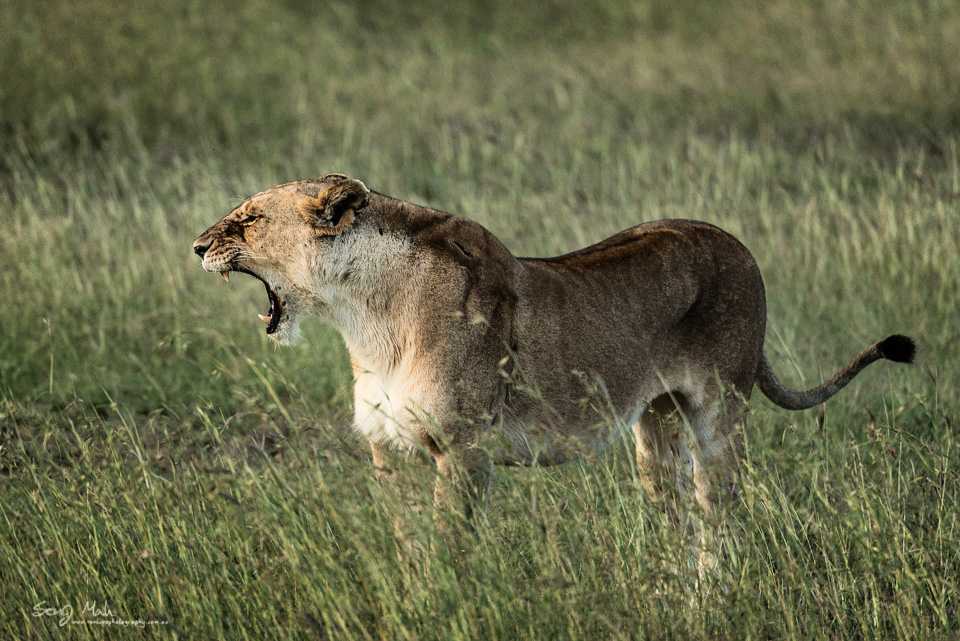 In this series of posts, I'll be looking at some optimum approaches for photographing wildlife while on Safari.
We'll start with gear because you need the right set of gear if you're going to get great photographs of wildlife in action. Then, in Part 2, we'll look at techniques for shooting wildlife – timing, composition and ideas for creating stories with your images.
Gearing up for a safari
Lenses
It goes without saying that you'll need a long telephoto lens while on Safari. I used a Nikkor 80-400mm f4.5-f5.6 ED VR with my Nikon D800 and other photographers sported the Canon 70-300mm f4.5-5.6L IS, the Sigma 120-300mm f2.8 AF APO EX DG OS, the Canon 300mm f2.8L IS and the Canon 500mm f4.0L IS. What these lenses have in common is reach — you'll be able to telephoto in on wildlife, which could be anywhere from 8 to 20 metres away from you when you're shooting from the 4WD. These are also stabilised lenses — which means that they can assist in reducing camera shake and assist with composing and avoiding the dreaded camera shake blur in your images.
The more visual reach you can achieve with your lenses, the better detail you can obtain in your images — especially if you're looking for detail shots such as animal portraits, textures of fur and markings, or just parts of the animal. If you intend to photograph birds while on safari, you'll need a great deal of reach — look at lens options that can take you to 500mm or 600mm in focal length.
The thing is – good telephoto lenses can cost an arm and a leg (the Canon 500mm f4.0IS is circa AUD$12,000, the Nikon 200-400mm f4.0 VR will set you back around AUD$8500). If your holiday budget doesn't stretch that far, look for more reasonable options include the Tamron 150-600mm f/5-6.3 Di VC USD (VC is Tamron's lens stabilisation) and the Sigma 150-500mm f5-6.3 AF APO DG OS HSM. Canon and Nikon have their own 70-300mm stabilised telephoto zoom lenses that can take you to around 300mm for a pretty reasonable price.
Check the autofocus speed on your lenses — lenses that are fast to autofocus will make sure you get more sharp, in-focus images than lenses that are prone to "hunt" for focus, or which are slow to gain autofocus on a subject. Animals can be unpredictable and their movement may appear erratic and random; if your lens' autofocus cannot keep up, you'll miss the shot. If you're looking to purchase a lens to take on safari with you, the autofocus speed on your lens should be a primary consideration when researching lenses.
Crop sensor cameras will give you greater magnification in your images than full frame cameras — a 300mm on a Canon crop sensor DSLR such as a Canon 700D or Canon 70D will the equivalent field of view of 480mm (Canon crop sensor cameras have a 1.6 crop, while Nikon and most other DSLR cameras have a 1.5 crop factor). If you're shooting full frame, then it might be a good idea to use a lens with greater reach (such as the Tamron 150-600mm) or a sensor with enough megapixels to allow you to crop into your images.
Camera
You'll find that a camera that uses zone autofocus (Canon) or dynamic area autofocus (Nikon) will help you track focus on moving animals. What this does is extend the size of the area covered by the active focus point so that if your selected focus point isn't able to obtain focus, the focus points immediately surrounding it will activate and try and lock focus on the subject. Trying to keep a single point on a moving subject can be challenging, especially if the subject is fast moving (eg antelopes, birds) or quite small (birds, animals in the distance), so zone/dynamic area focusing becomes a godsend. Most enthusiast to professional level camera bodies will have zone focusing/dynamic area focusing — check your camera's manual to see if it comes with this function.
Tip: I generally discourage the use of auto area autofocus — where all your focus points are active — because it means that your camera selects the subject on which to focus and may select something else in the scene on which to lock focus instead of the actual subject you want in focus. Shooting wildlife in a forest or in a savannah poses enough environmental challenges (grass, trees) that can easily trick your camera if you're using auto area autofocus.
Finally, having a camera with fast frame rate capture is critical if you intend to photograph animals in motion. A fast frame rate will mean that you'll be able to capture moments as they happen (and before you see them). Top level cameras will boast frame rate capture of 10 to 12 frames per second, though a camera that can work 6 to 8 frames per second will stand you in good stead (my D800 is 4 frames per second on full frame mode, and 6 frames per second on crop frame mode). A fast frame rate is critical if you intend to photograph birds in flight, animals on the run and so on.
Memory cards
Chances are you'll have your drive mode (aka continuous shooting) on when you're photographing on safari. Things happen quickly, animal behaviour changes rapidly and you'll find that firing away a burst of frames will help you capture the moment that you may miss if you shot single frame. Drive mode shooting requires fast memory cards — those what will write images from camera to card rapidly, clearing your camera buffer to allow it to take more shots. Look for and invest in memory cards that boast "extreme" speeds of 60MBs or faster. Using slower cards (those often described as "for everyday photography") can often lead to tears of frustration being shed as your camera stops taking photos while it waits to write the image files onto the memory card, making you miss that decisive moment as a lion hones in for the kill.
Camera/lens maintenance
You'll be dealing with environmental factors from moisture (humidity) to dust while on safari, so it's important that you also pack material that can be used to clean your camera and lenses. These include:
A blower such as the Gitzo Rocket Blower, that you can use to blow dust off your lenses and for sensor cleaning.
Microfibre cleaning cloth – lots of it.
Lens cleanser. Note that you always spray the cleaner onto the cloth (never directly onto your lens) and then use the cloth to clean your lens — working in a circular motion from the centre to the edges of the lens.
Waterproof or dustproof material which you can use to wrap around your camera and lens when shooting out in the open.
Hard drives for file storage and back up
You should always back up photos taken on to an external hard drive. If you intend to re-use your memory cards, then you'll need to transfer your images to a hard drive and then back up to a separate hard drive. The loss of your safari photos through drive or card failure can be heart breaking. I take as many 32GB cards as I can on safari and back each day's shoot onto an external 2TB hard drive.
That's it for Part 1. In the next post, I'll look at techniques and ideas for safari photography — the less technical and more creative part of the safari photographic experience. In the meantime, enjoy these photos from Kenya.
[nggallery id=57]