The Lure of Beautiful Bokeh – the Fujifilm Fujinon XF 50mm f/1.0 WR lens reviewed
Full disclosure: Thanks to Digidirect Cannington for the loan of the Fujifilm 50mm f/1.0 for the purposes of review. While I have been shooting with Fujifilm X cameras for a few years now, I am not affiliated with Fujifilm Australia.
The fact that Fujifilm X users now have a lens that can open as wide as f/1.0 is a cause for celebration. The 50mm f/1.0 lens is a beauty to behold – it's weather resistant (WR), beautiful in build and design, and comes at a whopping 845g, a heavy weight amongst Fujifilms XF lenses!
The 50mm f/1.0 is well and truly a lens for portrait photography. At 75mm full frame equivalent, it's my preferred focal length for portraits when I shoot with APS-C sensor cameras (my other favourite DSLR combo is my Nikon D500 with the Sigma 50mm f/1.4 Art lens). I find the 75mm focal length provides me with the perfect field of view for close-up portraits and even semi-environmental portraits.
The bonus of having an f/1.0 aperture is, of course, the speed and the luscious, beautifully soft and smooth bokeh. I could write poems about the beauty of the bokeh but let's be realistic – who actually pays attention to how soft and silky the out of focus background elements are in a photograph. Well, I suppose photographers do, and perhaps this is exactly the market this lens targets – portrait photographers chasing the lovely shallow depth of field and super creamy and lustrous bokeh.
What impresses me about this lens is how fast it is – it grabs and nails focus perfectly, and its colour reproduction is superb. Try it in comparison with the 50mm f/2.0 (smaller, cheaper) and you'll see what I mean.
This lens has been built to be absolutely sublime. When you check the specs, you know that a lot of time and effort has been put into designing it for optimum optics and image quality. Where it grabs focus is unfailingly sharp, even when you shoot fully open at f/1.0. When compared with its closest competitor, the 56mm f/1.2, it still produces super-sharp focused images without exception. Colour fringing and chromatic aberrations are further reduced to obtain greater sharpness and colour accuracy. And its rounded nine-blade aperture diaphragm produces… well, we're back in the world of bokeh-porn. So, let's not go there. ?
This is the kind of lens that makes you fall well and truly in love with portrait photography. It entices you from the very first frame captured, dragging your eye between the absolute sharpness of the focused area and the remarkably beautiful soft focus bokeh in the background (note how easy it is in this review to rave on about the bokeh, even if bokeh shouldn't be the defining part of any image).
For bokeh fanatics who may think that the 56mm f/1.2 may provide the same level of defocused background softness, I have bad news. The following test between the 56mm f/1.2 and the 50mm f/1.0 reveals that the f/1.2 still retains some definition in background shape and texture, even when shooting wide open; while the f/1.0 throws everything magnificently soft and out of focus. But this will only have meaning and value if you are chasing incredible bokeh.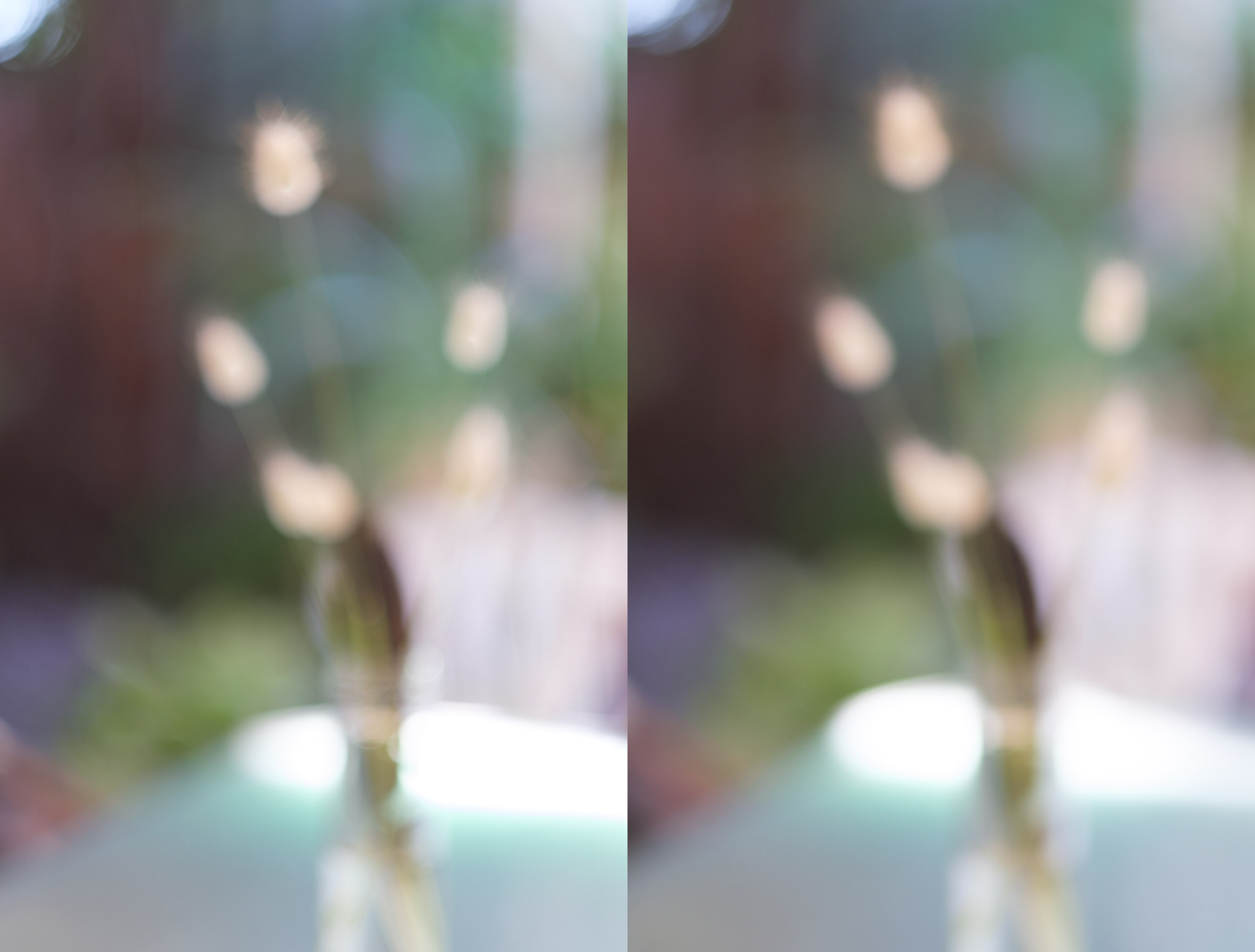 56mm f/1.2 (left) and 50mm f/1.0 (right) — note that you can still discern background detail in the 56mm f/1.2's bokeh.
I seem to be writing a lot about bokeh in this review. I guess it's because I a f/1.0 lens is really all about the bokeh. Or perhaps I'm addicted to bokeh. ?
The images peppering this review were mostly shot with the 50mm f/1.0, at f/1.0. After all, if you can open that wide, why not? It's immediately apparent that you get great quality images with this lens – there's nothing about the images that reveals any defect or fall-off in quality.
The lens has a minimum focus distance of 70cm which feels a bit long (compared to, say, the Sigma 50mm f/1.4 Art lens which has a minimum focus distance of 45cm). Which means you need to be further back from the subject to focus. But in using the 50mm f/1.0, I've come to realise that it's this slightly longer focusing distance that allows for the crackingly fast and superbly accurate autofocus, and which ensures that your shallow depth of field doesn't miss the focus area.
Shooting with the 50mm f/1.0 is a dream. It's a high performance piece and knows it, with a price tag that reflects what this lens can do.
But, it is still a 50mm prime lens, and when considering whether you should add it to your kit, you need to work out how much use you will get out of it. If you're into portraits and love your primes, it's definitely a worthwhile investment (it retails for around AUD$2700 at time of writing). But if you're more a generalist shooter, you may well do to stick with what you're currently using.

This portrait was shot at f/2.8
That said, after trying out the 50mm f/1.0 for the purposes of this review, I cannot bring myself to use my 50mm f/2.0 again. It just doesn't feel right and the images it takes now appear a little more tarnished due to the lack of the super-creamy, sensationally soft and beautiful bokeh.
Perhaps I can sell a few lenses and get me this 50mm f1/.0. It would be a dream come true.
Grab the 50mm f/1.0 lens if you are chasing superb performance, image quality and… incredibly soft and lush bokeh. You know you want to.