Bhutan – the Land of the Thunder Dragon, a photographic paradise where nature inspires and traditions endure.
Tour dates: 13 – 23 October 2024
Tour length: 11 days
Led by: Seng Mah and Tshangkhap Namgay
Minimum 5 guests to run this tour.
Pace: Moderate (see tour highlights for more information).
Join us on a soul-stirring journey into a kingdom that retains its cultural heritage and spiritual traditions with pride and vigour. In a world where travel and photography seems to be increasingly diluted by the creeping homogeneity of the Western World, Bhutan is an absolute breath of fresh air.
Our photography tour to Bhutan will take you to a land where timeless traditions blends seamlessly with sublime landscapes. Here, you will find ages-old customs still very much an intrinsic part of daily life. From the majestic Himalayan peaks piercing the sky to the serene valleys dotted with monasteries and streams of fluttering prayer flags, Bhutan is a photographer's dream come true. Here natural beauty, relatively untouched by the tides of modernisation, will leave you moved and inspired. Every frame you take will unveil the story of Bhutan's deep-rooted spirituality and reverence for its heritage.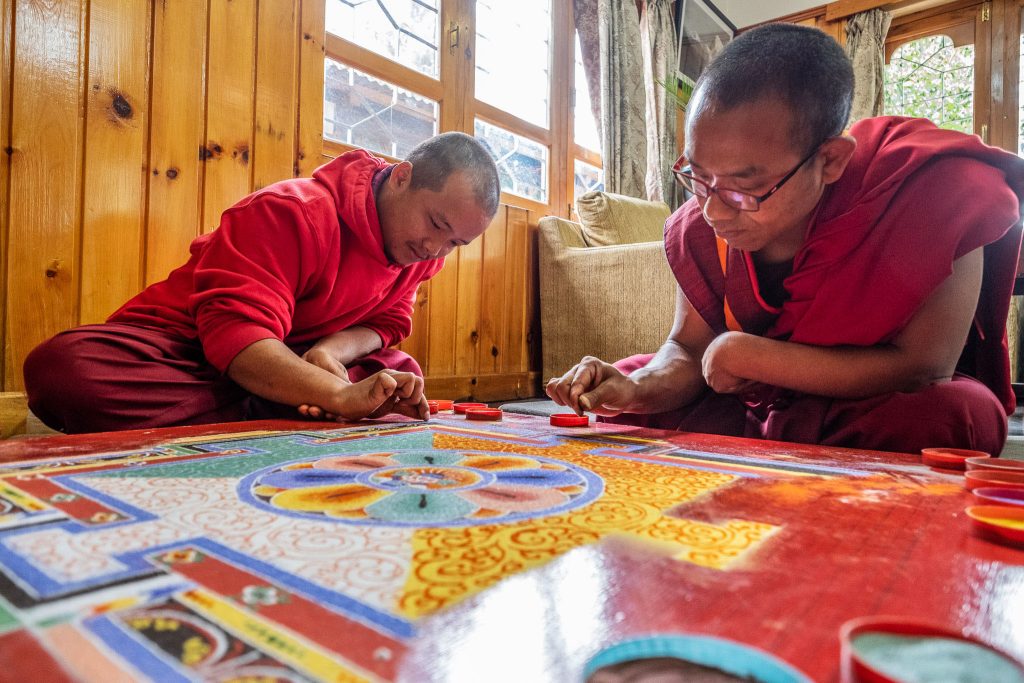 We will visit the iconic dzongs of Bhutan, living symbols of the nation's rich Buddhist heritage. These fortress-like monasteries, adorned with intricate carvings and vibrant paintings, will not only delight photographers, but present windows into Bhutan's Buddhist traditions. Step inside these sacred structures, breathe in the aura of spirituality, and capture the moments of devotion and reverence that unfold before your lens.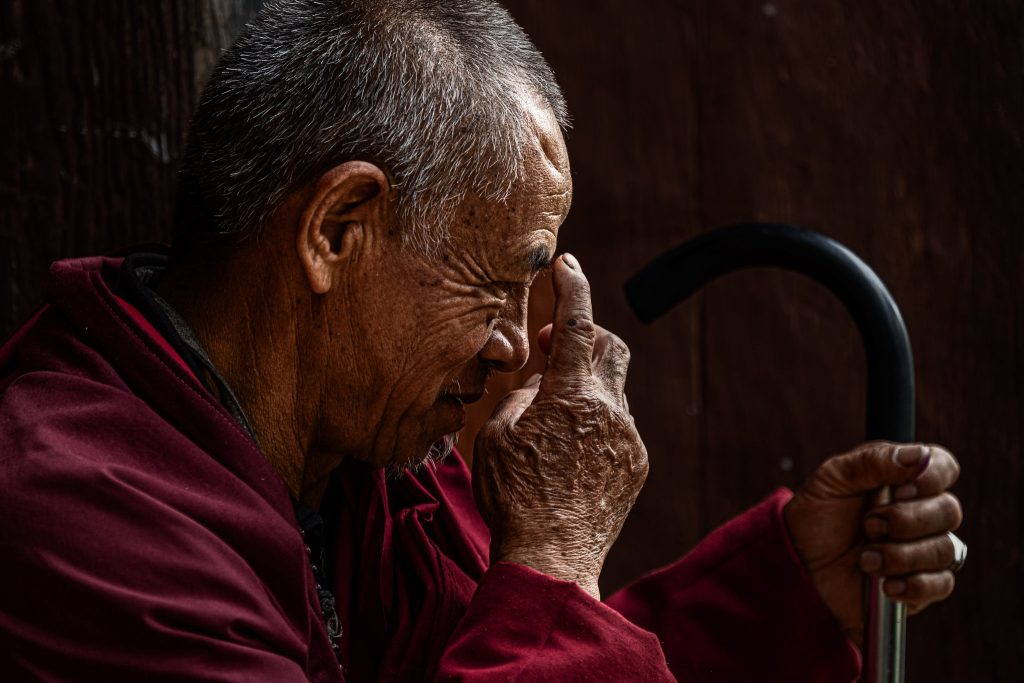 Dzongs and temples give us a glimpse of daily monastic life. We will capture the essence of devotion as butter lamps flicker and prayer wheels spin. Within these moments, Bhutan's ancient spiritual wisdom resonates, inviting you to capture the practices and activities that have withstood the test of time.
We will be in Bhutan for the Jambay Lhakang Drup Festival held in the valley of Bumthang, where we will celebrate with the Bhutanese to honour Guru Rinpoche, the saint who introduced Tantric Buddhism to the kingdom of Bhutan. The festival is a mosaic of vibrant dances and masked performances. As the beats of traditional music fill the air and locals don elaborate costumes, you'll find yourself immersed in an incredible visual symphony of colour, movement and energy. 
But it's not just the festivals that make Bhutan special; it's the people themselves. Known for their warm hospitality and genuine kindness, we will spend time in the village of Tshangkha, the family home of our guide, Namgay. Tshangkha is as close as you will come to experiencing traditional village life; with only 25 households and all are involved in farming. Our time in Tshangkha will give us the chance to get to know the Bhutanese, to be invited into their close-knit community and to capture their lives through the medium of documentary photography.  You will be touched by the authenticity, generosity and simplicity that is so much a part of traditional Bhutanese life.
Our photography on this tour covers the gamut of styles and genres: documentary, travel, street, life, portraits, landscapes… the aim is to give you the opportunity to discover and photograph this beautiful kingdom and her warm, wonderful people. This photo tour offers a unique experience for those searching for off-the-beaten-path travel and photography experiences, one that is enriches through immersion in a land where the allure of the natural world and the preservation of traditions converge.
Note: This tour begins in and concludes in Paro, with flight connections from/to Bangkok. Your return flight between Bangkok to Paro is included in the price of the tour for the dates of the tour (arrival 13 October, departure 23 October 2024). You will need to organise your own return flight to Bangkok.
Tour highlights
Day 1: Paro
We take the outward bound flight from Bangkok (included) in the early morning and arrive at Paro where we will be met by our guide, Namgay, at Paro International Airport. In the 17th century, Paro served as a trade route between Bhutan and Tibet and our first experience of Bhutan begins with a visit to Paro Dzong, built in 1646 to defend Bhutan from Tibetan invasion. Now, the dzong houses residences for monks as well as administrative offices. Paro Dzong is beautiful and was the location where some scenes from the film Little Buddha was filmed in 1993.
After lunch, we begin our journey to Thimphu, with a photographic stop at Tacho Gang Temple, where prayer-flag festooned swing bridges cross rapids to give access to the temple.
Thimphu is the capital of Bhutan, with a population of around 90,000 people. We overnight in Thimphu.
Day 2: Thimphu
We travel from Thimphu to Punakha, which is located 1200m above sea level. Our journey takes us through the Dochu La mountain pass, where 108 stupas line the ridge overlooking a misty valley. Framed by gnarled pine trees and at 3150m above sea level, Dochu La will impress and mystify.
At Punakha, we visit Punakha Dzong (also known as the Palace of Great Happiness), built in 1637 at the confluence of the Pho Chu and Mo Chu Rivers. The Dzong is a marvel in traditional Bhutanese architecture, a veritable maze of steps and balconies, lanes and squares, within which monks conduct their daily lives.
Punakha also gives us the opportunity to photograph the rice terraces along the Pho Chu river.
Day 3: Gasa
We have the day visiting Gasa, one of the most northern provinces of Bhutan. Famed for its lush forests and its visually arresting dzong perched on the edge of a rocky promontory, our time in Gasa allows us to see and experience provincial life in Bhutan.
We return to Punakha and overnight there.
Day 4: Tshangkha
We take the mountain road from Punakha to Trongsa today, with photographic stops en route at Pele La Pass. Trongsa was the most powerful State in Bhutan in the 18th and 19th centuries and features a sprawling, majestic Dzong that commands the valley within which it sits.
Our day concludes with our arrival in the village of Tshangkha, the home of Namgay's family, a farming village where traditional life prevails. The people of Tshangka make a living through farming and selling cheese, butter and vegetables, and the village has only very recently had access to electricity.
Our time in Tshangkha allows us to experience village life in an intimate and immersive way, getting to know the people and to participate in their activities in an authentic, non-touristy way. We will overnight in a traditional farmhouse in Tshangkha (note that this is truly a traditional farmhouse and will not have the same grade of facilities as the various guesthouses and hotels on this tour, but this is why we visit Tshangkha, to gain an authentic experience of rural life in Bhutan. Accommodation in the farmhouse will also be on a shared basis).
Day 5: Trongsa – Bumthang
We visit Trongsa Dzong in the morning, the ancestral home of Bhutan's line of kings. In Trongsa, we will also visit the Watchtower Museum, a commanding watchtower set amid lush trees. The museum now houses the Raven Crown of Jigme Mangyal, the father of the first King of Bhutan.
We depart Trongsa and travel to Bumthang via Yongtong La pass.
Bumthang holds a significant place in the hearts of the Bhutanese, for it is one of the most sacred valleys in Bhutan. Bumthang was the first location in Bhutan visited by Guru Rimpoche, who brought Buddhism to the kingdom in the 8th Century.
We overnight in Bumthang.
Day 6: Jambay Lhakhang Teschu (Festival) in Bumthang
One of the highlights of this photography tour is our participation in the Jambay Lhakhang Festival in Bumthang. Every region of Bhutan has its own teschu (festival), religions events celebrated on the 10th day of a month of the lunar calendar corresponding to the birthday of Guru Rinpoche. The month of teschu, however, varies from place to place and temple to temple.
At Bumthang, we will have the chance to witness and be part of a festival to commemorate the establishment of the Jambay Lhakang (temple). The festivities and celebrations involve colourful Bhutanese dances and ceremonies, including the "Mewang" (fire ceremony) held in the evening to bless women with children.
Note: our experiences at the Jambay Lhakhang Teschu is going to be very immersive. While there will be plenty to see, enjoy and photograph, you should also make sure that you are comfortable throughout your time there, taking time to rest, soak in the energy and colour of the festival and, if you're able to, stay for the Mewang dance in the evening.
We overnight in Bumthang.
Day 7: Bumthang
After our time at the Jambay Lhakhang Teschu, we enjoy a quieter day exploring the Bumthang Valley, including an excursion to Ogyen Choling, a historical site of temples and residences regarded as one of eight sacred locations in Bhutan.
We overnight in Bumthang.
Day 8: Phobjikha Valley
We depart Bumthang for the Phobjikha Valley, which stands at an elevation of about 3000m above sea level. Ringed to the East by the Black Mountains that separate Western and Central Bhutan, Phobjikha is an vast glacial valley where the black-necked cranes roost in winter. While our visit doesn't coincide with the cranes' migration, we will visit the Black-necked Crane Centre to learn more about these endangered birds.
Our time in Phobjikha allows us to photograph the incredible landscape of the glacial valley, a region quite unlike elsewhere in Bhutan. 
Day 9: Return to Paro
As we near the end of our tour in Bhutan, we begin to make our way back to Paro, via Thimphu. Today is a drive through amazing and dramatic country, before we arrive at Paro in the afternoon.
Day 10: Taktshang Monastery (Tiger's Nest Monastery) in Paro
We culminate our photography tour of Bhutan with a truly epic day out to Taktshang (Tiger's Nest) Monastery in Paro. This iconic and commanding monastery sits 9000 feet up on a sheer cliff. Legend has it that Guru Rimpoche flew to the site of the monastery while riding on the back of a tigress, in order to subdue the demon Sengay Samdrup. The hike takes about 5 hours to complete, and is a truly memorable experience with many photographic opportunities along the way.
For guests who would prefer a more relaxed day, we can organise alternative and less physically demanding activities.
Whichever way you choose, we end the day with a relaxing hot stone bath at a local farmhouse, where you can soak in a stone bath infused with aromatic herbs.
We overnight in Paro.
Day 11: Departure
We wrap up our time in Bhutan and are transferred to the airport in Paro, for our flight to Bangkok (included). The Bhutanese don't have a word for goodbye; instead, they say "lok jay gay" which means "see you again", in the hopes that you will return once more to this beautiful land of the thunder dragon.
Tour Inclusions
10 nights accommodation (single occupancy for most nights, except for one night in Tshangkha where our accommodation will be shared occupancy in a traditional farmhouse).
Breakfast, lunch and dinner during the course of the tour (Lunch and Dinner Day 1, BLD Days 2-10, Breakfast Day 11).
Return airfares Bangkok – Paro (flying Drukair: Royal Bhutan Airlines, departing 13 October, returning 23 October 2024).
Bhutan entry Visa.
Arrival and departure transfers (Days 1 and 11 of the tour).
Land transport in a mini bus during the course of the tour (as per itinerary).
Photographic and cultural mentoring and guidance during the course of the tour.
Tour Exclusions
Return flights to Bangkok. Our flight to Paro departs early in the morning of 13 October. We recommend that you arrive in Bangkok on the 12 October and reserve a night in the airport hotel so that you can catch the morning flight from Bangkok to Paro. Our flight from Paro to Bangkok is in the afternoon of the 23 October, so we recommend that you book a late flight from Bangkok, or reserve a room in the airport hotel on the 23 October and fly out on the 24 October.
Comprehensive travel insurance (this is required as a condition of your joining this tour).
Photographic equipment and insurance for equipment.
Alcoholic drinks.
Personal expenses including laundry, medication, personal shopping and gratuities.
Any transport and fees outside the scope of the itinerary.
Tour price
USD$7200 inclusive of single occupancy. If you are traveling with a spouse or life-partner who is also a participating photographer on this tour, and would like to share a room with them, a double occupancy price of USD$6900 per person is available.
Book your place
A deposit of USD$1500 will secure your place on this tour. The balance is payable by 1 June 2024. Note that deposits are non-refundable unless the tour is cancelled by its organisers (Venture Photography Workshops and Tours) before 1 June 2024.
For details of the Terms and Conditions of our tours, including cancellation charges, please read our Photography Tours Terms and Conditions.
To join this tour or contact us with your questions, please use the form below or email seng [at] venturephotography.com.au or telephone +61 417 604 614.