East Arnhem Land Cultural Homeland Photography Tour
"In the Yolngu world, we have a library in the land. You can't destroy it. If you burn it, it grows again. The land is full of more knowledge than you can imagine." – Laklak Burarrwanga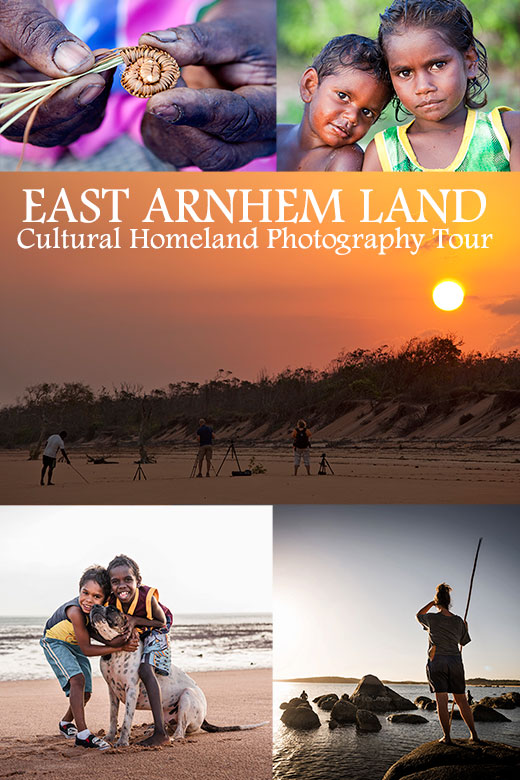 Tour guides: Lirrwi Tourism, Seng Mah and Lynn Gail
Tour date: 10-17 September, 2016 (8 days)
Maximum 8 participants
Price: AUD$5250 (land only)
Join us on a unique, life-changing photography tour that takes you to into the homeland of the Yolngu People – the oldest culture still practising their beliefs today. This photography tour in East Arnhem Land, is a completely immersive and engaging experience that gives you the opportunity to spend time with some of the gentlest people where you'll learn about Aboriginal culture and their deep seated spirituality.
The tour begins with a stay at Bremer Island, at beautiful Banu Banu Wilderness Retreat, as we explore the island and ease into our time at the top end of Australia. You'll enjoy the beautiful sandy beaches of Bremer Island and the hospitality on offer at Banu Banu.
We then head into the heartland of East Arnhem Land to Yolngu Homelands there. We will stay within the communities and spend time with Yolngu families of these communities. As we spend time sitting on their home woven mats, made with bush materials, we'll learn about the stories of their ancestors and how important the cycle of their six seasons are in maintaining their culture – it will move your mind as to how this age old culture is at one with their land. To be able to see, photograph and record some of the oldest known human traditions is a-once-in-a-lifetime experience! Be prepared to return home a little changed, with memories that will last a lifetime, and a yearning to re-visit this soul-satisfying land.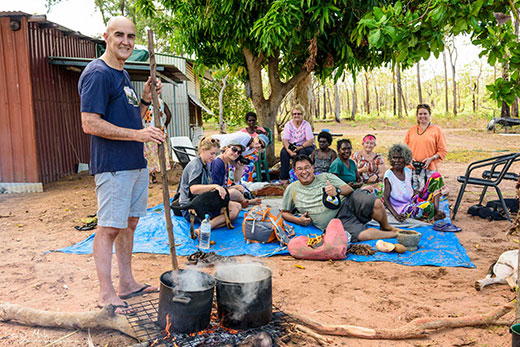 During the tour we'll be invited to join the Yolngu in their daily activities – this will include bush walking and learning about how they use the fruit and plants for their cooking and medicinally. We'll wade through the low tide alongside the men and watch as they spear unsuspecting fish in a flash of an eyelid. Bright-eyed children, eager to be snapped by the lens will appear all around with their bountiful energy. You'll be moved by the majestic landscape – the quiet, the stillness, the deep rich red – it's breathtaking – there's an emotion in the land that seems to rise through your feet as you stand rooted by its magnetism.
You will have two professional photographers to guide your photography during the activities, to improve your way of seeing while capturing the people and their landscapes. We will guide you on how to create images that tell stories and capture expression of the landscape and its people. As you'll be captivated by the landscape – we'll show you to capture the essence of the experience – the strong faces of the Aboriginal men, the wide smiling faces of the beautiful children and the unparelled landscape that is like no other place on Earth.
In reaching the homelands in 4WDs, driven by our knowledgeable and friendly guides, you'll witness the amazing outback of the Northern Territory – the grass trees – almost human like in their shapes at dusk, the vegetation, the deserted white sandy beaches that stretch into infinity, and the natural fresh water watering holes.
This tour is run in participation with Lirrwi Tourism, which specialises in hands-on and intimate travel experiences in East Arnhem Land in the Northern Territory. You'll participate in an exciting array of cultural programs and activities at each Homeland and explore a range of incredible landscapes throughout this photography tour. You'll have two professional photographers at hand to guide you in your photography, and have all transport, permits, accommodation and meals provided during the tour.
This is a singularly unique travel experience for 8 photographers. Highlights of this experience include:
Exploring and photographing stunning Arnhem Land settings.
Yolngu dance activities/displays.
Traditional painting, weaving and basketry.
Preparation and sharing of traditional foods.
Spear-fishing, oyster picking and other activities
Yidaki (didgeridoo) playing.
Aboriginal story-telling and spirituality.
Learning the Yolngu language
You'll LOVE this tour if:
You're absolutely passionate about photography and are looking for new photographic experiences and subjects.
You love travel and actively seek new travel experiences.
You find inspiration when you connect with people from different cultures and traditions.
You have an abiding interest in culture and the land.
You love photographing a wide range of subjects, from people, to landscapes, to ceremonies and more.
Tour inclusions:
All transport/4-wheel driving during the tour.
All camping equipment and bedding supplied (tents, camp beds, pillows, blankets and more).
All permits to Yolngu homelands.
Yolngu driver and guide.
All meals during tour, prepared by our very own cook.
Photographic tuition and guidance throughout tour.
What's excluded:
Travel insurance (recommended).
Airfares from your home town to Gove, Nhulunbuy.
Transit accommodation (eg. if you choose to overnight in Gove before or after the tour).
How to book
Cost of tour: AUD$5,250. We require a deposit of AUD$890 to secure your place (non-refundable), $2180 by April 20, 2016, and remaining $2180 by July 17, 2016. Payments can be made by cheque, direct deposit or Paypal* (*Paypal attracts a 2.5% surcharge) Please contact us via the form below and Lynn Gail will be in touch with you to discuss the tour and your deposit/payment.