Let the awe-inspiring beauty of Esperance and the WA Great Southern take your breath away; this is a photography tour for lovers of beautiful landscapes and splendid vistas!

Tour dates: 23 April – 1 May 2021
Tour length: 9 days
Led by: Seng Mah and Ty Stedman
6 – 8 guests (SOLD OUT)
This tour begins and finishes in Perth
Pace: Easy to moderate. Some locations will require walking (along graded tracks).
SOLD OUT. This tour has sold out. Please contact us if you would like to get on the wait list in the event of a late cancellation.
---

Prepare to have your senses swept away on a photography tour of two of the most beautiful regions in Western Australia: Esperance and the Great Southern!
You will not believe your eyes as you gaze across crescent shaped beaches of white, powdery sand, towards vibrant turquoise waters fringed by smooth rocks and rounded green hills. Here are settings that are just perfect for photography at almost any time of the day, where the interplay of light and colour brings out very different moods in the landscapes.
This nine-day tour from Perth includes all land transport, accommodation and guidance by two professionally accredited (and award-winning) photographers: Seng Mah and Ty Stedman. You'll capture amazing scenes while learning about the importance of light, colour and composition in the making of your landscape photographs.


Tour Highlights

DAY 1: PERTH TO HYDEN (WAVE ROCK)
You'll be picked up at our meeting point in Perth by Ty and Seng, and travel in the comfort of our bus as we head into the wheatbelt for the town of Hyden, home of the iconic Wave Rock. In the late afternoon, we will visit Wave Rock, followed by sunset at Magic Lake, a beautiful reflective lake near Wave Rock. With its calm waters and surrounded by the gnarled remnants of trees, Magic Lake offers a unique photography location.
Day 2: HYDEN TO ESPERANCE
We begin the day with a sunrise shoot from Wave Rock — where you'll have the opportunity to climb to the top of Wave Rock (easily accessed) to photograph the light of sunrise over the surrounding countryside.
After sunrise, we make one last stop for this leg of the tour at the culturally significant site of Mulka's Cave. According to Aboriginal legend, the cave was the home of Mulka, a giant cannibal. Within the cave are handprints, some of them larger and located higher than human height — perhaps the handprints of the monstrous Mulka of legend!
We leave Hyden for Esperance, arriving in the late afternoon in time to check in and refresh before enjoying a sunset shoot at stunning Twilight Cove. Shielded from the Southern Ocean by two granite islands, Twilight Cove is a photographer's delight, famous for its crystal clear waters, calm seas and sparklingly white sand!
DAY 3: CAPE LE GRAND NATIONAL PARK AND WEST BEACH
Cape Le Grand National Park is the reason photographers flock to Esperance. It's a vast expanse of untouched coastline, incredible bays and lush bushland. Its white beaches and vivid blue waters stretch as far as the eye can see, regularly placing it on lists of the best beaches in the world.
We have an early start from Esperance to make sure that we spend quality time at Cape Le Grand National Park, beginning with a sunrise shoot at Hellfire Bay, where dramatic morning light and the opportunity to shoot both from the beach and the headland will create stunning images.
Little Hellfire Bay is just a short walk from its larger cousin, but offers unique treasures of its own. By this time, the sun will be higher, sparking off the unbelievable rich blues of the water. It is picture postcard country and we will indulge in creating pretty images with wild abandon.
A trip to Cape Le Grand National Park must, of course, include time at Lucky Bay, an iconic stretch of sand and sea that's known as home for mobs of kangaroos, many of which are so fearless of humans that they will allow you to get close for some "environmental portraits" of roos on the beach.
Our final stop in the National Park this morning is at its namesake, Cape Le Grand Beach, before we return to Esperance for lunch at the waterfront.
Our sunset shoot is at another beautiful local beach, West Beach, which offers stunning views across calm waters protected by a granite headland.
DAY 4: WOODY ISLAND AND CAPE LE GRAND SUNSET
Our sunrise this morning takes us back to Twilight Cove, to shoot in a different direction at sunrise, taking in views of Lovers Cove and Observatory Island.
The highlight of today is a half-day tour to Woody Island, which is located just off the coast of Esperance. Woody Island is one of the hundreds of islands of the Recherche Archipelago, and it offers an exciting island experience, especially for lovers of wildlife. The island and its surrounding waters are home to pods of dolphins, seals, sea lions and white-bellied sea eagles. We will spend two hours on a guided bushwalk of the island, with opportunities to find and photograph island flora and fauna.
In the afternoon, we return to Cape Le Grand National Park, to take in more of its amazing landscapes, including Frenchman's Peak (known as Mandooboornup) and Thistle Cove, where we will shoot the sunset.
DAY 5: FITZGERALD RIVER NATIONAL PARK AND BARRENS BEACH
Our sunrise shoot takes in one of Esperance's photographic delights: Blue Haven Beach, before we return to Esperance to check out and continue with our photography tour of the region as we head towards Hopetoun, including Observatory Point, Nine Mile Beach and Esperance's very own Pink Lake.
After checking into Hopetoun, we begin our first photographic survey of Fitzgerald River National Park. The National Park has recently undergone extensive upgrade to its roads and facilities and presents one of the most biologically diverse environments in Australia. We will explore Barrens Beach and complete the day with a sunset shoot from Barrens Lookout with endless views over the Southern Ocean, Culham Inlet and the Hopetoun coastline.
DAY 6: FITZGERALD RIVER NATIONAL PARK
Our sunrise shoot this morning is at Barrens Beach, with its unique rock structures providing us with visually arresting foreground elements to use in our compositions. Barrens Beach offers many options to maximise on the blush of colour that comes with the first light of day.
In the late afternoon and into sunset, we shoot at Cave Point and West Beach (different from the West Beach at Esperance) and its unique and rather alien-looking pelitic schist formations stacked along the beach.
DAY 7: HOPETOUN TO THE STIRLING RANGES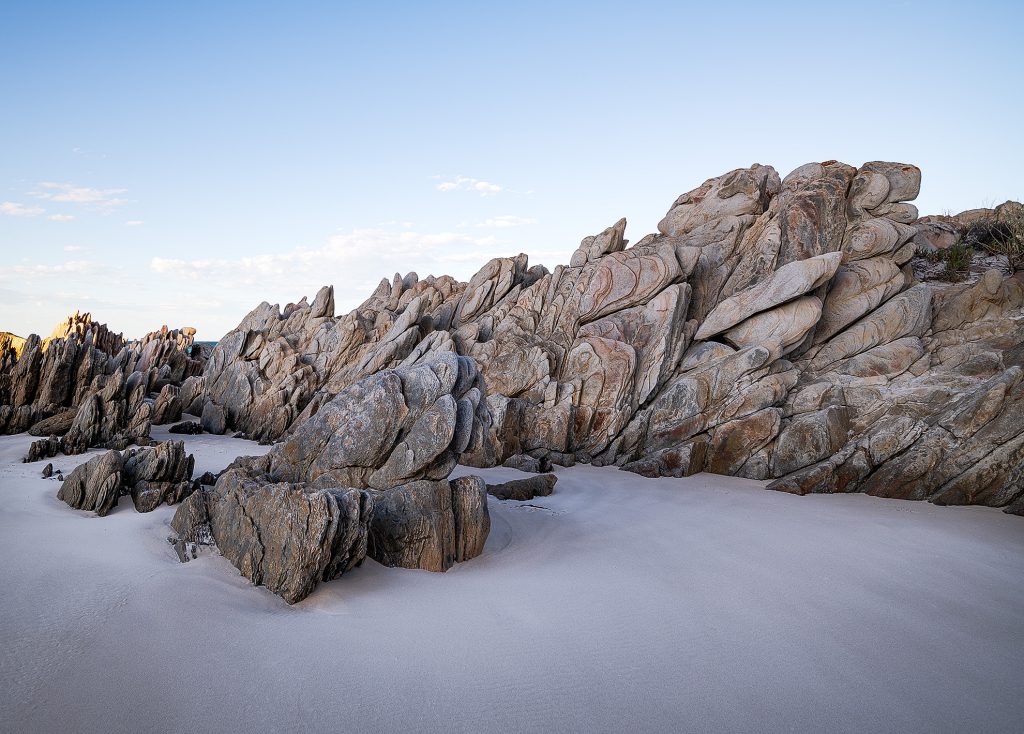 Another remarkable sunrise location awaits us at East Mylies Beach, where unique granite structures plunge into the sea. This is one of Ty's favourite locations for its dramatic geology, intricate rock detail and rugged, dramatic setting. It is also one of the lesser photographed locations in Western Australia, which means that you'll come away with images that few others would have taken.
After breakfast, we depart Hopetoun for another natural treasure of Western Australia: the Stirling Ranges. En-route, we stop at the Yongernow Malleefowl Centre in Ongerup to learn about the efforts to conserve the endangered malleefowl.
After checking into our accommodation and a brief rest, we head out to the Stirling Ranges for our afternoon and sunset shoot. Rising out of the stark landscape of wheat fields and salt flats, these magnificent ranges with their undulating ridges are the centrepiece of the region.
DAY 8: BLUFF KNOLL AND ALBANY
The jewel in the crown of the Stirling Ranges is Bluff Knoll, one of the most recognisable peaks in the ranges, often shrouded in low-hanging cloud or mist in the morning. We will photograph Bluff Knoll and its surrounding hills and vales at sunrise, where the light will often layer across the landscape, creating ethereal scenes.
From the Stirling Ranges, we head for Albany in the heart of the Great Southern Region. Albany is nestled into the northern edge of Princes Royal Harbour in King George Sound and is surrounded by bays, inlets, peninsulas and islands.
Our focus here is on coastal landscapes, beginning with a sunset shoot at beautiful Little Beach, a crescent cove ringed by rocky headland. After this shoot, we return to Albany for our group dinner (included in the price of this tour).
DAY 9: SALMON HOLES
Our final morning of the tour takes us to Salmon Holes, a rugged stretch of coastline known for its dramatic setting and surging ocean. Here, you'll witness the power of the Southern Ocean as it carves into surrounding headland, providing us with the chance to capture some dramatic seascapes.
Our tour finishes today with our return to Perth.
Inclusions
Eight nights accommodation (single occupancy is default; a twin share option is available if you are traveling with a partner or spouse).
Land transfers to and from Perth, and in-tour transport in a coaster or minibus.
Breakfast and morning tea at Cape Le Grand National Park (Day 3).
Half day cruise and excursion to Woody Island (Day 4).
All photographic tuition and instruction during the tour.
National park entry fees.
Group farewell dinner in Albany (does not include beverages).
Exclusions
Meals and drinks (excluding the group dinner).
Photographic equipment.
Personal expenses eg. laundry, medication etc.
Any transport outside of this tour. You will need to make your own way to the pick up point in Perth at the start of the tour, and organise your own transport home from the drop off point at the end of the tour.
Price of Tour
AUD$4950 per person twin sharing (if sharing with your partner/spouse or a friend who is also a paying guest on this tour).
AUD$5530 per person with your own private room during the tour.
RESERVE YOUR PLACE
SOLD OUT. This tour has sold out. Please contact us if you would like to get on the wait list in the event of a late cancellation.
---
A non-refundable deposit of AUD$1500 will secure your place on this tour. This deposit is refundable if the tour is cancelled by the organiser (we require a minimum of 6 guests to run this tour) or if travel restrictions due to Covid-19 mean that the tour cannot run. The final payment of the balance is due by 28 February 2021.
For details of the Terms and Conditions of our tours, including cancellation charges and the impact of Covid-19 travel restrictions, please read our Photography Tours Terms and Conditions.
To join this tour or contact us with questions, please use the form below, email seng [at] venturephotography.com.au, or telephone 0417 604 614.