Tour dates: 8 - 19 February 2019 (12 days)
Tour led by: Seng Mah and Mick Porter
Minimum 4 guests. Maximum 9 guests. This tour is suitable for photographers of all levels.
Pace: Easy to moderate.
Price: See below for pricing options.
This tour has SOLD OUT. If you'd like to get on a wait list in the event that there is a late cancellation, please use the form below to indicate your interest.
---
Enter an incredible and mesmerising world of life, humanity, colour, tradition and ceremonies with our photography tour into the heart and history of India. Your journey takes you from the vibrant centre of Old Delhi to the spiritual banks of the Ganges in the holy city of Varanasi, the splendour of the iconic Taj Mahal in Agra and into the colourful cities of Rajasthan.
This is a tour that celebrates travel photography and immersive, intimate experiences, as you discover all the colour, brilliance and culture that India has to offer -- from must-see iconic monuments to time in remote villages where you'll mingle with people living a traditional lifestyle and learn about their traditions and beliefs.
You'll enjoy a bespoke itinerary designed by award-winning travel photographers, Seng Mah and Mick Porter, and benefit from their experienced photographic guidance and teaching.
Your Tour Experiences
Your journey begins in Delhi, explorng the laneways of Old Delhi with camera and lenses in tow, visiting some of Delhi's most magnificent monuments from the time of the Mughal Empire. From Delhi, you fly to Varanasi to find yourself in India's holiest city, on the banks of the Ganges River. You'll experience a traditional boat ride on the Ganges, photograph holy men and devotees on the river ghats and see life unfold before your very eyes in a way that will tug at your heartstrings and fire your imagination.
From the spiritual intensity of Varanasi, you travel to Agra to mark off a bucket list item: a visit to the world's most famous and iconic building, the Taj Mahal. From Agra, you journey into the colourful desert realm of Rajasthan, where you'll spend time exploring magnificent Jaipur, with its grand forts, pink city and fantastic views. Your sense tingling, you then travel to Jodhpur, a city that will capture your photographer's eye. You'll amble through the jumble of cerulean blue streets of the Blue City and embark on an adventure into rural Rajasthan, to spend time with local tribes in their village homes.
This is a journey that will sustain your desire for unique travel experiences as well as your appetite for colourful, memorable and exclusive photographic opportunities!
This photography tour is suitable for amateur photographers as well as professionals, and we have designed this tour to run as a small group to make sure that you will enjoy an intimate, exclusive travel experience in India. All transfers are in a private air-conditioned bus, with our very own English-speaking driver. We will also enjoy the expertise of English-speaking local guides at various destinations on this tour. We have selected accommodation for you that is modern, comfortable and full of character, including boutique and heritage hotels and havelis (mansions).
Tour Highlights

Day 1: Delhi
Welcome to incredible India! You arrive in New Delhi and are transferred to your hotel in a quiet and leafy section of the city, so that you may enjoy some tranquility away from the bustle of Delhi life. In the afternoon, we join a local guide to explore the rabbit-warren laneways of Shahjahanabad, also known as Old Delhi, where you will experience the India of your dreams -- a haven for street photography and street portraits.
Our adventure in Old Delhi culminates in a visit to the haveli of a local family, where we will join them for a sumptuous dinner prepared by the family. Having dined with this family before, I can assure you that your tastebuds will be in seventh heaven as you sample the tasty and authentic delicacies on offer.
Day 2: A Day in Delhi - Wrestlers, Monuments and Mosques
Our first full day in Delhi begins with a visit to a very unique destination -- a local akhara where traditional wrestlers tussle in an earthen wrestling ring called the kushti. These strongmen live and breathe their sport and live lives of stringent asceticism in their devotion to wrestling. We will have the opportunity to view and photograph a wrestling match between two pehalwani (wrestlers) and spend time taking their portraits. This visit is a fantastic opportunity for environmental portraiture and photojournalistic storytelling.
We spend the morning visiting one of the most visually commanding monuments in Delhi -- the Red Fort -- with its soaring towers, shadowy halls and massive walls. At lunchtime, we visit Dili Haat, an open air market, where there will be time to photograph the bustle of sellers and shoppers and grab a delicious, authentic lunch.
In the late afternoon, we visit Jama Masjid -- an impressive mosque dating back to the era of the Mughals and Shahs in India. Jama Masjid has three gateways and four towers soaring into the sky, presenting an impressive photographic backdrop for us. Within, we'll find a hive of activity as we mingle with worshippers and locals inside the walls of the mosque.
Day 3: Humayun's Tomb and Hazrat Nizamuddin Dargah
Our morning begins bright and early with a visit to Humayun's Tomb, one of the most stunning and impressive architectural achievements from the Mughal era. We will explore the grounds of Humayun's tomb before entering the main building where we'll see the interplay of sunlight coming in through the dome of the building.
This morning is also the first of our photo review/feedback session, where you'll have the opportunity to sit with Seng and Mick to discuss your photography so far, review your images and have questions about photography answered.
In the afternoon, we visit the shrine and tomb of one of Delhi's most beloved Sufi Saints, the Hazrat Nizamuddin Dargah, where the Muslim faithful in Delhi gather to pray. It's a wonderful opportunity for more street photography in a bustling environment of faces, activities and prayer, capped by dinner at a local restaurant where you'll have the opportunity to try some of the most delicious non-vegetarian food in Delhi (vegetarian options are also available).
Day 4: Delhi to Varanasi
We fly from Delhi to Varanasi, where we will be transferred to our guest house on the banks of the Ganges. Our accommodation has been specifically selected to locate us at the heart of all activity on the ghats and laneways of this ancient, holy city.
Varanasi, the city sacred to Shiva, is the holiest and most spiritual city in India. Built on the banks of the sacred Ganges River, Varanasi is a travel and documentary photographer's dream come true. The ghats of Varanasi, steps that lead to the edge of the river, are world famous for spiritual activity, whether it be prayers, meditation or cremations. In the evening, we will experience an amazing devotional ceremony: the Ganga Aarti, a resplendent display of light, fire and sound, as the faithful utter their devotions to Mother Ganges.
Day 5: Varanasi
Our full day in Varanasi begins with a tranquil boat ride on the Ganges; this voyage will reveal life on the banks of the Ganges as you see and photograph people praying and bathing on the ghats, holy men (sadhus) meditating on river platforms, cremations and more. This is a truly memorable experience watching the city and its ancient traditions come to life before you in the light of the rising sun.
The morning also sees us exploring the laneways of Varanasi -- a veritable maze of twisting and turning cobbled paths that wind past chai wallahs (vendors that sell hot, sweet and aromatic chai tea), shops and houses. We might come across priests and sadhus in prayer or meditation, or families and workers starting their day. The emphasis here is on slow, meaningful and mindful exploration and photography, so that we're concentrating on seeing and creating visual stories in our exploration of the streets of Varanasi.
Because Varanasi is a Hindu city, the restaurants here serve mainly vegetarian dishes, and we will be sampling the vegetarian dishes on offer at local restaurants.
We have our second photo review/feedback session after lunch, where we'll review the images taken in Varanasi and look at ways in which we can construct visual stories through taking a series of images.
In the afternoon, we will take a long walk along the ghats to experience and photograph the stories that unfold there: children playing cricket, boatmen, bathers, dhobi wallahs (people who wash clothes for a living), holy men and more. We'll be looking at ways in which we can seize the moment in our photography and to tell stories through the exposures we make with our cameras.
Day 6: Varanasi to Agra
We have the morning free in Varanasi, before boarding our flight from Varanasi to Agra. This short journey takes us from the Ganges to the splendour of the home of the Taj Mahal.
In the late afternoon, we visit Mehtab Bagh, the Moonlight Gardens, to see the Taj Mahal from across the Yamuna river, capturing the monument lit by the golden rays of the setting sun. The riverbank will be busy with local families and workers, and presents another great opportunity for journalistic and storytelling photography... the human drama of life with the magnificent Taj as its backdrop.
Day 7: Taj Mahal Sunrise and Journey to Jaipur
We start the day with a dawn visit to the Taj Mahal, arriving very early to beat the tourist crowds. There are very few words that can accurately describe the beauty and grandeur of the Taj Mahal -- suffice to say that when it comes to this magnificent monument, the sky is the canvas and the Taj is its painting.
Our sunrise visit is the perfect opportunity to marvel at the artistry and grandeur of the structure, and Mick and Seng will be at hand to show you some terrific spots from which to photograph the Taj.
We return to the hotel for a late breakfast before boarding our bus for Jaipur, the capital of the state of Rajasthan and home of the Pink City, where soft pink walls of sandstone dominate the town. Rajasthan is quintessential india, with its people sporting turbans and brightly coloured saris and its ancient cities surmounted by imposing fortresses.
Our home in Jaipur is a beautiful traditional haveli where you'll stay at a boutique heritage hotel, surrounded by traditional Rajasthani architecture and decor. In the late afternoon, you'll enjoy a traditional Rajasthani dinner complete with a visually spectacular dance by twirling and swirling kalbeliya gypsy dancers at Surya Villa, a haveli in the Pink City.
Day 8: The Jewels of Jaipur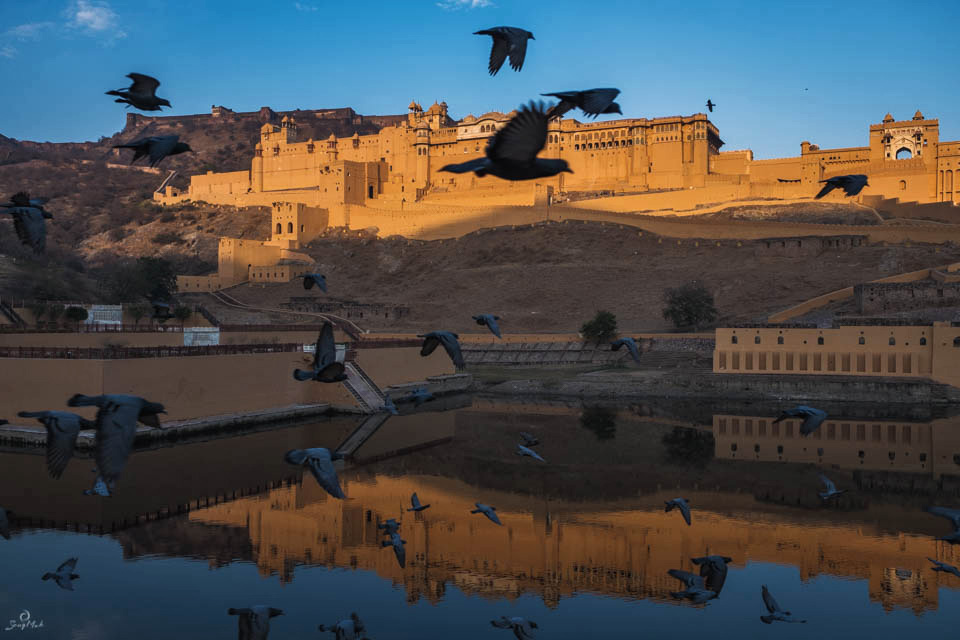 A very early start to the day takes us to the shores of Lake Maota overlooking iconic Amer Fort, one of the most imposing, yet beautiful forts in the region, where we can photograph the fort and its reflection in the still water of the lake. A slow walk up to the fort takes us on a journey where we will share laneways with local people and elephants bearing tourists to the top of the fort. You'll enjoy a tour of this magnificent fort with a local guide before returning to our haveli hotel for lunch.
In the afternoon, we embark on a very special treat -- a rickshaw tour from our haveli to the Sun Temple overlooking the Pink City of Jaipur. We'll spend the golden hour and sunset here, photographing the magnificent views on offer and, if we're lucky, we may come across some holy men meditating at the temple, surrounded by the local mob of monkeys.
At dusk, we return to our haveli hotel for dinner.
Day 9: Jaipur to Jodhpur
Today sees us travelling to Jodhpur, an ancient, rambling city perched on the edge of the Thar Desert, and home to the Blue City and the imposing Mehrangarh Fort standing on its high plateau.
After settling into our heritage hotel in the heart of the old city, we catch local auto tuk-tuks to Navchokya, the gateway to Brahmpuri, the Blue City. The Blue City is unique in that the buildings here are washed with blue indigo paint, creating a surreal, cerulean landscape within which to wander. The narrow lanes and stepways of Brahmpuri takes us on a journey in search of light, faces and street scenes to photograph.
Our time in the Blue City ends with a visit to Indigo Haveli, the home of a local Brahmin family, where we will be able to photograph the sprawl of the city and majestic Mehrangarh Fort as its backdrop. We'll enjoy the hospitality of the Brahmin family before returning to our haveli hotel in Jodhpur in time for dinner.
Day 10: Photographic Journeys in Jodhpur
Our morning begins, after breakfast, with a visit to the main Clock Tower square in Jodhpur's Old Town and to the nearby Sardar Markets, where we will enjoy the colour and bustle of street scenes. Again, we will focus on capturing moments that tell a story or which are laden with emotion instead of just "happy snaps", and developing a visual narrative through our photography. It's a fantastic opportunity to push your photographic storytelling further and exploring how you can connect with the people and activities that you photograph. We'll stop at one of Jodhpur's most famous lassi (yoghurt) stores or grab some cups of chai to keep us refreshed.
After lunch, we will have a couple of hours for a final photo review/feedback session, this time looking at how you're developing a story across a series of images.
In the early afternoon, we will take auto tuk tuks to Mehrangarh Fort and explore this magnificent structure on foot with a local guide. The Fort offers amazing opportunities for architectural photography along with the photography of watchmen dressed in traditional uniforms, stationed throughout the fort. We return to our hotel on foot, taking a beautiful, meandering path down from the fort back to the old city.
In the evening, we dine at a local restaurant, enjoying the delights of local Jodhpur cuisine.
Day 11: Local Tribes and Villages
We take our leave of the city today and head out in Jeeps for a full day's exploration of the countryside around Jodhpur. This is a memorable journey as it brings us to local villages and schools, where we will spend time with local farming and shepherding families and schools. We finish the day with a visit to a chieftain's home where we will participate in a traditional Rajasthani ceremony of ceremony and brotherhood.
It's a day of connecting culturally with people, sharing moments, and experiencing authentic rural Rajasthan in a way that's fulfilling and exciting.
After sunset, we return to Jodhpur for our group dinner at a very special rooftop restaurant near our heritage hotel.
Day 12: Jodhpur to Delhi.
Our India adventure draws to a close as we bid farewell to Jodhpur. You may like to participate in one final morning meander through the streets of the old city, our last opportunity on this tour to capture moments of life and light, or have the morning to sleep and rest after a truly memorable 12 days in India. We transfer from our hotel to Jodhpur airport for our flight to New Delhi and to our connecting flight home or to new destinations.
About Mick Porter
Mick Porter joins Seng as your photographic guide on this tour. Mick has a long history in travel photography and has been rewarded for his passion and dedication by being awarded the Australian Travel Photographer of the Year in 2017 at the Australian Professional Photography Awards. He has visited India a number of times and has documented some of the most amazing festivals there, including Dev Diwali in Varanasi, Holi in Vrindavan and the Pushkar Camel Fair. Mick is also a connoisseur of Indian cuisine, which comes in very handy on this tour.
Mick is based in Brisbane, where he is a professional wedding photographer. He is an Associate of the Australian Institute of Professional Photography, having gained his merit points in one fell swoop at the 2017 Awards. He is also a dedicated photography teacher and mentor, having assisted a number of Brisbane-based photographers find their mark in the industry. But, best of all, he is a truly all round nice guy who enjoys sharing what he knows and showing others how to become better photographers.
We are absolutely excited about having Mick join our Venture Photography Tours team, and you should be too!
Tour Inclusions
11 nights accommodation.
Breakfast, lunch and dinner during the tour.
Arrival and departure airport transfers.
All sightseeing, excursions and transfers using an air-conditioned Tempo Traveller minibus.
Services of local English-speaking guides during the sightseeing tours.
Entry fees to monuments (single entry).
Economy air fare from Delhi to Varanasi on Day 4 - 25 kg baggage allowance.
Economy air fare from Varanasi to Agra on Day 6 - 25 kg baggage allowance.
Economy air fare from Jodhpur to Delhi on Day 12 - 25 kg baggage allowance.
All accommodation during the tour (as outlined in the itinerary).
All activities as described in the tour itinerary.
Photographic instruction and guidance.
Tour Exclusions
Flights to and from New Delhi (tour start and end). Our agent at Globetrotter Lifestyle that can help you book your flights - see below for more information.
Comprehensive travel insurance. All participants are required to take comprehensive travel insurance for this tour. You will need to show proof of travel insurance as a condition of participating in this tour.
Entry visa to India (around AUD$70 for an eVisa or AUD$105 for a standard visa).
Photographic equipment. You will need to bring/supply your own cameras, lenses, tripods, batteries, filters, memory cards and so on.
Insurance for your photographic equipment while on tour.
Alcoholic drinks.
Tips and gratuities: budget around AUD$10 a day for ad hoc gratuities, and around AUD$80 - AUD$120 as tips for our drivers and guides at the end of the tour.
All personal expenses and fees, including laundry, wi-fi, medication, incidental meals and snacks.
Any transport and fees outside of the tour itinerary.
Tour Price
Tour price is based on the total number of guests on the tour. The prices shown below are twin share, for guests traveling with a friend or partner who is also a paying guest. If your accompanying friend or partner is a non-photographer, please contact us for special pricing for non-photographers.
4 to 6 guests: AUD$6,595*
7 to 9 guests: AUD$6,395*
Single supplement: A single supplement of AUD$1100 is available for guests requesting their own room, or guests who are not traveling with another paying guest.
(* Please note: price may be subject to change in the event of substantial shifts in the AUD to USD exchange rate and to changes to the cost of the internal flights outlined in the Tour Inclusions.)

Need help with flights and other travel requirements?
Our Agent, Globetrotter, would be happy to assist in booking your international flights, travel insurance offering a 20% discount off policy cost (subject to terms and conditions of policy provider) and other travel requirements. If you would like assistance from Globetrotter, please let us know in the Comments section of the booking form below and we can put you directly in contact with Lori Burns at Globetrotter.
Book your Place

A deposit of AUD$1000 will secure your place on this tour with the balance paid by 4 December 2018. Note that deposits are fully refunded if the tour is cancelled due to not attaining minimum numbers.
* Please note that a credit card service fee may be charged if you are paying via credit card.
For details of the Terms and Conditions of our tours, including cancellation charges, please read our Photography Tours Terms and Conditions.
To join this tour or contact us with your questions, please use the form below or email seng [at] venturephotography.com.au or telephone 0417 604 614.