Tour dates: 29 January – 8 February 2024 (11 days)
Tour led by: Seng Mah with Shivam Pandey
Minimum 6 guests. Maximum 10 guests.
Pace: Easy to moderate.
---
"Lens on India" is a memorable and mesmerising tour into the vibrant heart of India. Your journey with us will take you from the historic streets of Old Delhi, to the splendour of the iconic Taj Mahal, the majestic forts and thriving streets of Jaipur and Jodhpur, the stark landscapes of Rajasthan and the shimmering lakeside palaces of Udaipur.
You'll enjoy a travel itinerary designed to showcase the vivid, brilliant colours, life and people of India, and benefit from your tour leaders' photography mentoring.
Seng is a professional photography educator and tour leader who has visited India many times since 2008. Shivam is a photographer and guide based in Kolkata, and has traveled the length and breath of India. Together they will provide you with photographic inspiration, advice tips and guidance to help you maximise your photography and travel in India!
Your Tour Experiences
We begin in Delhi's bustling streets, markets, temples, mosques, lanes and monuments, so filled with life and amazing energy. Next, your journey takes you to Agra to mark off a bucket list item: a visit to the world's most famous and iconic building, the Taj Mahal, a landmark that has to be seen in its majestic vastness to be believed.
The colourful desert realm of Rajasthan beckons, where you'll explore magnificent Jaipur, with its grand forts, pink city and fantastic views from lofty temples. Your senses tingling, you then travel to Jodhpur, a city that will capture your photographer's eye. You'll amble through the jumble of cerulean blue streets of the Blue City and within the imposing walls of mighty Mehrangarh Fort.
Your sojourn in India continues with time spent amongst the Rabari shepherds of Rajasthan and then onwards to the beautiful city of Udaipur, where marble palaces reflect in the waters of Lake Pichola.
This is a journey that will sustain your desire for unique travel experiences as well as your appetite for colourful, memorable and exclusive photographic opportunities! As with all our tours, we focus on giving you insightful and meaningful photographic experiences — whether you're capturing the awe-inspiring Taj Mahal or connecting with people as you photograph life in India.
This photography tour is suitable for amateur photographers as well as professionals, and we have designed this tour to run as a small group (8 – 10 guests) to make sure that you will enjoy an intimate, exclusive travel experience in India. All transfers are in a private air-conditioned bus, with our very own driver. We will also enjoy the expertise of an English speaking guide throughout the tour. We have selected accommodation for you that is comfortable and full of character, including boutique and heritage hotels and havelis (mansions).
Tour Highlights

Day 1: Arrival in Delhi, Delhi markets and sights, Safdarjung's Tomb
Welcome to incredible India!
We kick off this tour with your morning pick up from Indira Gandhi International Airport on Monday 29 January 2024 (assuming you arrive with the rest of the group — see below for arrival information). After a breakfast snack and beverage, we visit Chhatarpur Flower Market and Qutab Minar in Delhi. We have an early lunch at a local restaurant, and transfer to our hotel in Delhi to check in.
In the afternoon, we visit to one of the hidden gems of Delhi: Safdarjung's Tomb. This is your introduction to the architecture of the Mughal Empire and, as it's a little off the tourist circuit, we will have ample time to explore the grounds in peace and quiet, and to photograph the impressive minarets and dome and even enter the mausoleum, with its stunning interior architecture.

Day 2: Delhi ghats, wrestlers and Jama Masjid
We begin our first full day in Delhi with a sunrise shoot at Yamuna Ghat on the banks of the Yamuna River. Here, people from the local community come to pray, bathe and wash in the sacred Yamuna river as the golden rays of the sun light the sky to the East. It's a very tranquil time with light that's perfect for photography. Small rowboats ply the waters of the Yamuna, surrounded by flocks of seagulls.
We visit a traditional Indian wrestling akhara where traditional wrestlers tussle in an earthen wrestling ring called the kushti. These strongmen live and breathe their sport and practice a stringent asceticism in their devotion to wrestling. This visit is a fantastic opportunity for environmental portraiture and photojournalistic storytelling.
We will then travel to Old Delhi for a photography walk through bustling bazaars and markets. It's an experiences for all the senses as we wind our way from busy streets to shady laneways, finally culminating with lunch in the old city. We then return to our hotel for rest.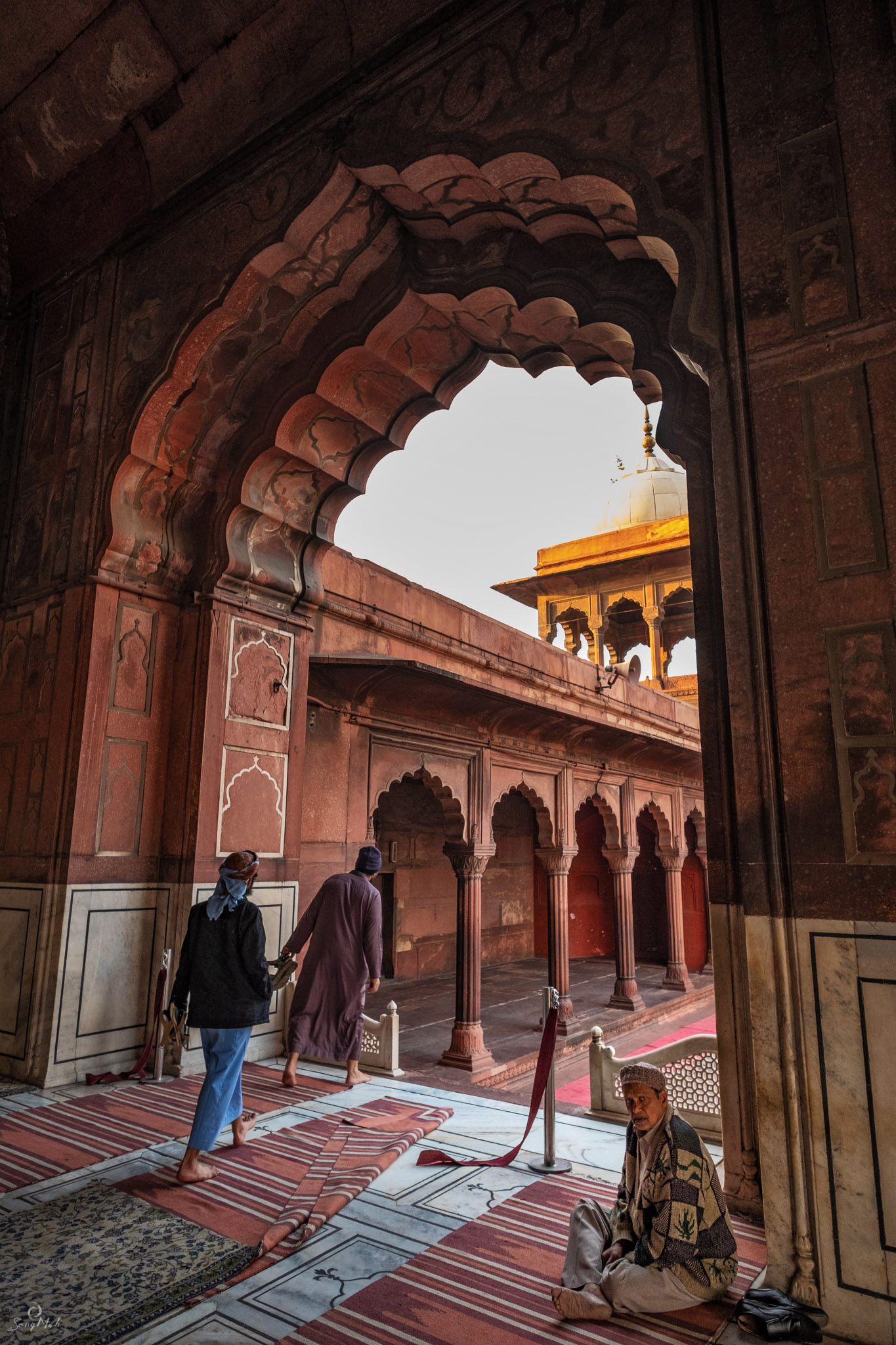 In the afternoon, we visit the Muslim quarter of Chadni Chowk, one of the older districts in Delhi and the site of Jama Masjid, in time for the golden hour. A resplendent mosque dating back to the age of Shahs and the Mughals, Jama Masjid presents opportunities for both people and architecture photography — it is a religious site, but also one where locals and visitors come to explore and rest. You'll be awed by the minarets and domes soaring above you: The mosque has three gateways and four towers soaring into the sky, presenting an impressive photographic backdrop for us.

Day 3: Humayun's Tomb and journey to Agra and the Taj Mahal
Our morning begins bright and early with a visit to Humayun's Tomb, one of the most stunning and impressive architectural achievements from the Mughal era. We will explore the grounds of Humayun's tomb before entering the main building where we'll see the interplay of sunlight coming in through the dome of the building. This is where you can find opportunities to photograph figures as they step across archways and latticed windows, or views of the magnificent mausoleum from the surrounding gardens. Make sure you find time to also visit and photograph the tomb of Isa Khan, a stunning octagonal structure set within the same grounds as Humayun's Tomb.
After breakfast, we board our bus for the drive to Agra in Uttar Pradesh, the home of the iconic Taj Mahal. We check into our hotel in Agra, and in the afternoon we head out for our first proper view of the Taj Mahal, from the Mehtab Bagh, the Moonlight Gardens, across the Yamuna River (yes, the same river that flows through Delhi). We will capture the monument lit with the light of the setting sun. The gardens of Mehtab Bagh and the riverbanks of the Yamuna will be busy with local families and workers, presenting another opportunity for journalistic photography of humanity with the Taj as its backdrop.

Day 4: Taj Mahal sunrise and journey to Jaipur
We begin the day with a dawn visit to the Taj Mahal, arriving very early to beat the crowds. There are very few words that can accurately describe the beauty and grandeur of the Taj Mahal — suffice to say that when it comes to this magnificent monument, the sky is the canvas and the Taj is its painting.
Our sunrise visit is the perfect opportunity to marvel at the artistry and grandeur of the structure, and Seng and Shivam will be at hand to show you some terrific spots from which to photograph the Taj.
We return to the hotel for a late breakfast before boarding our bus for Jaipur, the capital of the state of Rajasthan and home of the Pink City, where soft pink walls of sandstone dominate the town. Rajasthan is quintessential india, with its people sporting turbans and brightly coloured saris and its ancient cities surmounted by imposing fortresses.
The transfer to Jaipur (with a lunch stop on Abhineri Village) takes most of the day, so after arriving in Jaipur and checking into your hotel, the late afternoon is at your leisure.

Day 5: The Jewels of Jaipur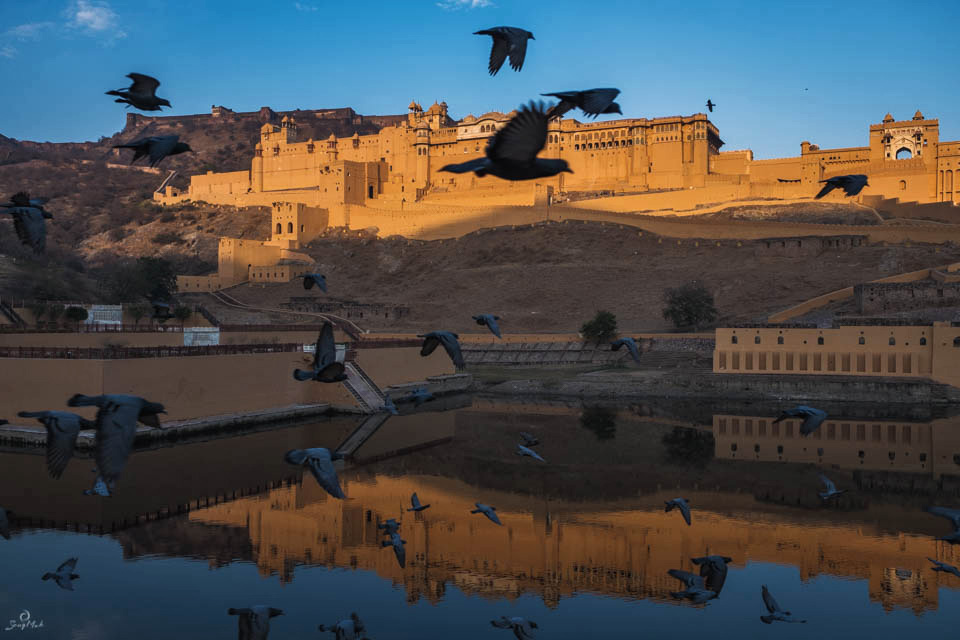 A very early start to the day takes us to the shores of Lake Maota overlooking iconic Amer Fort, one of the most imposing, yet beautiful forts in the region, where we can photograph the fort and its reflection in the still water of the lake. You'll also find opportunities to take street portraits of local vendors who sell bird seeds and fish food so that you can feed the pigeons and fish (as a way of gaining good karma). Buy a small packet of birdseed from the vendor and ask if you can take portrait or two. Strike up a conversation with them as they can be quite cheeky and mischievous.
After sunrise, we take a walk partway towards the fort for a different view of its gates and walls. You'll find plenty of opportunity to photograph the imposing fortress walls with steps leading up to gates within them.
We return to our hotel for breakfast, after which we visit the bazaars of Jaipur for street photography, along with a stop at the beautiful Hawa Mahal (Palace of the Winds) to view and shoot its facade.
In the afternoon, we take the pilgrims' trail to two temples on the outskirts of Jaipur: the Galtaji Temple (commonly called the Monkey Temple) and the Sun Temple. We will begin at Galtaji, which consists of a number of temples built into a crevice. A natural spring feeds a number of sacred water tanks (called kunds) in which pilgrims bathe on their way up to the top of the hill.
The climbing trail takes us past bathing water tanks and temples where you may find sadhus (holy men) willing to give you a blessing in exchange for a handful of rupees. Monkeys abound here and they make great, comical subjects; some of them can be seen riding the back of local domestic pigs that roam the village streets.
Our climb culminates at the Sun Temple overlooking the Pink City of Jaipur. We'll spend the golden hour and sunset here, photographing the magnificent views on offer and, if we're lucky, we may come across some holy men meditating at the temple, surrounded by the local mob of monkeys. Our descent from the Sun Temple takes us through an old residential area, where you'll find locals outside enjoying the cool breeze.

Day 6: Sunrise at the Water Palace and the journey to Jodhpur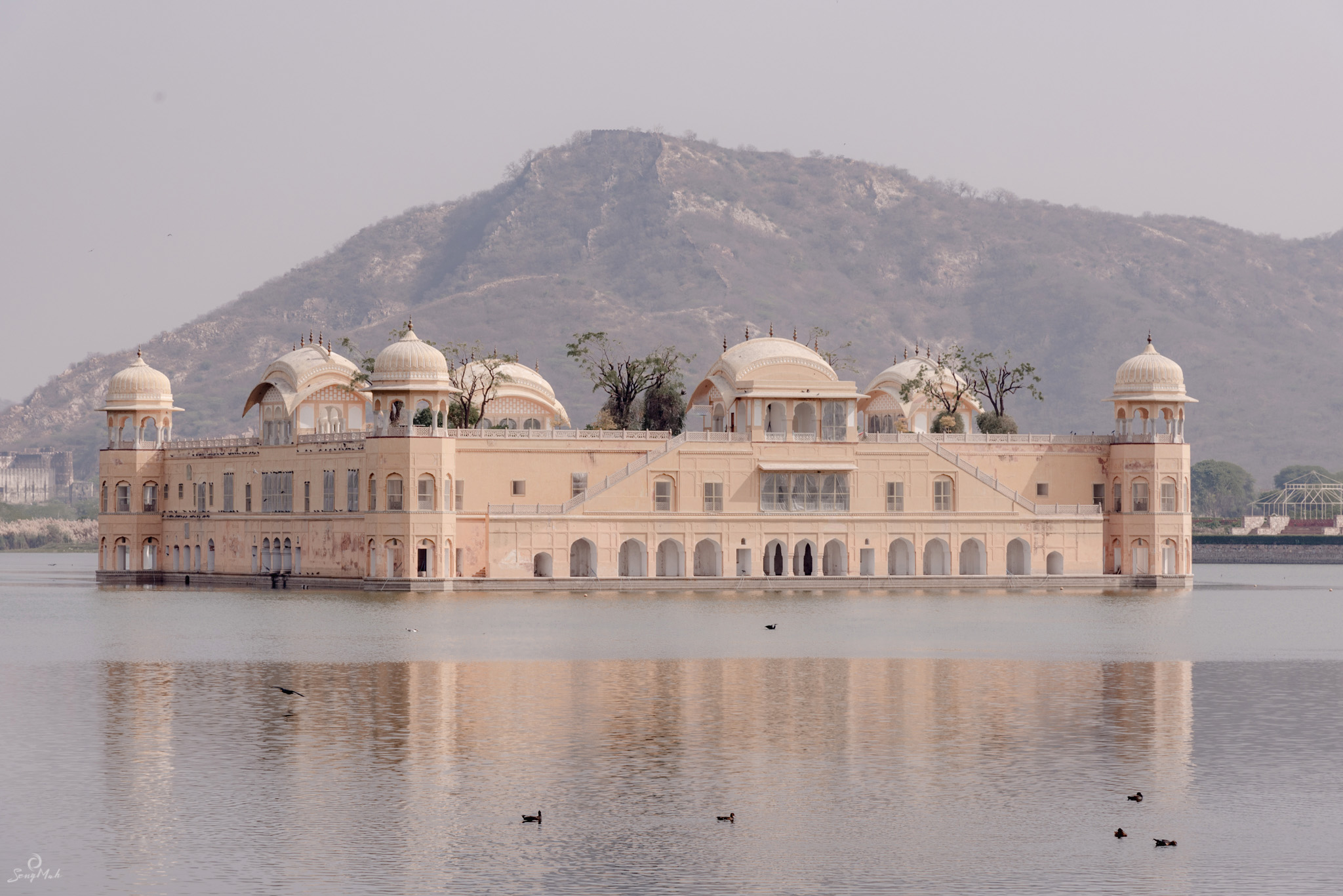 Early morning sees us at the splendid Jal Mahal, a magnificent palace mostly submerged in the waters of Man Sagar Lake. This grand palace is a perfect example of the architecture of the Rajput dynasty of Rajasthan, and consists of four floors, of which only the top floor is visible above water. Sunrise is the perfect time to visit as the rising sun lights the sky beyond the mountains that form the backdrop to the lake and the palace.
After breakfast, we begin our overland journey from Jaipur to Jodhpur, an ancient, rambling city on the edge of the Thar Desert, famous for its imposing Mehrangarh Fort and the blue washed rabbit warren lanes of Brahmpuri, the famous Blue City of Jodhpur.
En route to Jodhpur, we will take a photography stop at a site that features a stark and remarkable landscape of human-made hills created from the detritus from marble quarries. This site is located near the town of Kishangarh.
The journey from Jaipur to Jodhpur will take most of the day, so the late afternoon and evening will be at our leisure when we check into our hotel in the heart of the old city.

Day 7: The Streets of Jodhpur and its Blue City
Our sunrise shoot is at a stepwell in the heart of Jodhpur, called Toorji ka Jhalra. Timed to coincide with the light of the rising sun painting the sides of the stepwell with a golden glow, we hope to also be fortunate to photograph locals at the stepwell.
After an early breakfast, we visit some of the "must-see" locations in Jodhpur, including the imposing Mehrangarh Fort and Jaswant Thada, a cenotaph with a view towards the Fort.
In the afternoon, we visit the Blue City of Jodhpur. The Blue City is unique in that the buildings here are washed with blue indigo paint, creating a surreal, cerulean landscape within which to wander. The narrow lanes and stepways of Brahmpuri takes us on a journey in search of light, faces and street scenes to photograph in the morning.

Day 8: Sardar Market and the Journey to Udaipur
Our morning begins with a street photography walk around the Sardar Markets, where we'll photograph chai vendors and stall holders making a start to the day. We will explore meandering streets and laneways in and around the Clocktower Square in the old city. Our focus will be on capturing moments that tell a story or which invoke an emotion through interplay of subject, light and composition.
After breakfast, we board our bus for our transfer to the village of Jojawar, where we will stay for a night. Our time in Jojawar gives us the opportunity to visit the Rabari people of Rajasthan. The Rabari are sometimes nomadic shepherds and camel herders who live throughout the northwest of India. Characterised by the red turbans worn by men and bright sarees by women, the Rabari are a warm people and our visit will take us into their community and present us with opportunities to capture documentary images and take portraits.

Day 9: Village streets and journey to Udaipur
We begin the morning with street photography in Jojawar, capturing village life at the start of the day. After breakfast, we return to our bus for the final leg of our photographic adventure in India — to the lakeside city of Udaipur. Udaipur is known as the City of Lakes for good reason; much of it is built along the shores of two lakes: Lake Pichola and Fateh Sagar Lake. With its stunning architecture and lake reflections, Udaipur is an absolute gem to photograph.
After arriving in Udaipur, we check into our hotel overlooking beautiful Lake Pichola and you have some leisure time. In the late afternoon, we take to the streets and ghats of Udaipur and head to our lakeside location for a sunset shoot looking across the lake at the City Palace and the Taj Lake Palace Hotel on an island in the lake. In the golden hues of sunset, you may come to understand why Udaipur is also known as "the most romantic spot in India"

Day 10: Udaipur ghats, streets and sunset on Lake Pichola (boat cruise)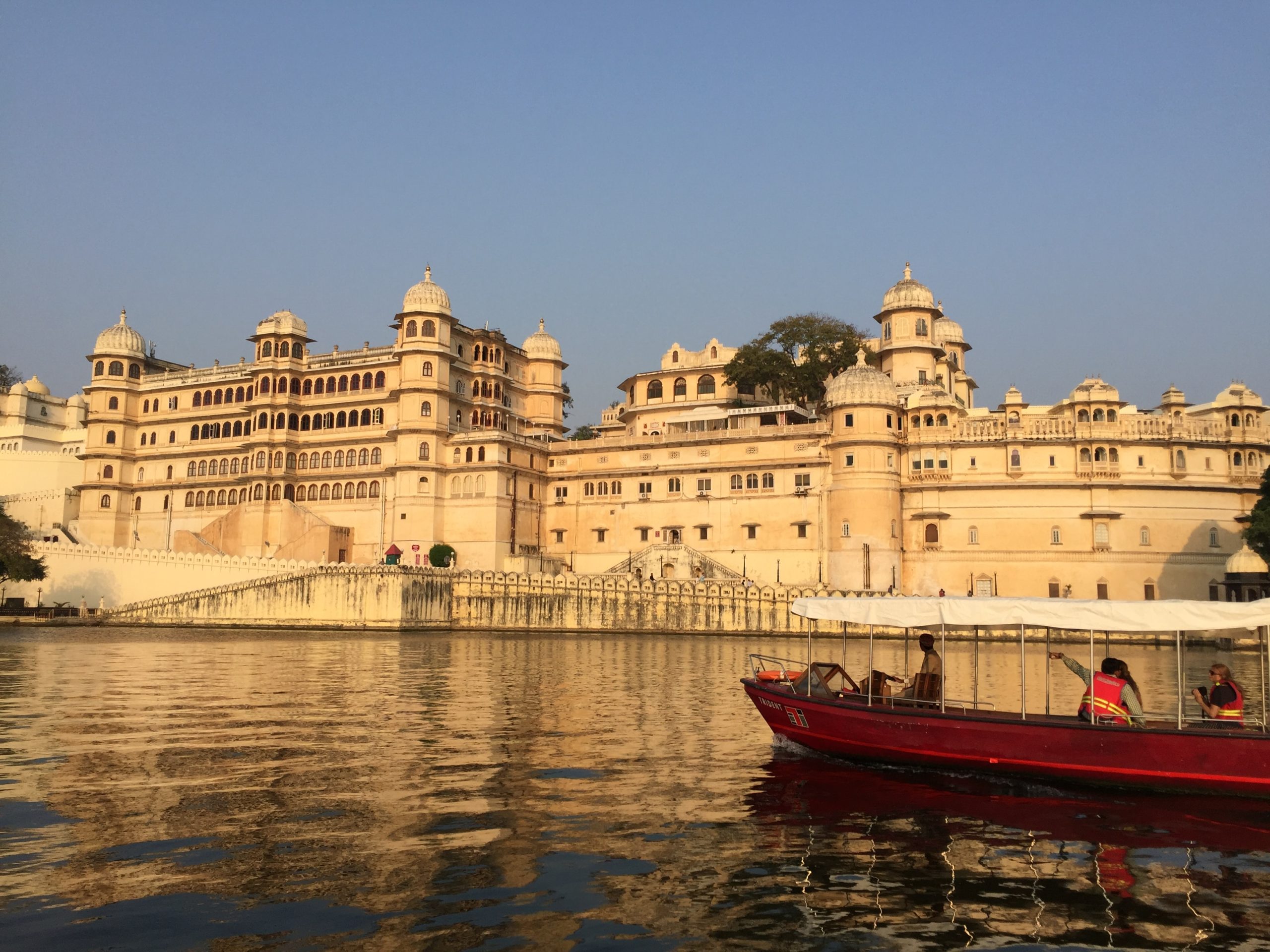 The morning sees us exploring the ghats and streets around Lal Ghat in Udaipur on foot, chasing light and street photography moments in a setting that seems as if it's emerged from a fantastical tale. We'll have a couple of hours to soak in the atmosphere and find those candid, creative moments that make for meaningful street photography.
After breakfast, we embark on a photography walk in the streets of Udaipur,  beginning with the streets around India Gate, and moving through the vegetable and spice markets, to the Clock Tower , brass makers street (Thathera Walo ki Gali) and finishing at the Jagdish Hindu Temple.
After a morning filled with photography, you'll be glad for some lunch and time to relax at your hotel. In the afternoon, you board boats on Lake Pichola for a sunset cruise, giving you the opportunity to photograph the beautiful buildings around the lake (and their reflections) in the beautiful light of the golden hour.

Day 11: Departing Udaipur and farewells
We begin our final day of the tour with a morning shoot at a local market before returning to our hotel for breakfast (you may opt to have a sleep in this morning to rest after a number of truly epic days in Jodhpur and Udaipur).  There is some leisure time to review your images and finalise your packing before we take an early lunch prior to our transfer to Udaipur Airport. Our flight from Udaipur to Delhi is in the afternoon (departing Udaipur about 3.20pm), where you can take your flight from Delhi taking home with you amazing memories (and amazing photographs) of India.
Tour Inclusions
10 nights accommodation hotels and heritage/boutique hotels on single occupancy (a double occupancy is available if you are joining this tour with a life partner or spouse who is also a photographer).
Breakfast, lunch and dinner during the tour.
Arrival and departure airport transfers (assuming arrival in New Delhi and departure from Udaipur).
Land travel in an air-conditioned mini coach.
Private boat ride on Lake Pichola in Udaipur.
Jeep safari to Rabari villages and around Jojawar.
Gratuities to hotel staff, representatives, driver and helper. You may need to cover your own incidental tips when photographing people in the streets or on location during the tour.
Bottled water during transfers to destinations within the tour itinerary.
Services of local English-speaking guides during the sightseeing tours.
Entry fees to monuments (single entry), including photography fee (this fee covers one camera only per guest; if you are bringing a second camera, you'll need to cover the fee for the second camera).
Economy air fare from Udaipur to Delhi on Day 11 – 25 kg baggage allowance.
Photographic instruction and guidance.
Tour Exclusions
Flights to and from New Delhi (tour start and end). If flying ex-Perth, we recommend using Singapore Airlines Perth – Delhi flight (layover in Singapore), departing Perth 5.30pm on 28 January 2024 and arriving Delhi 5.55am on 29 January 2024.
Airport tax (where applied).
Video camera fees (visitors to monuments are charged a separate video camera fee if they bring in a dedicated video camera such as those used by film makers. DSLR/Mirrorless cameras that also take video are exempt from this separate fee, and are covered by your included monument entry).
Comprehensive travel insurance, including medical and evacuation insurance. All participants are required to take comprehensive travel insurance for this tour. You will need to show proof of travel insurance as a condition of participating in this tour.
Entry visa to India (around USD$25 for an eVisa if you're an Australian).
Photographic equipment. You will need to bring/supply your own cameras, lenses, tripods, batteries, filters, memory cards and so on.
Insurance for your photographic equipment while on tour.
Alcoholic drinks.
All personal expenses and fees, including laundry, wi-fi, medication, incidental meals and snacks.
Any transport and fees outside of the tour itinerary.
Testimonials
Tammy Gibbs
India had always been on my travel list but I felt a bit intimidated about the thought of organising a trip there myself. So when the tour came up with Venture Photography, I jumped at the chance to go. Having previously done a tour with Seng to New Zealand, I knew it would be well-organised and that we would be visiting great locations at the right time of day to get the most out of the experience and our photography. I wasn't wrong, the tour was amazing! Seng warned us that India would be a sensory overload and he was right – the colours, the sights, the people, the sounds, the smells. So much to take in and so much to love. It was great to visit some of the iconic monuments like the Taj Mahal and Amer Fort but it was the meandering down the laneways and spending time with locals that I loved the most. Meeting interesting people, seeing interesting things and being able to experience India away from the touristy spots. I mostly shoot underwater and wildlife so this trip took me way out of my comfort zone and straight into the world of street and travel photography. I loved experiencing the Indian culture, food, people and ceremonies under the wings of Seng and Mick and with outstanding local knowledge and guides.

Kerry Faulkner
I'm a journo and scepticism is in my DNA. So when people told me their trip to India changed their lives, I was cynical. It turns out I shouldn't have been. I went with Seng Mah in 2019 and can tell you there is something about India that makes you feel you've made a wonderful, warm new friend who reaches out and embraces you and makes you feel loved and honoured. Seng and Mick 'The Mickster' Porter are the perfect duo to take you there photographically, with their superb photography skills, understanding of India and their humour. The tour is thoroughly researched. Seng taps into the intimate knowledge of the locals, through them finding the best spots for the best pictures, well away from the tourist haunts. I couldn't have wished for a better crew than my 2019 tour-mates to explore India with and I loved her from day one.

Tebani Slade
I can tell you this was one of the most amazing experiences I have ever had. The photography opportunities were fantastic. Everything was organised perfectly, the food, the culture and the friendships made are still very vivid in my mind. I will never forget this trip and it has given me such a longing to go back to India. So if you're thinking of taking a photo trip to India or any where else then Venture Photography is the company to book with.
Tour Price
AUD$8995 with single occupancy.
A discount is available if you are attending this tour with a life partner who is also a participating photographer and will be sharing the room with you. Please contact us if you would like to discuss this.
Book your Place
A deposit of AUD$2000 will secure your place on this tour. Deposits are due on reservation, with the balance paid by 30 October 2023. Note that deposits are fully refunded if the tour is cancelled due to not attaining minimum numbers.
For details of the Terms and Conditions of our tours, including cancellation charges, please read our Photography Tours Terms and Conditions.
To join this tour or contact us with your questions, please use the form below or email seng [at] venturephotography.com.au or telephone+61 417 604 614.