Your tropical islands photographic adventure awaits!

Dates: 10 May – 24 May 2022 (15 days)
Led by: Seng Mah (Christmas Island and Cocos Keeling Islands) with Kirsty Faulkner (Christmas Island).
6 – 8 guests (a minimum of 6 guests is required for this tour to run).
SOLD OUT. This tour has sold out. If you'd like to get on the wait list in the event of a cancellation, please contact us.
Surrounded by the vibrant aquamarine waters of the Indian Ocean, Christmas Island and the Cocos Keeling Islands beckon!
Imagine white sandy crescent beaches fringed with coconut palms and spectacular cliffside views across impossibly blue seas. Swim in crystal clear waters teeming with coral reef and marine life. Discover rare and unique birdlife. Explore and connect with communities steeped in island Malay and Chinese traditions. And taste mouth-watering local cuisine – characterised by a fusion of flavours from Malay and Chinese origins.
All this and more can be yours to experience as a photographer on our Indian Ocean Islands Photography Tour 2022. This 15- day tour covers both Christmas Island and Cocos (Keeling) Islands.
The photographic opportunities will surprise and delight: sunrise and sunset landscape photography to capture the brilliant hues, soft moods and dramatic island light; jungle walks in search of wildlife and waterfalls; coves and lagoons that shimmer in and reflect the colours of the sky.
The tour includes all accommodation, land transport, island exploration activities and photographic guidance at some of the most visually stunning locales on both islands.

This tour combines photography with all the fun and joie de vivre of a tropical island holiday. You'll find yourself shooting beautiful light at sunrise and sunset at beautiful island coves, beaches and lagoons, exploring rainforest trails, chasing waterfalls deep in the forest, snorkelling in spectacular coral reef, floating in warm lagoon water, discovering island traditions and so much more.
You'll be supported in your photography by multi accoladed photographer Seng Mah on both islands, and enjoy local expertise from Kirsty Faulkner on Christmas Island.

Christmas Island Tour Highlights
8 days (7 nights) on Christmas Island.
Circled by the vivid blues of the Indian Ocean, Christmas Island is the perfect island destination for photographers yearning to get back to nature. The island is covered in rainforest teeming with wildlife, and edged by limestone formations that create spectacular vistas overlooking rugged coves and coastlines.
Your experience of Christmas Island begins with a spectacular sunset shoot at the Lookout, followed by a welcome dinner to kick off our island adventure experience!
As this tour is all about photography, sunrises and sunsets will be dedicated to shooting the stunning coastal landscapes and environments on Christmas Island. You will be chasing light at amazing locations including The Cove, Lily Beach, Ethel Beach, Dolly Beach and Greta Beach. Many of these beaches feature amazing cliffs and outcrops that help frame the vivid colours of sunrises and sunsets.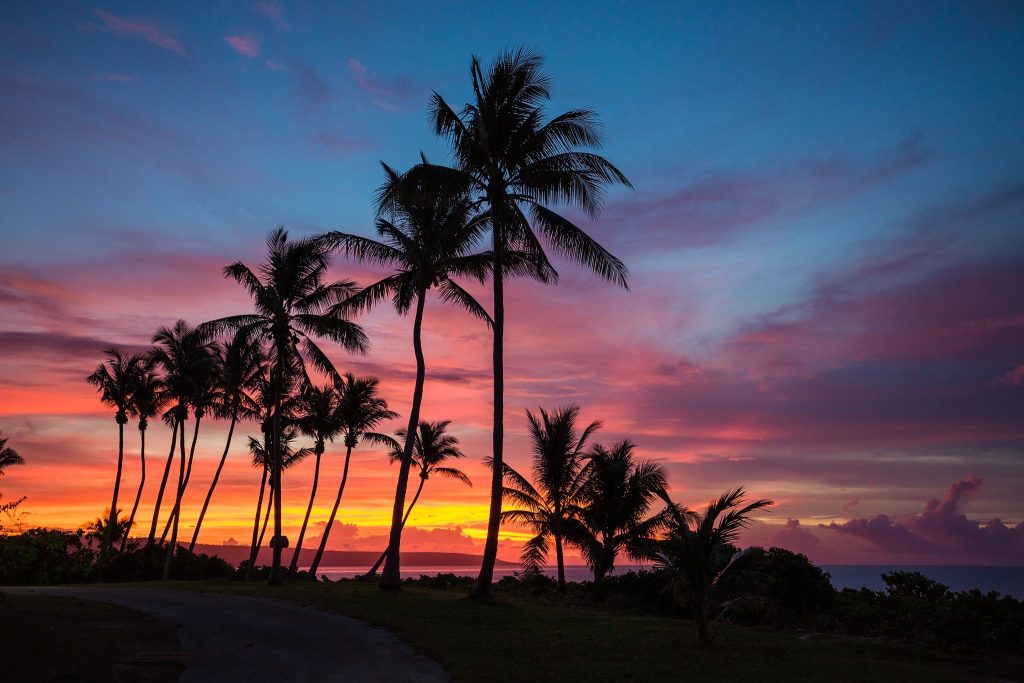 The rainforest, with its lush canopies and hanging vines and lianas provide the ideal escape from the tropical sun. You will spend time exploring jungle trails and embarking on treks to find and photograph beautiful waterfalls and cascades.
You cannot visit Christmas Island without photographing the endemic birdlife, including brown boobies, bosun birds and frigates. And on the ground, you will find the crabs that make Christmas Island so special — including massive robber crabs and red crabs.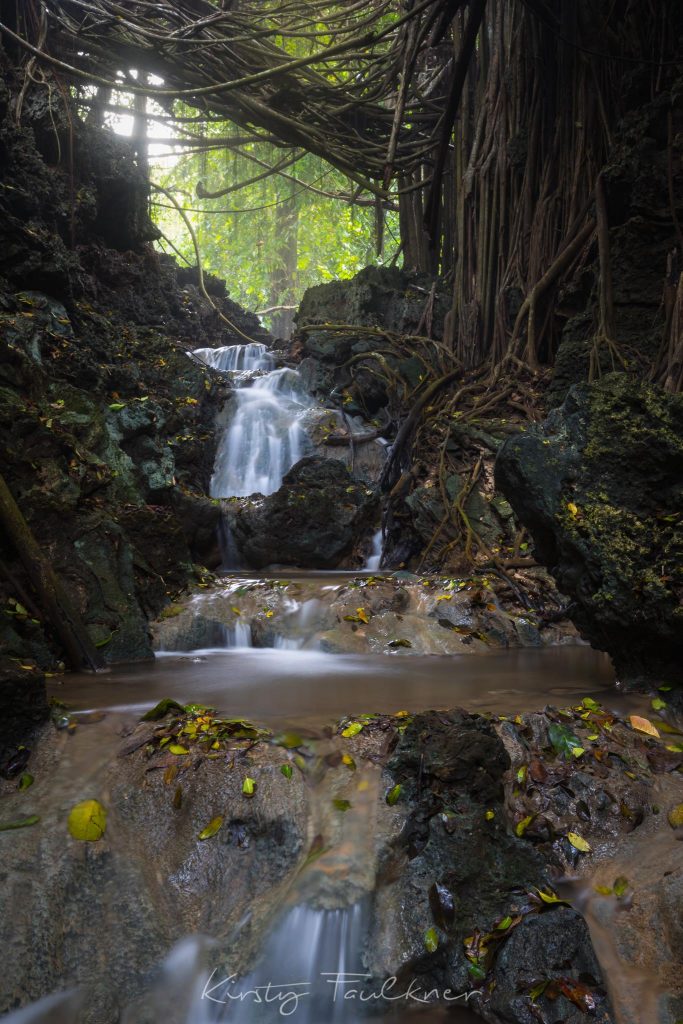 We want you to also soak in the island experience, so this tour includes a boat tour to take you swimming and snorkelling in the warm tropical waters surrounding the island. Pack your underwater camera as the marine life is stunning and you will not want to miss capturing colours and creatures of the reef. And, of course, you mustn't miss a dip in the natural swimming pool within the famous Grotto of Christmas Island!

Cocos Keeling Islands Highlights
8 days (7 nights) on Cocos Keeling Islands.
At Cocos Keeling Islands, you'll find a completely different island paradise. These islands form a tropical atoll, where coconut trees sway over pristine sandy beaches and crystal clear lagoons. Our sunrise and sunset shoots take place at a number of these lagoons, where you will capture beautiful reflections, tropical island colours and the soft and warm hues that paint the sky at the start and end of days.
Your time at Cocos Keeling Islands includes a day on Home Island, home of the Cocos Malay people. With our local Home Island guide, Shak Keegan, you will spend time with local Cocos Malay families, learning about their lifestyles and crafts (for some documentary/portrait photography) and enjoying delicious and authentic Cocos Malay cuisine.
These islands are all about the sea, so this tour includes two incredible on-the-water experiences. Firstly, a water bike tour of the outlying islands, where you'll look for turtles and enjoy some "island time" on the water.
Then, it's time to explore the atoll with a motorised canoe and snorkelling tour of South Island, Pulu Belan Madar and Pulu Meraya — an experience to cherish as you swim amongst coral reef, vivid tropical fish and have the opportunity to come face to face with turtles! Enjoy a scrumptious meal on one of these tiny islands, try your hand at husking coconuts or just sit back in the crystal clear sea and enjoy a drink or two.
On top of all of this, you will enjoy drift snorkelling and spectacular underwater photo opportunities at magnificent coral reef that has to be seen to be believed. These veritable "underwater gardens" brim with life and colour!
If weather conditions permit, you will also learn about photographing the night sky at one of the island lagoons, where you'll capture the rising Milky Way rising over off-shore islands. The beauty of being so isolated in the middle of the Indian Ocean is that there is no light pollution, so the sky on clear nights is a glittering tapestry of stars.
Your time on Cocos Keeling Islands culminates in a farewell dinner at Canoe Beach, where the changing colours of twilight and the appearance of twinkling stars in the sky will leave you with lasting memories of the Indian Ocean Islands of Australia.
Inclusions
All accommodation during the tour (7 nights Christmas Island, 7 nights Cocos Keeling Islands)
Transport on both islands (4WDs and mini bus).
Boat and snorkelling tour at Christmas Island.
Cultural Tour and local island cuisine at Home Island (Cocos Keeling).
Water bike tour to outlying islands at Home Island.
Reef walking and snorkelling experiences on West Island.
Motorised canoe and snorkelling tour at West Island (Cocos Keeling).
Visit to Direction Island including drift snorkelling.
Welcome dinner at Christmas Island.
Farewell dinner at Cocos Keeling Island.
Photography instruction and support during the tour by Seng Mah (Christmas and Cocos Keeling Islands) and Kirsty Faulkner (Christmas Island only).
Exclusions
Return airfares departing Perth, Western Australia. Flights are from Perth to Christmas Island, Christmas Island to Cocos Island, and Cocos Island returning to Perth. Estimated airfares starts at $1065 ex Perth (Perth – Christmas Island – Cocos Island – Perth); pricing is subject to change closer to date of the tour.
Travel insurance (you are required to take travel insurance for this tour due to potential changes in flights due to weather conditions).
Meals not listed in "Inclusions" above.
Drinks, including alcoholic beverages.
Photographic equipment (you will need to supply your own photographic equipment to participate in this tour).
Any transport and activities outside of the tour itinerary.
Personal expenses, including laundry, wifi, medication, snacks etc.
Fitness and mobility
A medium level of fitness is required to participate in this tour. There will be hikes and walks on unsealed trails, including uphill and downhill walks on Christmas Island. A reasonable level of fitness is also required to take part in swimming and snorkelling activities on both island destinations. Good mobility and good balance is essential for this tour.
Please also note that restaurants on both island destinations may not be able to cater for specific dietary requirements and/or allergies. Seafood (fish) features large in island cuisine, as does rice and coconut-based sauces. If you have specific dietary or nutritional needs, please contact us first to discuss before signing up for this tour. (Note that you are able to bring food from Perth to Christmas Island and Cocos Keeling Islands — but will need to declare food on arrival).
Island meals and drinks
Christmas Island and Cocos Keeling Islands do not have their own food production facilities — in other words, all food needs to be shipped to the islands from mainland Australia. Hence, you may find that the cost of some meals are a little more expensive than on the Australian mainland. However, the islands are duty free, so alcoholic beverages are often cheaper than on the mainland.

Tour pricing
AUD$6980 per guest if twin sharing (with en-suite) with your partner or a friend who is also a paying guest on this photography tour.
AUD$8450 per guest with your own private room (with en-suite).
Note that we may be able to accommodate up to two non-photographer partners on this tour in addition to the 6-8 guests (assuming twin share with photographer guest). Please contact us using the form below to discuss this as a special price may be available for non-photographer partners.

Reserve your place
SOLD OUT. This tour has sold out. If you'd like to get on the wait list in the event of a cancellation, please contact us.
---
A deposit of AUD$1500 will secure you a place on this tour. This deposit is refundable if the tour is cancelled by the organiser (we require a minimum of 6 guests to run this tour). The final payment of the balance is due by 25 February 2022.
For details of the Terms and Conditions of our tours, including cancellation charges and our Covid-19 policy, please read our Photography Tours Terms and Conditions.
To join this tour or contact us with your questions, please use the form below or email seng [at] venturephotography.com.au or telephone 0417 604 614.