Enter a landscape of spectacular gorges, spinifex deserts, reflective pools, vibrant red rock and truly mesmerising photography!

Tour dates: 15 – 20 June 2022
Tour length: 6 days
Led by: Ty Stedman and Nathan Dobbie
6 guests
This tour begins at the Karijini Eco Retreat and finishes at Tom Price (includes transfers to Paraburdoo Airport).
Pace: Moderate to High. You will require a reasonable to good level of fitness and mobility for this tour, as it involves walks along gravel tracks (uphill and downhill) and steps, ladders and some descent/ascent over rocks and rocky slopes (including Class 3 to Class 5 tracks).
Discover a landscape two billion years in the making as you explore and photograph a setting hewn from ancient desert rock… A landscape of cavernous gorges, spring-fed reflective pools, red rock plateaus, spinifex gardens and beautiful cascades. To the Banyjima, Kurrama and Ynnawonga people, this landscape was formed during the Dreamtime, when the Warlu, a serpent,  wound its way through the landscape of the North West of Western Australia.
Here is a land of remarkable contrast — your day may begin with a sunrise overlooking across the plummeting depths of gorges, across vistas of red earth, spinifex fields and ghost gums, and then you find yourself trekking down to a beautiful waterhole fed by a trio of cascades, a place of spiritual significance to the Indigenous people of the region. And, at night, under clear skies, you'll spy the Milky Way framed by the sinuous limbs of ghost gums and alien-shaped ant mounds.
This is a photographic opportunity of a lifetime, one which you simply must not miss!
Tour Highlights
Day 1: Karijini Eco Resort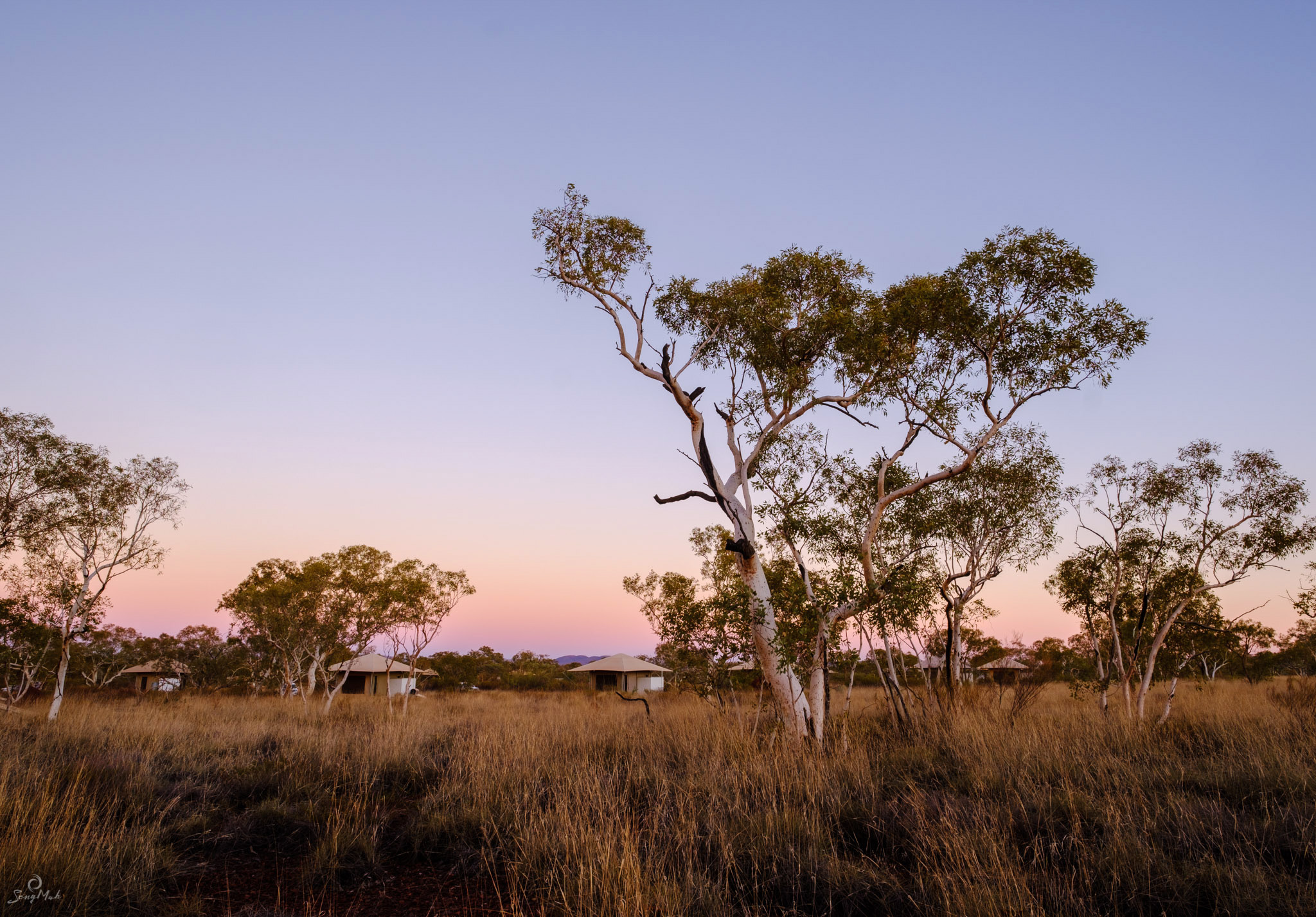 You'll arrive in Paraburdoo airport at 3.15pm and be picked up for your transfer to Karijini Eco Retreat, your home for the five days of this photography tour. On arrival at the Retreat, you'll check in and have some time to unwind before we head out for a sunset shoot at Knox Lookout. Here, you'll enjoy your introduction to the landscape of Karijini, as you gaze into the depths of the gorges and across the spinifex dotted tops of cliffs and plateaus.
At night, we will photograph the landscape of the Pilbara by the light of the moon, a haunting landscape of anthills and white-barked ghost gums.
Day 2: Weano and Kalamina Gorges
Our sunrise shoot takes us to Weano Gorge, one of the "classics" of Karijini National Park. We begin with sunrise above the gorge as we take a trail that will reveal the iconic Karijini Pilbara landscapes dotted with white gums and red anthills. We will descend into the gorge and follow the circuit trail that will take us past water holes, tiny cascades, rugged cliffs, reflective pools and then back up to the car park.
Our late-afternoon/sunset destination is Kalamina Gorge, an accessible and very photogenic gorge where we will explore the trails at the base of the gorge and look for reflective pools and hidden cascades to photograph. Surrounded by layers of stratified red rocks, you will feel as if you have entered another world, one that resonates of age and primordial history.

Day 3: Dales Gorge, Fern Pool, Fortescue Falls, Joffre Gorge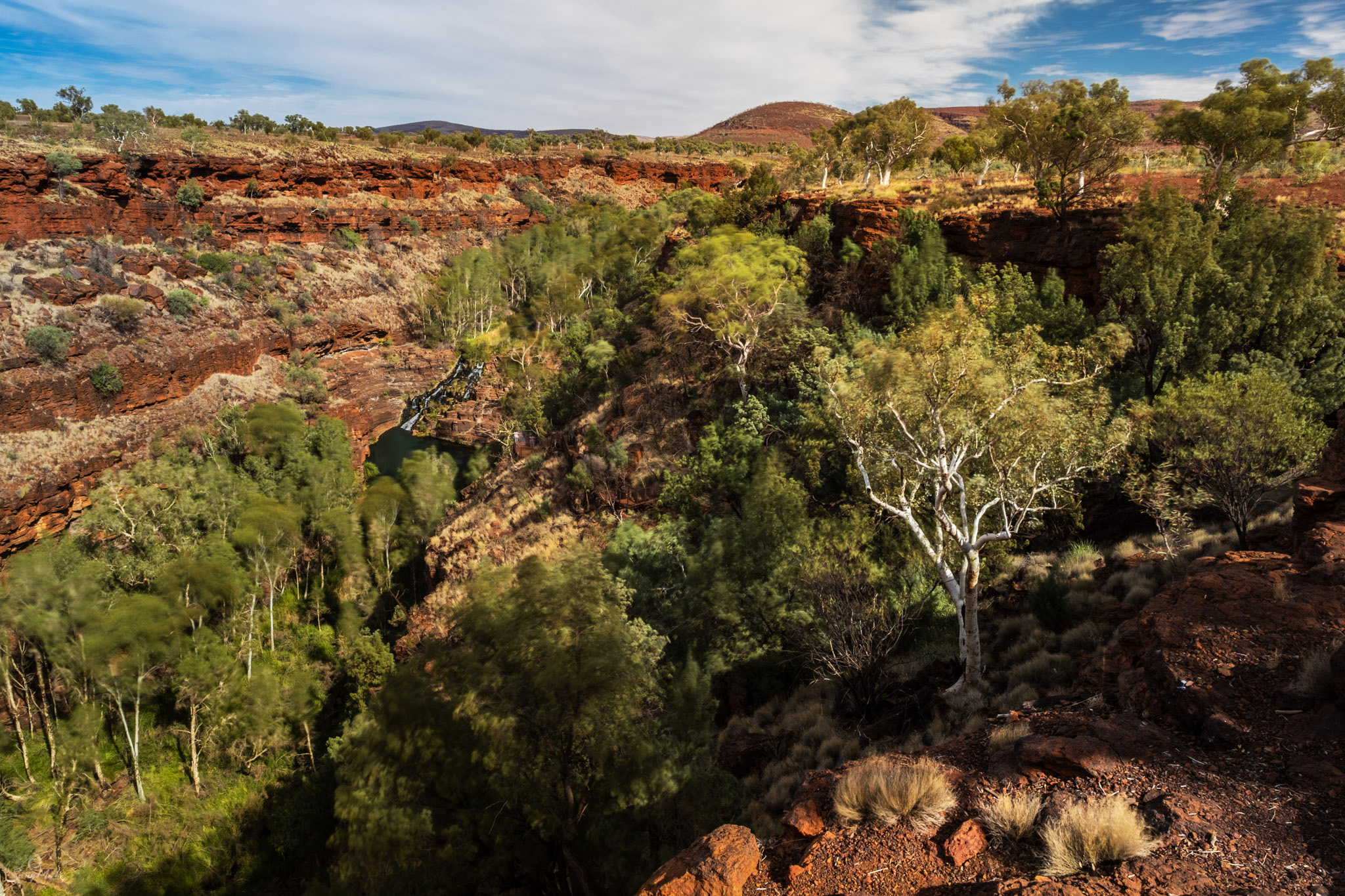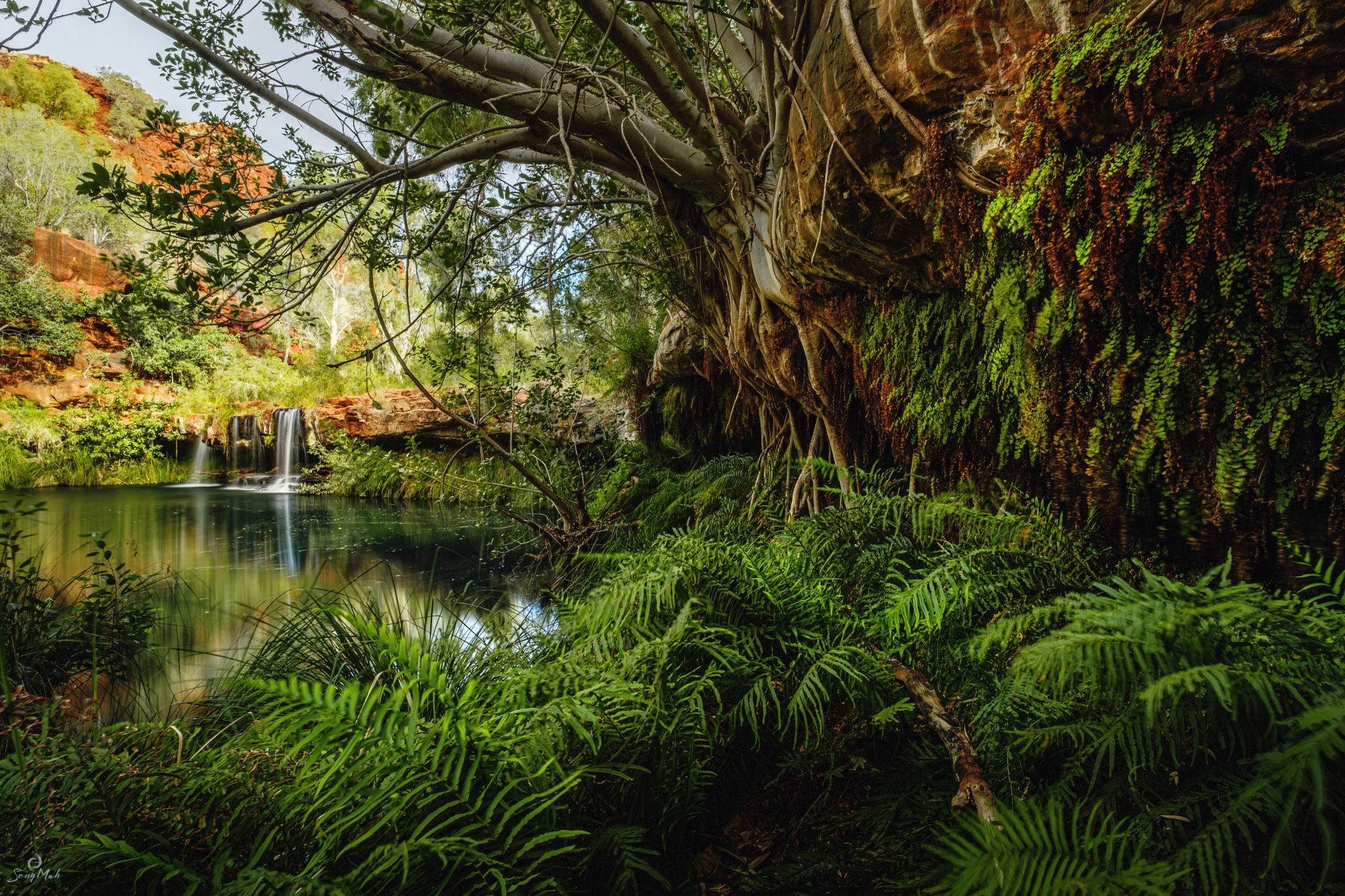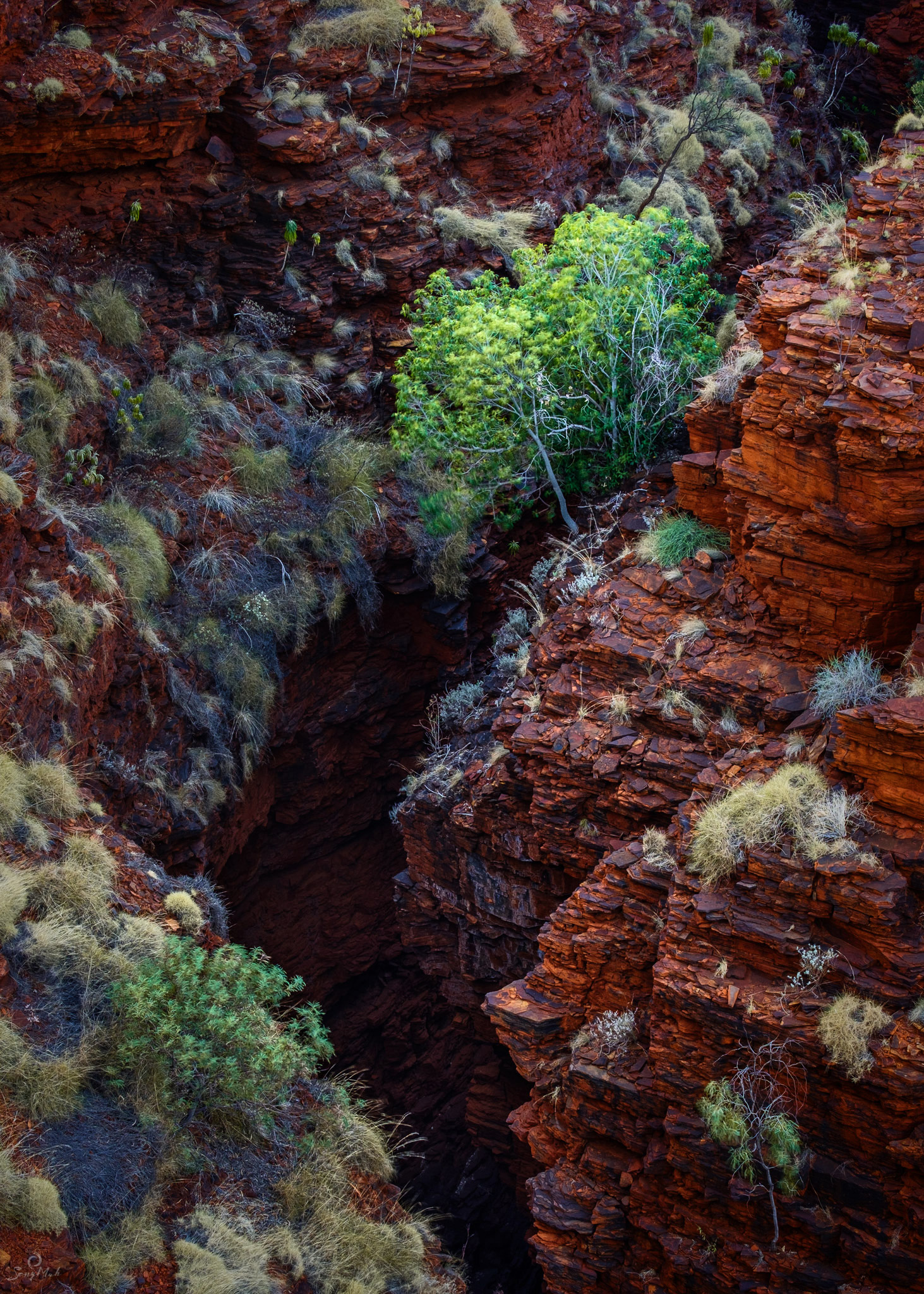 We have a very early start this morning, as we board our mini bus and head to Dales Gorge for sunrise. We'll photograph the sky blushing with hues of pink and magenta as the sun rises and bathes the Pilbara landscape in first light.
Our morning is spent in Dales Gorge as we take in the incredible sight of Fortescue Falls before embarking on an easy hike to beautiful Fern Pool, a water hole fed by a trio of incredibly pretty cascades. Bring your swimwear and you can take a dip in the refreshing pool and swim out to the falls. Or just relax in the shade of arching trees and ferns as you soak in the stillness and spiritual significance of this sacred site.
We will spend the rest of the morning exploring Dales Gorge before returning to the Eco Retreat for lunch.
In the late afternoon and into sunset, we head out to Joffre Gorge remarkable for its stark and rugged geology. We will climb ladders down cliff faces to the water filled base of the gorge and, after a short water crossing, enter the cavernous site of Joffre Falls — a stunning natural amphitheatre surrounding the falls.
Day 4: Hancock Gorge and Tom Price
Image by Nathan Dobbie
This morning is reserved for time spent in Hancock Gorge, one of the more popular gorges in Karijini as well as one of its most challenging. Hancock Gorge is one of the most iconic of Karijini's gorges and it is here that we can truly marvel at and appreciate the incredible age of the region: we will walk through incredibly deep gorges and along bubbling streams, looking at micro-landscapes within the gorges: views through narrow openings and canyons. Part of Hancock Gorge may require wading through pools of water, so you will need to be prepared for some immersion if you'd like to explore further into this gorge.
After checking out of the Eco Retreat, we head towards Tom Price, where we stay for two nights. Our sunset shoot is at a location just outside of town where we will capture beautiful Pilbara landscapes in the golden hour and into sunset. 

Day 5: Pilbara sunrise and Hamersley Gorge
Image by Nathan Dobbie
Image by Nathan Dobbie
We kick off the morning with a sunrise shoot at another location near Tom Price — capturing the magnificent stretch of the Pilbara bathed in the golden glow of the rising sun.
In the afternoon, we head for Hamersley Gorge, another icon of the region. This is a place of water holes surrounded by cliffs and rocky shelves, their shimmering surfaces reflecting the light on the red rock above. It is also the home of Spa Pool, a naturally occurring spa fed by a small waterfall which has become an icon of the region.
We return to the Tom Price for our group dinner (included in this tour – see below) where we reminisce about our time at Karijini and the Pilbara and the sensational images captured.

Day 6: Return to Perth
After an early breakfast, we check out and transfer you to Paraburdoo Airport for your morning flight back to Perth. 
What's included:
Land transport in 4×4 vehicles (with air conditioning)
3 nights accommodation in an Karijini Eco Retreat Safari tent (with ensuite) and 2 nights accommodation at Tom Price Tourist Park.
All photographic tuition and guidance during the tour.
National Park fees and permits.
Group dinner on the evening of Day 5 of the tour. Note this does not include alcoholic beverages.
Exclusions:
Flights to/from Paraburdoo.
Lunches and dinners (except the group dinner noted above).
Alcoholic drinks.
Travel insurance is compulsory for this tour and remains your responsibility.
Photographic equipment. You will need to bring/supply your own cameras, lenses, tripods, batteries, filters, memory cards and so on.
Any transport or activities outside of the tour itinerary.
Personal expenses, including laundry, wi-fi, medication and incidental meals.
Fitness and Mobility
You will need a reasonable to good level of fitness and mobility to participate in this tour. There will be hikes on unpaved and rough trails (up to Class 5 tracks), some steep descents/ascents, wading/swimming with your gear in dry bags, climbing down/up ladders and steps. Good mobility and a good sense of balance is essential. We also recommend that you use walking poles. If you have questions about whether this tour is suitable for your level of physical fitness or mobility, feel free to contact us. 
Price of Tour
AUD$5800 per person if twin-sharing with your partner or spouse, or a photographer friend who is also a paying guest on this tour. Note that because of the limited number of participants on this tour, non-photographer partners/spouses will still need to pay the full price for the tour.
AUD$6590 per person with your own room during the tour.
RESERVE YOUR PLACE
A deposit of AUD$1500 will secure you a place on this tour. This deposit is refundable if the tour is cancelled by the organiser (we require a minimum of 6 guests to run this tour). The final payment of the balance is due by 30 April 2022.
Before booking on this tour, please read our Photo Tour Terms and Conditions, especially our Covid-19 refund policy if this tour cannot run due to the impact of Covid-19 induced lockdowns or travel restrictions.
To join this tour or contact us with your questions, please use the form below or email seng [at] venturephotography.com.au or telephone 0417 604 614.