Take part in a photographic adventure in a land famous for truly iconic images of Africa. The Kenya Photography Safari is your gold ticket to experience and photograph this vibrant land of sweeping savannah, teeming with wildlife, rugged landscapes and truly exclusive travel and wildlife experiences. You'll gain the guidance and support of two professional photography instructors during the tour and be rewarded with professional-quality images of wildlife, landscapes and the Maasai people that others can only daydream about taking.
Tour dates: 8 – 16 September 2018
Tour length: 9 days
Minimum 4 guests. Maximum 10 guests. ** Only 2 places available **
This tour is suitable for photographers of all levels.
Pace: Very easy and comfortable. From pick up at Jomo Kenyatta Airport to drop off, you'll be transferred from all locations in this tour. There is a walking safari included in this tour along an easy trail.
---
Fulfil your photographic bucket list with this unforgettable wildlife photography tour of Kenya. Boasting an itinerary full of unmissable experiences and photographic opportunities, you will never feel closer to the wild, beating heart of Africa!
There is nothing quite like setting your eyes on wild animals in their natural setting: seeing the close-knit families of elephants interacting with each other on river banks, watching herds of giraffes canter through tall grass as they seek the thorny foliage of acacia trees on which to gaze, a pride of lions angling in for the hunt, wild hyenas fighting for prey, leopards recumbent on tree branches, herds of antelopes, impalas and gazelles spread out before your very eyes.
And because this is a photography tour, you'll be guaranteed that we will be taking photographs in the best light and from the best angles available. This is the stuff of dreams are made of and you get to live and photograph it for eight glorious days!
Traveling in comfort aboard 4×4 vehicles with open windows and tops, you will have the perfect opportunity to view and photograph the wildlife of three reserves in Kenya: Samburu, Naivasha and the Maasai Mara. Each reserve features its unique environment and wildlife, from the riverine forests of Samburu to the lakeside setting of Naivasha and, finally, the legendary grasslands of the Maasai Mara, where you'll find yourself at the centre of the great wildebeest migration.
And to top it off, we have included a number of unique experiences to round off your African photography safari:
Spend an afternoon at a Maasai village where you'll have the opportunity to connect with the Maasai people, learn about their lifestyle and culture, and take beautiful portraits of your local hosts decked out in traditional vibrant clothing and beads.
Embark on a boat trip across the shimmering waters of Lake Naivasha where we will seek out birds and hippos and where you'll see local life unfolding on the banks of the lake as fishermen drag their nets in the shallows.
Take a walking safari on Crescent Island brings you up close and personal with wildlife in their natural environment, an experience that is not to be missed!
Our English-speaking local guide and driver will be at hand to share their knowledge of wildlife, their habits and habitats, and you'll learn how to improve your photography from your professional photography instructors, Seng Mah and Craig Franke. You'll have ample opportunity and room to shoot as we only take a small group of six per vehicle, ensuring that every photographer has access to a window and a view out of the top of the jeep to make sure that you get the enviable close-up shots of wildlife.
Features
An African photographic safari is a bucket list item for many. What differentiates this from your typical tourist safari is the care and attention that has been put into crafting the photographic itinerary for you and ensuring that you travel and live in comfort during this tour.
Only five photographers per Jeep to ensure you get a window to yourself and all the room you need to take great photos, plus one photography instructor/coach per vehicle.
Knowledgeable, experienced and professional English-speaking drivers who have been trained by our tour partners, African Travel Specialists.
Personalised photography teaching and support during the tour. You'll be learning the professional tips and techniques for taking great images and leave the tour with a whole new set of photographic and visual skills and knowledge!
Early starts and late afternoon finishes on our game drives to ensure that you photograph in the best light and from the best angles, and get to view the habits of wildlife at different times of the day.
Accommodation (lodges and camps) situated right inside the wildlife reserves and national parks.
Safety and security that is assured, as your itinerary has been developed in partnership with African Travel Specialists to ensure that your travel is worry-free and comfortable.
Tour Highlights
DAY 1: NAIROBI
On arrival at Nairobi's Jomo Kenyatta Airport, you'll be met by a representative from African Travel Specialists and transferred to your 4-star hotel situated near the airport. This way, we avoid Nairobi's famous traffic jams and ensure that you are quickly settled in comfortable lodgings after your long flight to Kenya.
We kick off a tour with a meet and greet with Seng and Craig, where we'll discuss the exciting itinerary we have ahead and get everyone set up on how best to use your camera and lenses when photographing wildlife.
DAYS 2-4: SAMBURU RESERVE
You will be met at the hotel by your English-speaking Kenyan guide/driver and transferred on the road to Samburu, where we have three nights at the Samburu Game Lodge.
The Samburu Game Lodge is set on 10 acres of pristine riverine forest on the bank of the Uaso Nyiro River, a rugged landscape with a backdrop of jagged mountains and its own indigenous wildlife unique to the northern region of Samburu Reserve. You will enjoy game drives in the reserve, which is excellent leopard-spotting territory. Samburu is also home to five species of animal that won't be found anywhere else on this tour's itinerary: the Gerenuk or Giraffe Gazelle, Somali Ostrich, Grevy's Zebra, Oryx and the Reticulated Giraffe.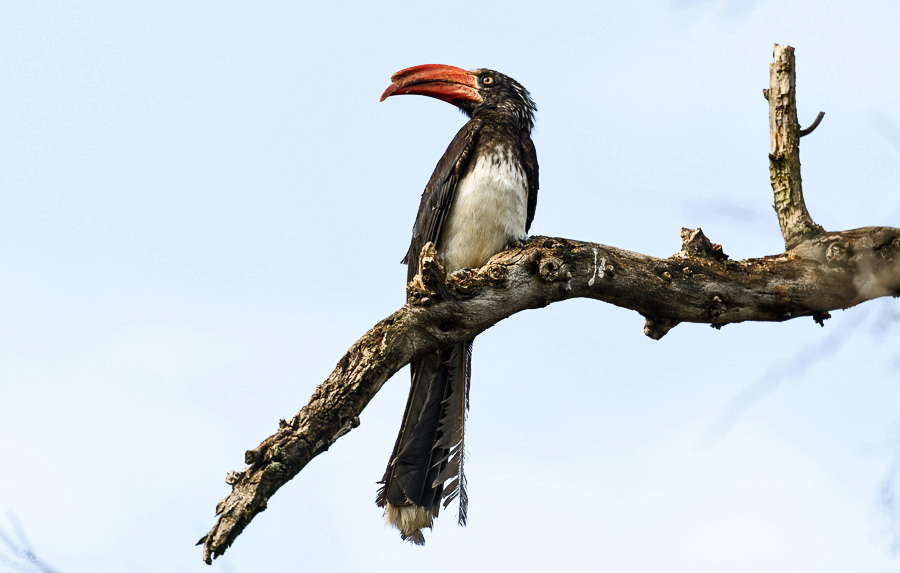 DAY 5: LAKE NAIVASHA
From Samburu, we transfer to Lake Naivasha, a haven for birdlife and hippopotami, where we will spend an afternoon exploring the lake by boat looking for brightly coloured kingfishers, herons, cranes and majestic fishing eagles. The lake is also the home of herds of hippopotami and is the perfect spot for close-up photography of these "river horses" immersed in the water.
Our afternoon at Naivasha caps off with a walking safari on Crescent Island, where you'll be able to wander and experience the wilderness on foot, giving you a more intimate experience of the environment and wildlife.
Your accommodation at Lake Naivasha is at the Naivasha Sopa Lodge, on the shores of the lake and set in amongst gardens of brightly coloured flowers and cacti.
DAYS 6-9: MAASAI MARA AND THE GREAT MIGRATION
The Maasai Mara needs no introduction, as this is the setting for everything that we imagine when we think about iconic Africa. It's a land of sweeping savannah and grasslands where herds, packs and prides roam free in the tall grass or amongst flat-top acacia trees. Our days here will be filled with stunning photography on our game drives and we will be focusing on photographing the Great Migration of Wildebeests crossing the Mara River in hundreds and thousands.
A real feature of our time in the Mara is a visit to a Maasai village, where we will be welcomed by the leaders of the village and made to feel a part of the community. This is your perfect opportunity to photograph portraits of the Maasai people and their bright and colourful clothing and beads. You'll connect with the villagers and learn about them, their culture and lifestyle in a way that's intimate, hands-on and truly engaging.
You complete your photography safari in the Maasai Mara with a totally unforgettable experience, one that brings you close to this magnificent wilderness and which will leave a lasting impression. What is it? Well, it's a surprise! Join us and find out!
You will have three nights at the Mara Serena Lodge, poised high on a hill overlooking the plains of the Maasai Mara, with views of the famous Mara River.
What's Included?
All airport transfers.
All accommodation during the tour.
All main meals (breakfast, lunch and dinner).
All land transport via 4×4 vehicles with professional guides/drivers from African Travel Specialists.
All in-tour photographic guidance and tuition.
Private game drives in 4×4 vehicles with adjustable open tops.
All park entrance fees.
All taxes and VAT in Kenya.
All activities and experiences as outlined in the Tour Highlights above.
Exclusions
Flights to and from Nairobi.
Single entry Visa (Tourist Visa), which is about USD$50.
Alcoholic drinks.
Travel insurance. All participants are required to take comprehensive travel insurance for this tour. You will need to show proof of travel insurance as a condition of participating in this tour.
Insurance for your photographic equipment while on tour.
Photographic equipment. You will need to bring/supply your own cameras, lenses, tripods, batteries, filters, memory cards and so on.
Vaccinations and travel medication.
Personal expenses, including laundry, wi-fi, medication and incidental meals.
Tips.
Transport outside of the tour itinerary.
Price of Tour
AUD$8450* twin share for guests travelling with a friend or partner who is also a paying guest and participating photographer. Non-photographer friends/partners are welcome: If your accompanying friend or partner is a non-photographer, please contact us for the special price for non-photographers.
A single supplement of AUD$1298* for guests requesting their own room or who are not travelling with another paying guest.
WOULD YOU LIKE TO EXTEND YOUR AFRICAN ADVENTURE?
Our Agent, Globetrotter, would be happy to assist in booking your international flights, travel insurance offering a 20% discount off policy cost (subject to terms and conditions of policy provider) and has pre-tour and post-tour options:
PRE-TOUR: 2 Nights at Victoria Falls – from AUD$891 twin share.
POST-TOUR: 3 Nights in Zanzibar – from AUD$803 twin share.
If you would like to more information about the pre-tour and post-tour, please let us know in the Comments section of the booking form below and we can put you directly in contact with Globetrotter.
Book your Place
A deposit of AUD$900* will secure you a place on this tour. This deposit is refundable if the tour does not go ahead (we require a minimum of 4 guests to run this tour).
Final payment of the balance by 1 July 2018.
Bookings close 31 March 2018.
* Please note that a credit card service fee of 2.6% will be charged if you're paying via credit card (Visa or Mastercard only)
For information on cancellation charges and refunds, please read our Photography Tours Terms and Conditions.
To join this tour or contact us with your questions, please use the form below or email seng [at] venturephotography.com.au or telephone 0417 604 614.