"An immersive and memorable photography tour into the heart and soul of India's most intriguing and soulful cities…"
Tour dates: 19 – 26 January 2021
Tour length: 8 days
Led by: Seng Mah with Shivam Pandey
Minimum 4 guest to run this tour.
Pace: Moderate
This tour begins in Kolkata and concludes in Varanasi.
Experience grassroots India on a photography tour to two incredible cities – Kolkata and Varanasi. This bespoke tour has been created to give you the opportunity to mingle with locals, capture their stories and find yourself in a wholly immersive travel experience that will long linger in your memories.
Kolkata with its earthy blend of old and new is the perfect setting for street and documentary photography with a focus on humanity, all set against a backdrop of rambling colonial streets, old courtyards, meandering alleyways and sunlit riverside ghats. Holy Varanasi on the banks of the sacred River Ganges, is the oldest living city in human history, where centuries-old traditions and Hindu devotions are still practiced on its ghats and where the interplay of light and life in the backstreets beckon. You'll find humanity at its rawest in both cities, along with incredible and stirring stories of human lives, spirituality and endeavours.

Kolkata street scene
The itinerary for this photography tour has been specially designed for street and documentary photographers — those keen on finding and photographing human stories and capturing the soul of a place, as well as catching those elusive, illuminated moments in the streets. Both Kolkata and Varanasi present incredible light and locations in which to shoot; you'll be drawn in by their mystique and be inspired to shoot images and create stories that are evocative and emotive.

Morning prayer in Varanasi
To guide you through this tour are Seng Mah (travel and documentary photographer; photography educator) and Shivam Pandey (street and documentary photographer; fixer and guide). Shivam is local to Kolkata (and was born and lived in Varanasi), while Seng has visited and photographed India extensively in the recent past. We will be at hand to support your photography here and to help you develop your vision while you're shooting, showing you how to find and use light, ways to create stronger compositions and techniques to help you connect with the people you meet and photograph.
This photography tour is for you if you:
Enjoy travel and documentary photography and want to capture scenes and moments that are singularly unique in your body of work.
Love street photography and are searching for street photography environments that are layered and full of visual potential.
Want to learn how to tell stories through your photography.
Relish off-the-beaten path travel experiences and the photographic rewards that can come from them.
Tour Highlights
Kolkata: Days 1 – 4
"Kolkata, as it's often said, is not a city; it is an emotion." (Ishita Sengupta, Writer and Editor)

"Kolkata is not for everyone. If you want your city clean and green, stick to Delhi. You want your city rich and impersonal, go to Bombay. You want them hi-tech and full of draught beer, Bangalore's your place. But if you want a city with a soul, come to Kolkata" (Vir Sanghvi, Journalist)
You'll be picked up from Netaji Subhas Chandra Bose International Airport and transferred to our residence in Kolkata, a great hotel (with comfortable beds, ensuites, air-conditioning and all the mod cons) in the heart of the city. Just steps away are bustling streets, markets, chai stalls and eating places!
We have four days in Kolkata — plenty of time to truly soak in the atmosphere and vibe of this City of Joy, known also as the cultural centre of India. Some examples of what you can expect to experience and photograph in Kolkata are as follows:
---
An afternoon at Nimatala Ghat, where we'll wander down streets, past market stalls, before emerging into the ghats of the Hooghly River. Here, you may find holy men (sadhus), boys jumping off the river walls into the water, and locals washing and bathing on the ghats. You'll be shooting here into sunset, where shapes and figures transform into dynamic silhouettes framed by the golden glow of the setting sun.
---
Sunrise from the ghats across the Hooghly River, where priests and devotees pray before bathing in the holy water of the Hooghly River (which is part of the holy Ganges river system). Many devotees will also have their heads shaved by barbers as an offering of penitence and purification. As the tide recedes, more of the ghat is revealed, providing opportunities to shoot stunning reflections of people bathing, praying and working on the ghats.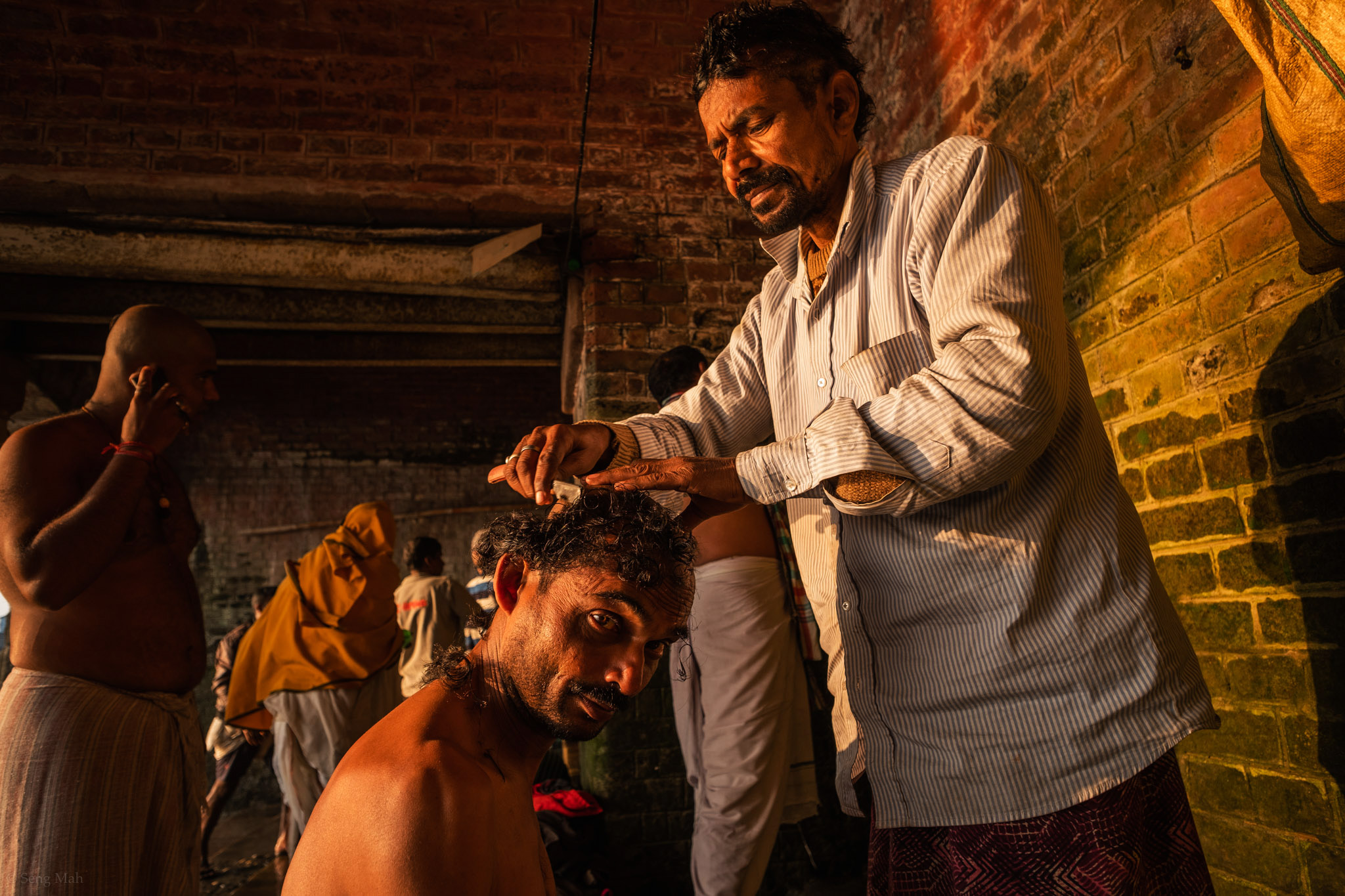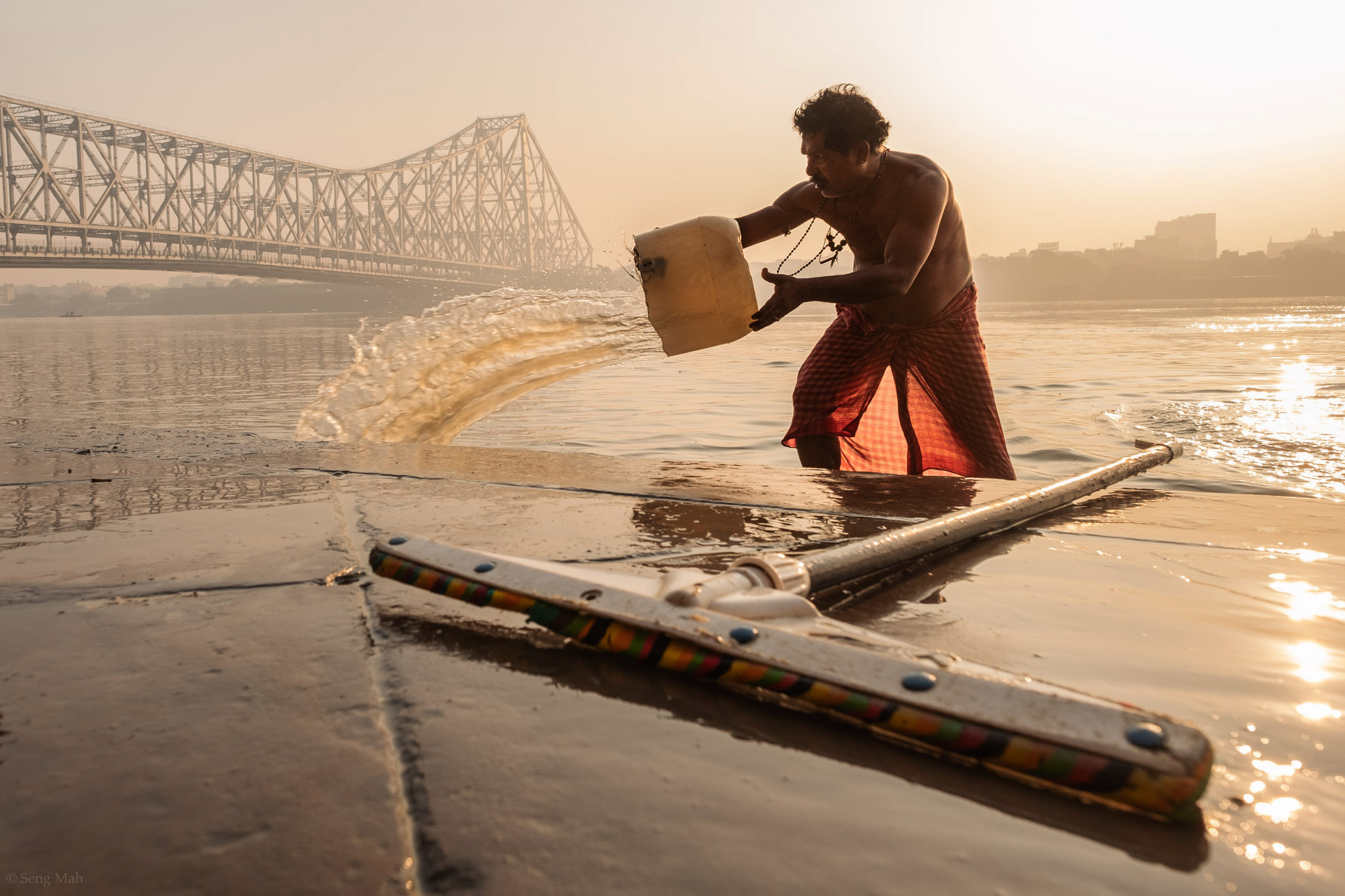 ---
We explore the streets of Lebutalla, a Bengalli neighbourhood of warm, friendly people. Here, we'll find the hand-pulled rickshaws of Kolkata, where these "rickshaw wallahs" transport their customers (and sometimes, goods) from one part of the neighbourhood to another. The work is hard and it shows on their faces and bodies. Our trail in Lebutalla finishes near Sealdah railway station where we will enter a market that has very special natural light funnelling in, providing dramatic lighting for photographs and street portraits.
---
No visit to Kolkata is complete without a visit to the Mullick Ghat Flower Market, where bundles of blossoms of every conceivable colour are sold. These flowers in garlands and massive bundles are used in worship and devotions by Hindus. Part of the market runs under several bridges, where the directional and filtered light is absolutely stunning, and we will spend time here photographing people going about their daily work and activities — labourers working next to delivery trucks, rickshaw wallahs, street sweepers and porters carrying huge bundles of goods on their heads.
---
Exploring the backstreets and laneways of a bazaar in Kolkata, culminating at a multi-level building which serves as a warehouse and market space for metalwork. The labourers here carry huge packs of metal ware on their head as they make their way through the central courtyard of the building. We will take the opportunity to explore the way natural light works in this courtyard and on the upper levels of the building, photographing the people living and working here.
---
Photographing the mud wrestlers at their akhara (outdoor wrestling hall) near the Howrah Bridge. These Pehalwani (wrestlers) meet early in the morning to exercise and wrestle each other in the sacred earth of their Kushti. You'll have plenty of opportunities to capture environmental portraits, documentary shots of their wrestling and even their impressive displays of strengths with the Howrah bridge serving as backdrop.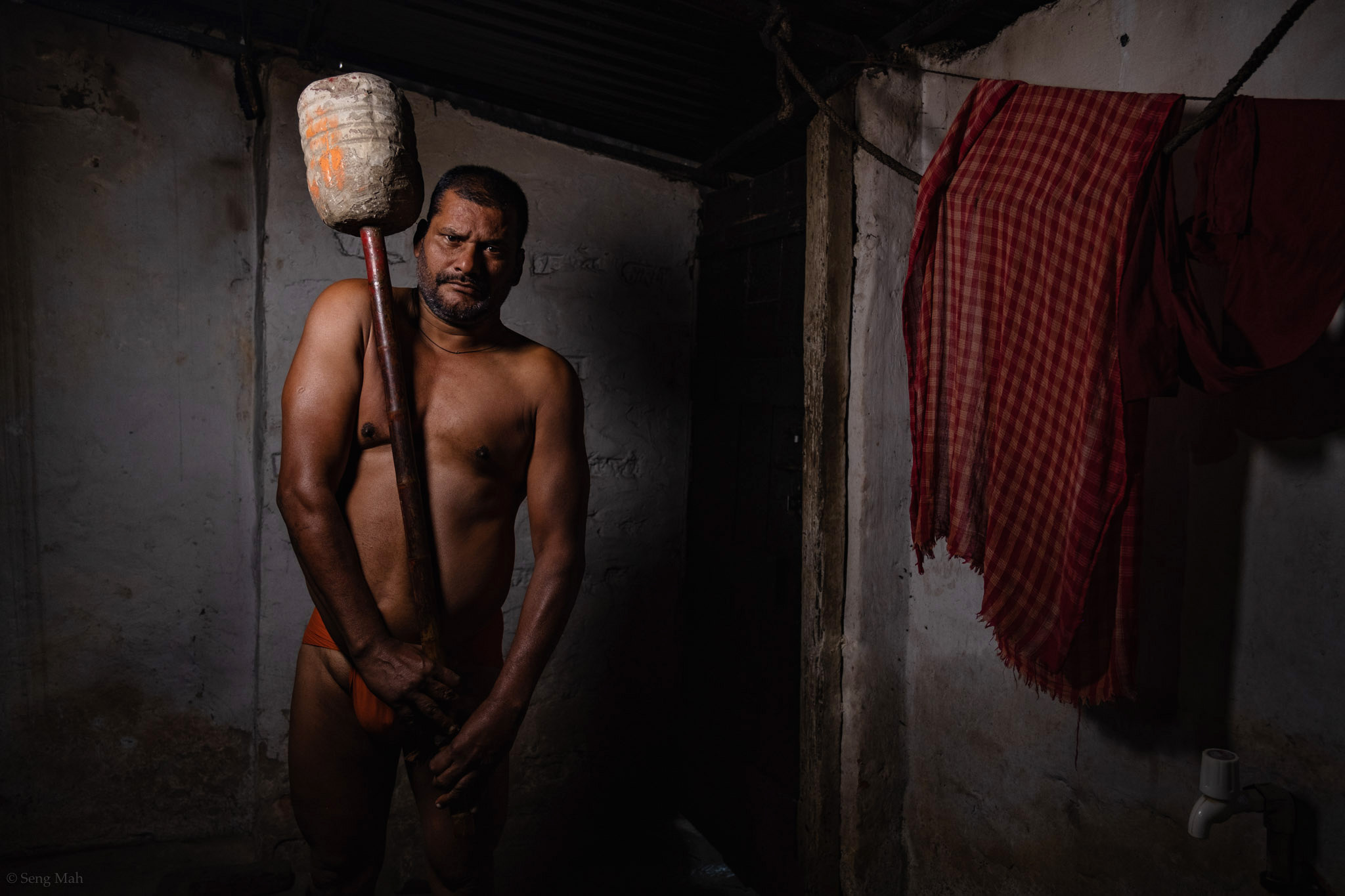 ---
Exploring China Bazaar, a place of inner-city warehouses and wholesalers where you'll see people embarking on their daily tasks in narrow alleyways and laneways where light filters from above and from the side. You'll find labourers loading goods on the back of trucks and carrying bundles on their heads, while residents wash and clean at water pumps along the streets.
---
Unique to Kolkata is an area called Kumartulli, where potters and clay sculptors create large effigies and idols of Hindu gods and goddesses. Here, narrow lanes and alleys take you past many workshops and stalls where sculptors craft these likenesses of the goddesses of the Hindu Tridevi.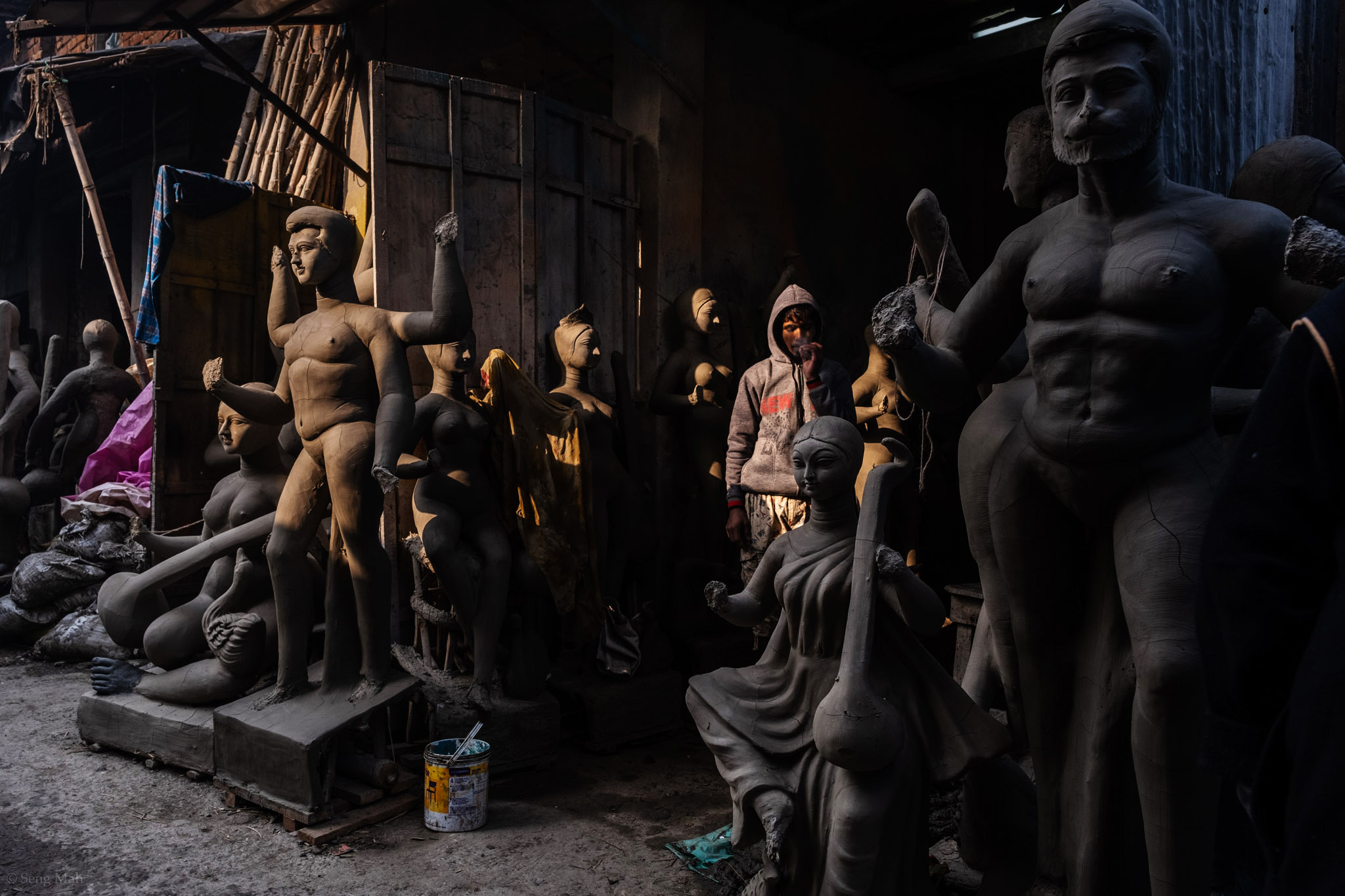 ---
Varanasi: Days 5 – 8
"Varanasi is older than history, older than tradition, older even than legend and looks twice as old as all of them put together." (Mark Twain, Author)

"The city illuminates truth and reveals reality. It does not bring new wonders into the scope of vision but enables one to see what is already there." (Diana L. Eck, Professor)
On Day 5 of the tour, we'll catch a domestic flight from Kolkata to Varanasi. On arrival at Lal Bahadur Shastri International Airport in Varanasi, we will be transferred via bus and auto tuktuks to our hotel, which is located right on the main ghats of Varanasi, overlooking the holy Ganges River. This hotel has been selected for its location and while it may appear a little "olde worlde" and basic in comparison to the business-class hotels that most travellers are used to, its location puts us right in the thick of action on the ghats. You can't ask for a better location than this!
The main highlights that we will experience in Varanasi are as follows:
Exploring the ghats of Varanasi and experiencing the spectacular Ganga Aarti, an incredible display of faith, prayer and fire as pandits (Brahmin priests) perform their devotions at twilight and into the night.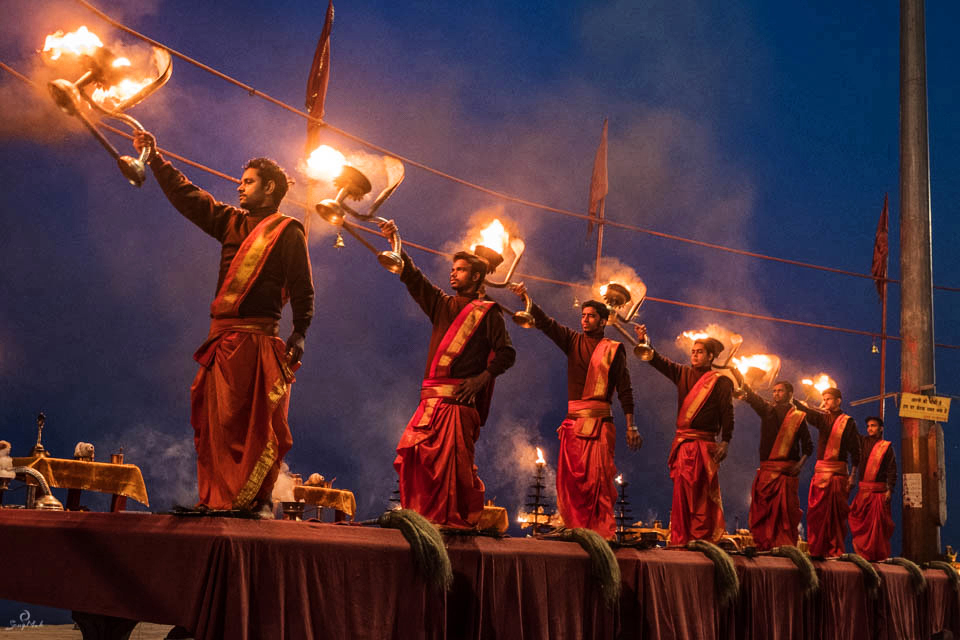 ---
Taking a voyage (by boat) to the other side of the Ganges, where local villagers gather to pray, bathe and conduct their daily activities. Here, we may find the aghori sadhus — a cult of holy men who are sworn to lives of extreme asceticism and renunciation. The aghori sadhus cover their bodies in cremation dust and use human bones to create skull caps (called kapalas) and necklaces.

Images by Shivam Pandey
---
Spending a morning at the ghats near the main Railway Bridge in Varanasi. Very few, if any, tourists visit this area, so we will have a more authentic experience of life on the ghats away from shysters and vendors and the "fake priests" who offer blessings for money. Here, locals ply their trade on the river and participate in morning puja (devotions) in the river. You'll find dhobi wallahs here, washing clothes on the ghats, and people taking their morning ablutions in the river.
---
We'll take boats out on the Ganges River at sunrise, sharing our boats with holy men, known as "sadhus" who will join us on a morning boat ride on the river. It's an opportunity for some amazing and iconic environmental portraits of these sadhus, captured in the soft glow of morning. This will also give us the opportunity to photograph the activities on the ghats from the Ganges.

Image by Shivam Pandey

---
The back streets and lanes of Varanasi beg to be explored with camera in hand, where we will find incredible opportunities to connect with people on the streets and at chai stalls, or to capture moments as they unfold. For those brave enough, we'll visit the cremation ghats where wood used in the cremations is collected and weighed and where we can catch views of the cremation grounds. The cycle of life and death is at its rawest display in Varanasi, and yet enshrined in ceremony and purpose, as faithful Hindus believe that being cremated in Varanasi can help in their attainment of "moksha", freedom from the cycle of rebirth.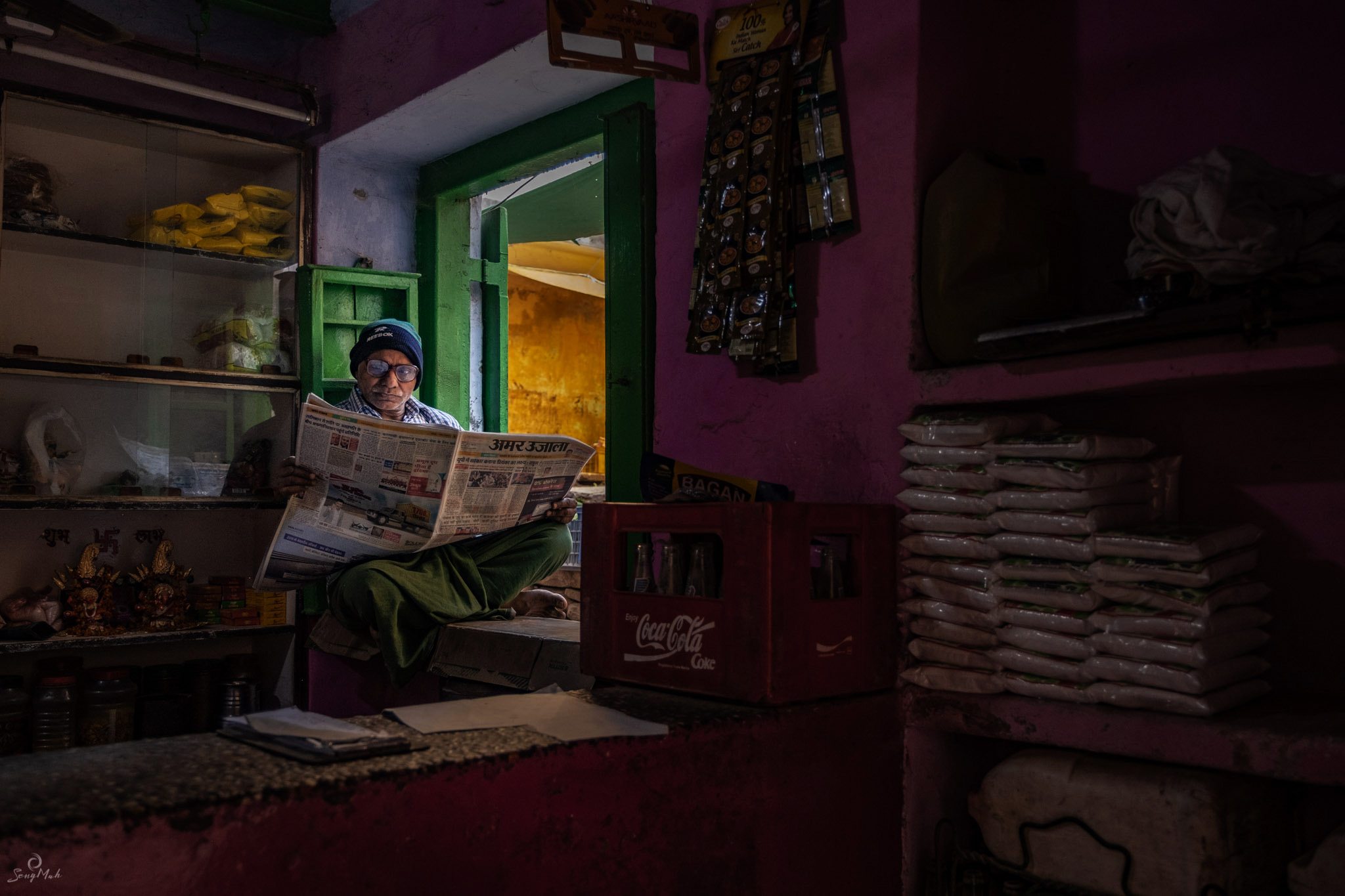 ---
About Shivam Pandey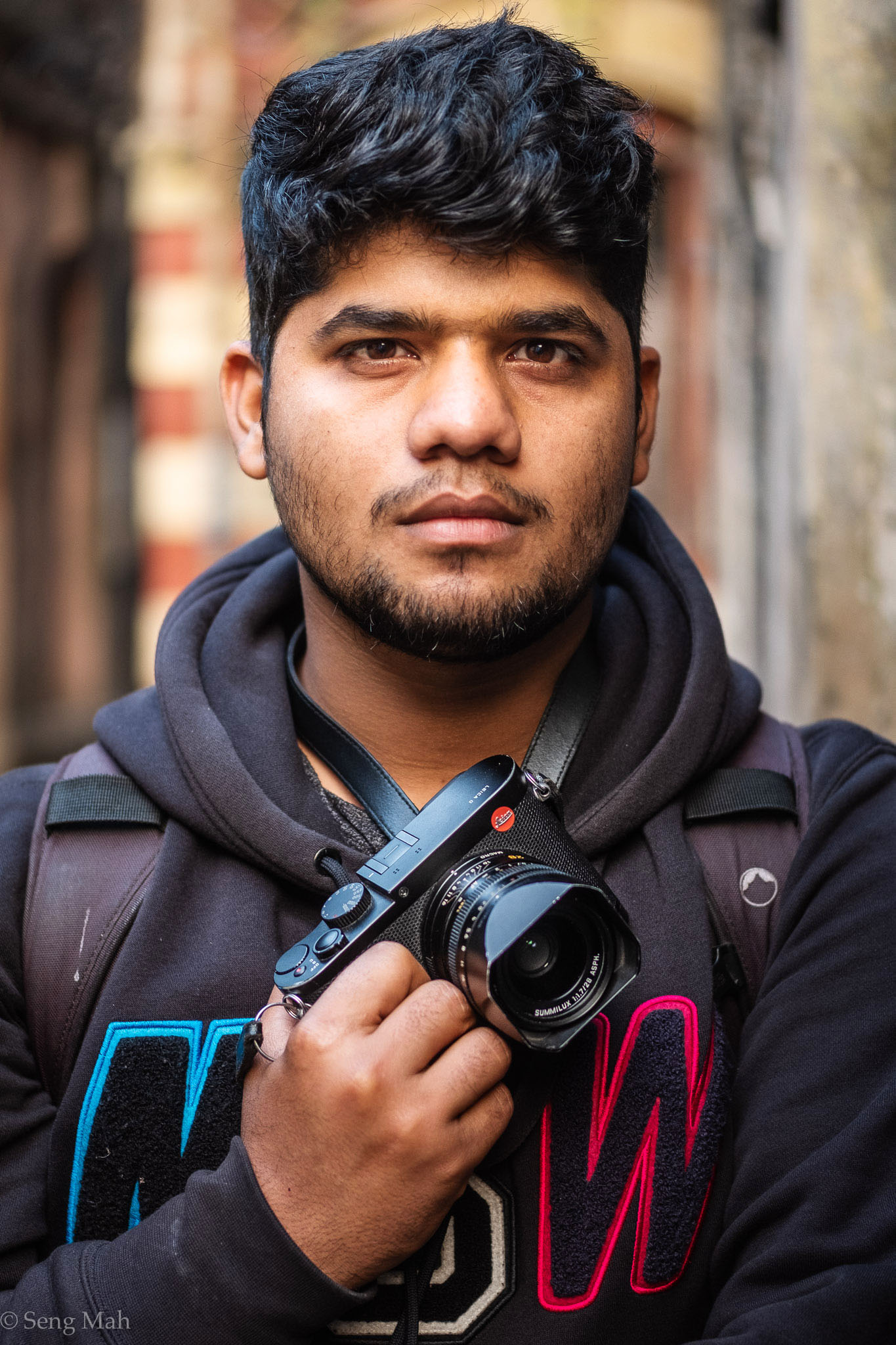 Shivam Pandey is a Kolkata-based photographer who works as a photography guide, fixer and commercial photographer in India. Shivam's work aims to reveal the beauty, strength and grace of the people of India. He runs bespoke photography tours in Kolkata, Varanasi, Mumbai and New Delhi, and has been involved as the local fixer for various television and photographic productions in India, most recently with a documentary team from Netflix.
Shivam's own creative work is primarily in documentary and street photography, where he enjoys pursuing minimalist compositions of people in locations. He has worked on numerous personal photography projects that are based in communities within West Bengal and Uttar Pradesh. Shivam is an excellent guide and teacher and has led many photographers through Kolkata and Varanasi; his knowledge of both cities is deep and intimate. We're very thrilled to be collaborating with Shivam on this photography tour. For more of Shivam's work, visit his website.

Tour Inclusions
7 nights accommodation.
All meals during the schedule of the tour (breakfast, lunch and dinner).
Arrival and departure airport transfers.
All accommodation during the tour (as outlined in the itinerary).
All activities as described in the tour itinerary.
All land transport in Kolkata using an air-conditioned minibus.
Economy air fare from Kolkata to Varanasi on Day 5 – 25 kg baggage allowance.
Boat rides on the Ganges (in Varanasi) – both in a large boat (which can take 8-10 passengers) and in smaller boats (3-4 guests per boat).
Cash (in rupees) for you to use as incidental daily tips during our photographic excursions. India has a tradition of tipping (called baksheesh), where casual tips (around 50 – 100 rupees) are given for services rendered, such as someone allowing you to take their portrait.
Photographic instruction and guidance by Seng Mah and Shivam Pandey.
Tour Exclusions
Flights to Kolkata (tour start) and out of Varanasi (tour end). Our agent at Globetrotter Lifestyle can help you book your flights – see below for more information.
Comprehensive travel insurance. All participants are required to take comprehensive travel insurance for this tour. You will need to show proof of travel insurance as a condition of participating in this tour.
Entry visa to India (around USD$25 for an eVisa if you're an Australian).
Photographic equipment. You will need to bring/supply your own cameras, lenses, tripods, batteries, filters, memory cards and so on.
Insurance for your photographic equipment while on tour.
Alcoholic drinks.
Tips and gratuities for our drivers and guides in Kolkata and Varanasi.
All personal expenses and fees, including laundry, wi-fi, medication, incidental meals and snacks.
Any transport and fees outside of the tour itinerary.
Tour Price
AUD$5,890* per person twin share for guests booking together with a friend or partner, who is also a paying guest and participating photographer on the tour.
A single supplement of AUD$800* for guests requesting their own room or who are not travelling with another paying guest, for a total of AUD$6,690*.
(* Please note: price may be subject to change in the event of substantial shifts in the AUD to USD exchange rate and to changes to the cost of the internal flights outlined in the Tour Inclusions.)
Need help with flights and other travel requirements?
Our Agent, Globetrotter, would be happy to assist in booking your international flights, travel insurance offering a 20% discount off policy cost (subject to terms and conditions of policy provider) and other travel requirements. If you would like assistance from Globetrotter, please let us know in the Comments section of the booking form below and we can put you directly in contact with Lori Burns at Globetrotter.

Book your Place
A deposit of AUD$1500 will secure your place on this tour. Deposits are due by 31 March 2020, with the balance paid by 15 October 2020. Note that deposits are fully refunded if the tour is cancelled due to not attaining minimum numbers.
For details of the Terms and Conditions of our tours, including cancellation charges, please read our Photography Tours Terms and Conditions.
To join this tour or contact us with your questions, please use the form below or email seng [at] venturephotography.com.au or telephone 0417 604 614.