"Take an immersive journey into street, travel and documentary photography in two of India's most intriguing and soulful cities…"

Tour dates: 18 – 27 November 2023
Tour length: 9 days
Led by: Seng Mah with Shivam Pandey
Minimum 4 guest to run this tour.
Pace: Moderate
This tour begins in Kolkata and concludes in Varanasi.
1 place available.
Experience the life, culture and festivals of India on a photography tour to Kolkata and Varanasi – as they celebrate two significant festivals: Chhath Puja in Kolkata and Dev Diwali in Varanasi.
This is a tour for lovers of travel, street and documentary photography. Its itinerary has been specially curated for photographers who are passionate about capturing the soul of a place, of life unfolding. It's a great way to connect with the heartbeat of India, to learn about her people, their culture and traditions, and to come to a deeper understanding of how your photography can help connect you with others in meaningful and emotive ways.
Kolkata with its earthy blend of old and new is the perfect landscape for street and documentary photography, set against a backdrop of rambling colonial streets, old courtyards, meandering alleyways and sunlit riverside ghats. Because mass tourism is absent here (most sight-seeing tourists flock to Delhi, Agra and Rajasthan), Kolkata is fully authentic in what it offers us as travellers and photographers.
Holy Varanasi on the banks of the River Ganges, is the oldest living city in human history. Centuries-old traditions and devotions are still practiced on her ghats; her back streets beckon with an ebullient interplay of light and life. You'll find humanity at its rawest ihere, along with incredible and stirring stories of human lives, spirituality and faith.
To guide you through this tour are Seng Mah (travel and documentary photographer; photography educator) and Shivam Pandey (street and documentary photographer; guide). Shivam is local to Kolkata (and was born and lived in Varanasi), while Seng has visited and photographed India extensively in the recent past. They will be at hand to support your photography here and to help you develop your vision while you're shooting, showing you how to find and use light, ways to create stronger compositions and techniques to help you connect with the people you meet and photograph.
This photography tour is definitely for you if you:
have a passion for travel and documentary photography and want to capture scenes and moments that are singularly unique in your body of work
love street photography and are searching for street photography environments that are layered and full of visual potential
want to learn how to tell stories through your photography
relish off-the-beaten path travel experiences and the photographic rewards that can come from them
enjoy immersive travel experiences with opportunities to engage with local communities, festivals, people and life.
HIGHLIGHTS
Kolkata: Days 1 – 4
"Kolkata, as it's often said, is not a city; it is an emotion." (Ishita Sengupta, Writer and Editor)
"If you want your city clean and green, stick to Delhi. You want your city rich and impersonal, go to Bombay. You want them hi-tech and full of draught beer, Bangalore's your place. But if you want a city with a soul, come to Kolkata" (Vir Sanghvi, Journalist)
The tour begins with your collection from Netaji Subhas Chandra Bose International Airport and transfer via mini bus to our hotel in Kolkata. This is a heritage hotel built in the late 1700s, located within the heart of the city. Just steps away are bustling streets, markets, chai stalls and eating places! We have four days in Kolkata — plenty of time to truly soak in the atmosphere and vibe of this amazing city.
Highlights in Kolkata include:
Photographing at the ghats during Chhath Puja at sunset and dawn/sunrise. This is a Hindu Vedic festival dedicate to the sun god, Surya Dev. It is a festival filled with spirit, colour and light and we will have front-row access with devotees on the ghats of the Hooghly River. Chhath Puja is a festival about purity and compassion and amidst the hubbub on the ghats, you'll find moments of incredible serenity of spirit in the faith shown by the faithful.
---
The backstreets and laneways of Kolkata are filled with life and serendipitous photographic moments. Here you will find street barbers,  food stalls, the iconic Kolkata yellow taxis, street vendors… everything that speaks of a vibrant life along the streets and lanes.
---
Sunrise from the ghats across the Hooghly River, where priests and penitents pray before bathing in the holy water of the Hooghly River (which is part of the holy Ganges river system). Many Hindus will also have their heads shaved by barbers as an offering of penitence and purification. As the tide recedes, more of the ghat is revealed, providing opportunities to shoot stunning reflections of people bathing, praying and working on the ghats.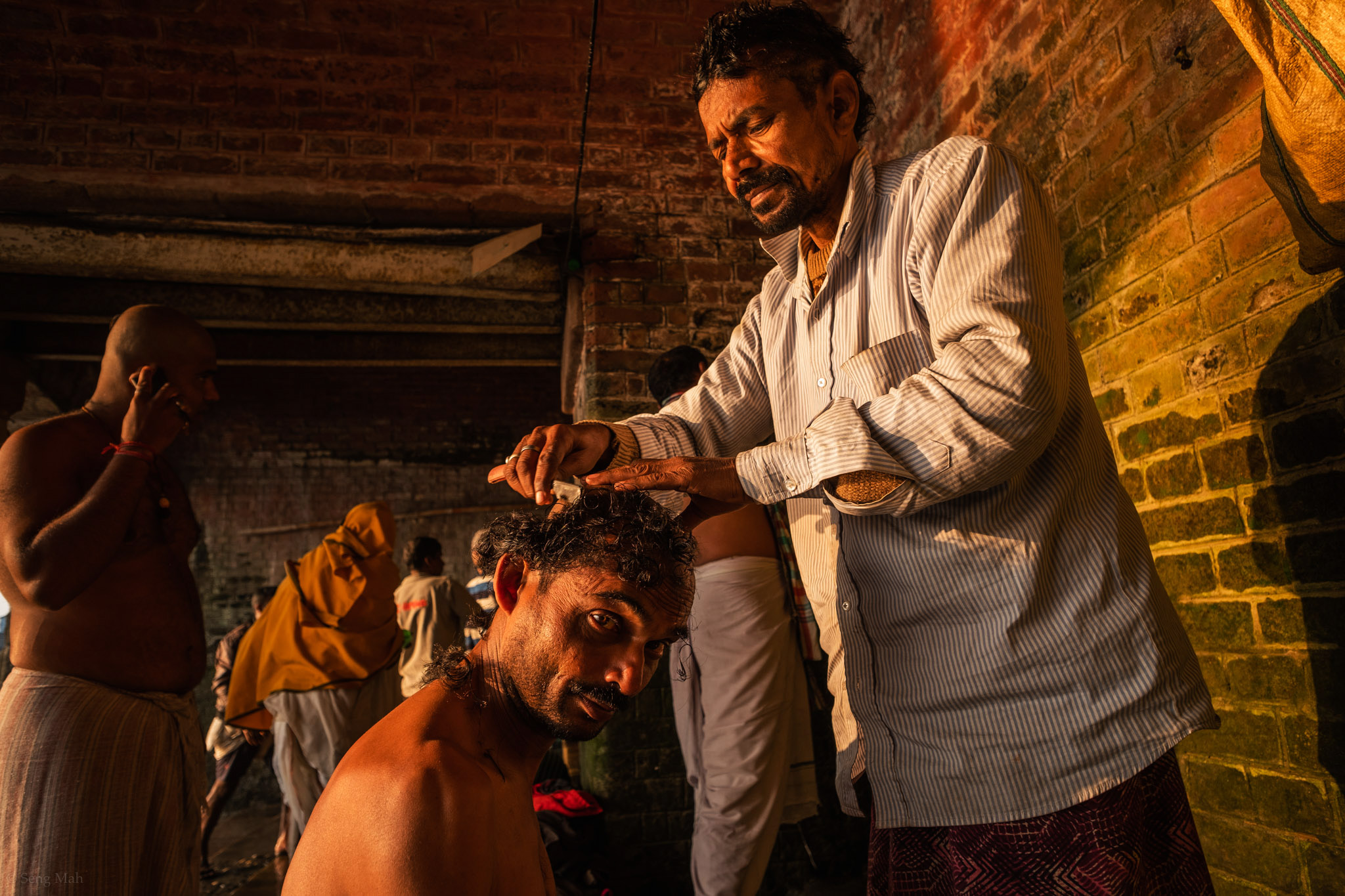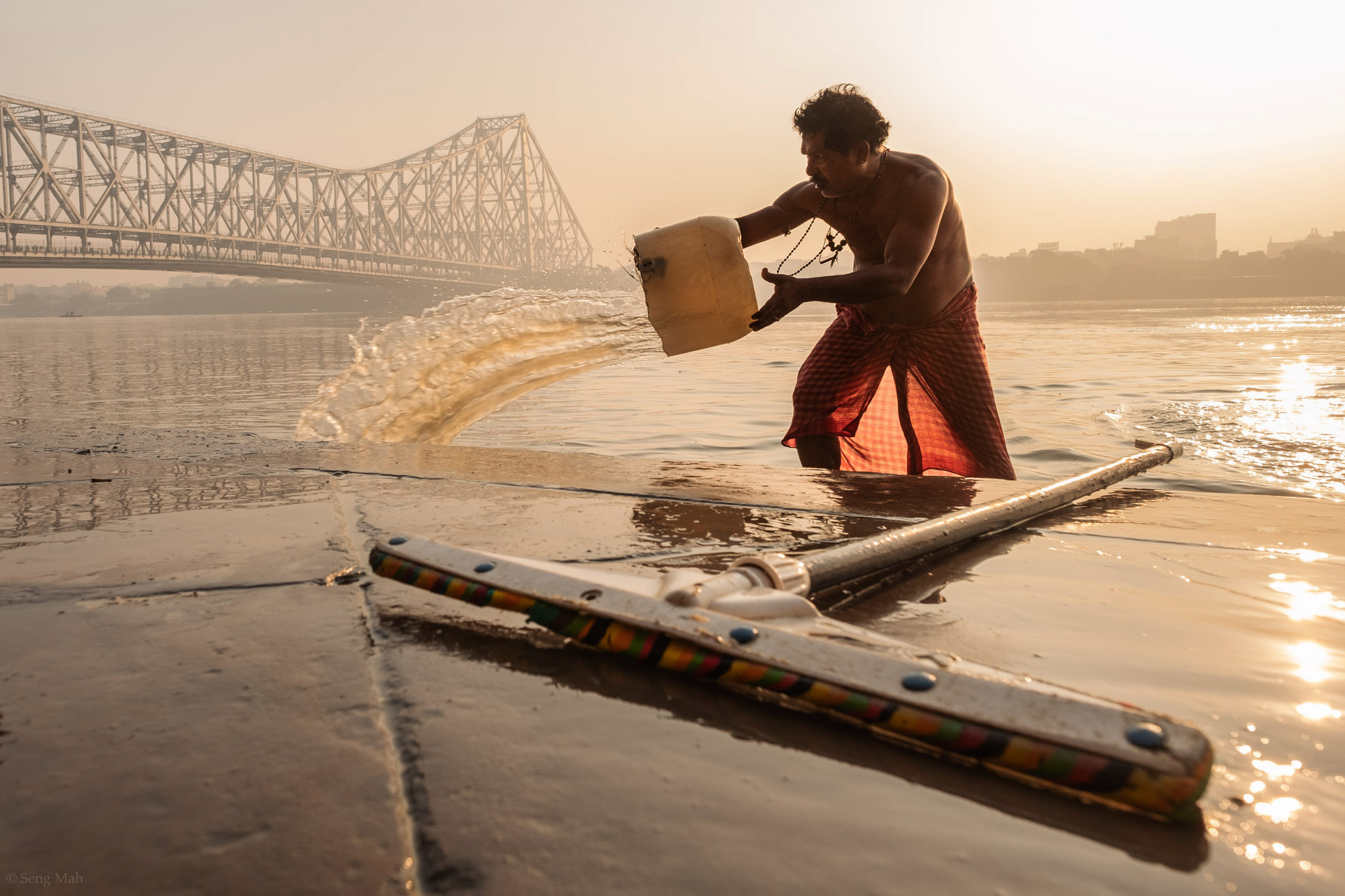 ---
The streets of Lebutalla, a Bengalli neighbourhood in Kolkata. You'll find the hand-pulled rickshaws of Kolkata, where these "rickshaw wallahs" transport their customers (and sometimes, goods) from one part of the neighbourhood to another. Lebutalla is also an older neighbourhood with beautiful old facades and windows that provide elegant backdrops for street scenes that play out before them.
---
No visit to Kolkata is complete without a visit to the Mullick Ghat Flower Market, where bundles of blossoms of every conceivable colour are sold. These flowers in garlands and massive bundles are used in worship and devotions by Hindus. Part of the market runs under several bridges, where the directional and filtered light is absolutely amazing in illuminating people going about their daily work and activities — labourers working next to delivery trucks, rickshaw wallahs, flower vendors and porters.
---
The metal market of Kolkata, a multi-level building which serves as a warehouse and market space for metal goods. The workers who also reside here carry packs of metal ware on their head as they make their way through the central courtyard of the building and up flights of steps to the upper storeys. This location provides opportunities for us to explore the way directional natural light works, and on how we can incorporate light and shadow in our photography of the people who live and work here.
---
Photographing the traditional wrestlers at their akhara (outdoor wrestling hall) near the Howrah Bridge. These Pehalwani (wrestlers) meet early in the morning to exercise and wrestle each other in the sacred earth of their Kushti. Seng and Shivam have cultivated a close relationship and friendship with these wrestlers, who will welcome our visit. This is a unique photographic experience, offering us a range of photography: environmental portraits, documentary shots of wrestling and even impressive feats of strengths with the Howrah Bridge as backdrop.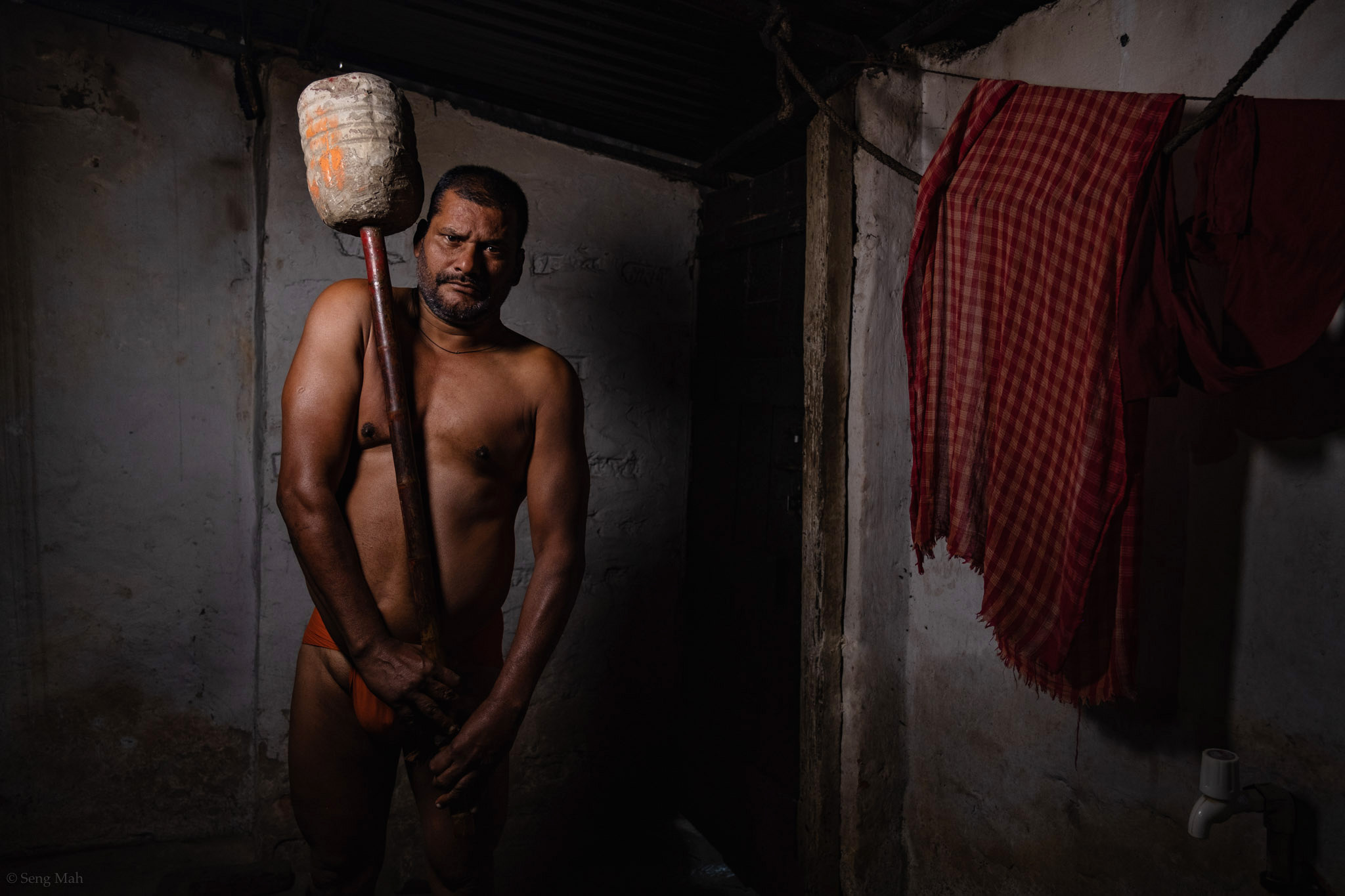 ---
Unique to Kolkata is an area called Kumartulli, where potters and clay sculptors create large effigies and idols of Hindu gods and goddesses. Here, narrow lanes and alleys take you past many workshops and stalls where sculptors craft these likenesses of the goddesses of the Hindu Tridevi.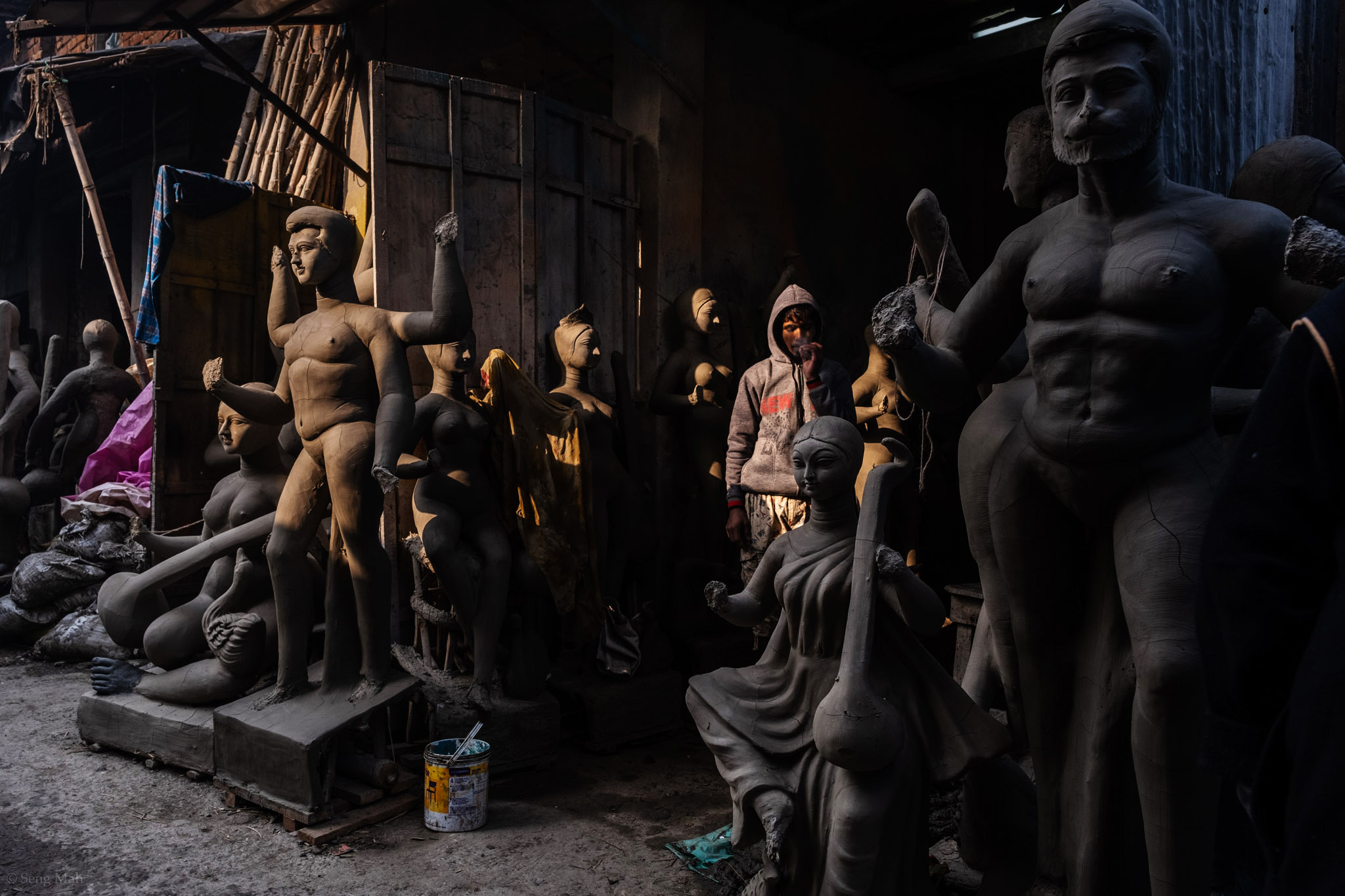 ---
Varanasi: Days 5 – 9
"Varanasi is older than history, older than tradition, older even than legend and looks twice as old as all of them put together." (Mark Twain, Author)
"The city illuminates truth and reveals reality. It does not bring new wonders into the scope of vision but enables one to see what is already there." (Diana L. Eck, Professor)
On Day 5 of the tour, we'll take a domestic flight from Kolkata to Varanasi. On arrival at Lal Bahadur Shastri International Airport in Varanasi, we will transfer via mini bus to our hotel, which is located close to Assi Ghat (the airport is about 1 – 1.5 hours away from the ghats, depending on traffic). This hotel has been selected for its proximity to the thick of action on the ghats, so that the ghats are always accessible to us.
Our travel and photography highlights in Varanasi include:
Sunrise on the River Ganges, where we will set sail on a boat, as the first light of day paints our boat, the ghats and the ancient city in its soft, golden light. You will also see and capture life on the ghats as first light as people bathe, pray and make offerings.
We may be joined on the Ganges by a sadhu, a holy man, for some incredible environmental portraits.
---
Walking the ghats of Varanasi is an unforgettable experience. You may find sadhus and other priests and religious scholars deep in prayer and meditation, people bathing in the river, children at play (there may even be a spot or two of ghat cricket to be had)… The Ganges is a significant part of spiritual life for every Hindu — to pass from this world in Varanasi and to be cremated on its ghats allows one's soul to be released from the cycle of rebirth, attaining the transcendent state of moksha. For this reason, you'll find its ghats filled with a kaleidoscope of people.
---
Experience the Ganga Aarti, a ritual of faith, fire and prayer as Brahmin priests perform their devotions at twilight and into the night on the ghats. The Ganga Aarti is both a spectacle and deeply spiritual experience — it is not hard to be deeply affected by it.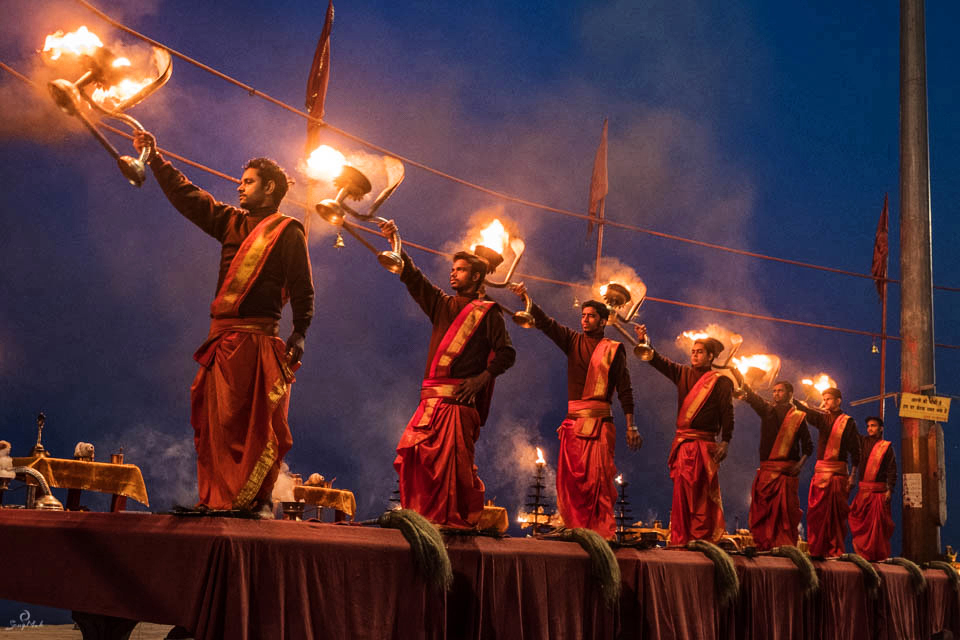 ---
The back streets and lanes of Varanasi beg to be explored with camera in hand, where there is plenty of opportunity to connect with people on the streets and at chai stalls, or to capture moments of daily life as they unfold. We'll look at how to best use setting and light when shooting in these narrow back streets, and how to chase moments, or wait for them, and to make use of the street environment to frame photographs.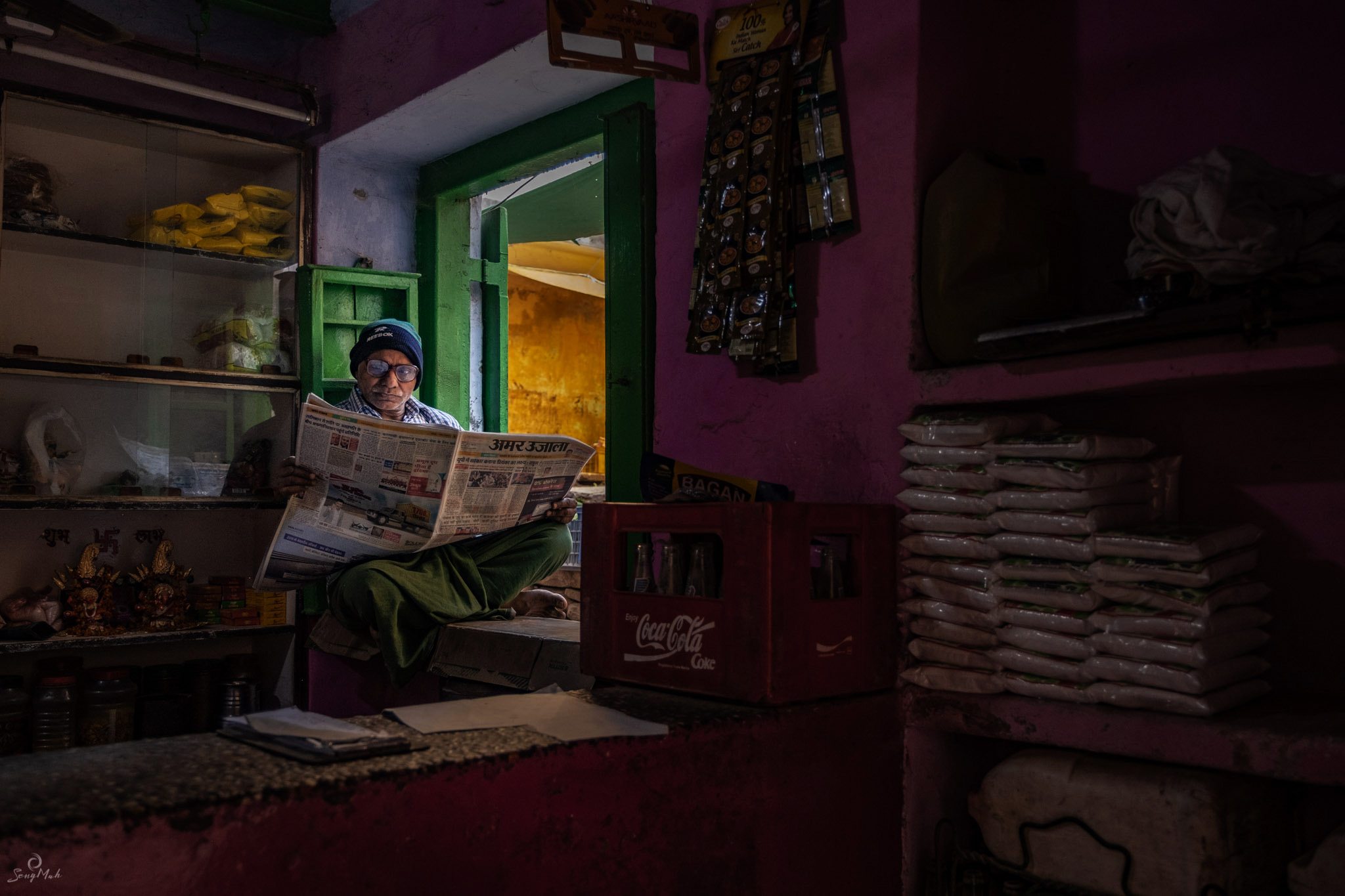 ---
Our photography in Varanasi culminates in the spectacular Dev Diwali festival. Festivities begin before sunset as small earthenware lamps called diyas are prepared on the ghats while musicians and dancers beat and whirl in celebration of this festival. Like all of India, it is a combination of chaos and calm, wildness and wonder.
Known also as The Festival of Lights of the Gods, Dev Diwali sees the ghats of this ancient city covered in the flicking light of hundreds of thousands of diyas in honour of Mother Ganga, the Ganges River herself. Devotees attend to make offerings and pray to the Gods who are believed to come and bathe in the waters of the Ganges. To be present here at Dev Diwali is a unique experience, surrounded by tiny motes of fire and the acts of faith and devotion taking place before your eyes.
Tour Inclusions
8 nights accommodation in both Kolkata (The Elgin Fairlawn or similar) and Varanasi (The Kashi Residency or similar). Accommodation is at single occupancy — you have your own room with private ensuite.
Breakfast, lunch and dinner during the course of the tour (unless otherwise noted in the tour itinerary).
Arrival and departure airport transfers in Kolkata and Varanasi.
Mini-bus transport in Kolkata.
Economy return air fare from Kolkata to Varanasi (20kg baggage allowance, 7kg carry on allowance).
Boat transport in Varanasi.
Photography mentoring/guidance in street, documentary and travel photography by tour leaders.
Local assistant/guide/fixer in Kolkata and Varanasi.
Gratuities.
Tour Exclusions
International flight to Kolkata and from Varanasi. If you are departing ex Perth (Australia), we recommend booking the Singapore Airlines Perth – Kolkata flight (layover in Singapore), departing Perth on 18 November 6.40am, arriving Kolkata 10.20pm.
Comprehensive travel insurance. All participants are required to take comprehensive travel insurance for this tour.
Entry visa to India (around USD$25 for an eVisa if you're an Australian).
Photographic equipment. You will need to bring/supply your own cameras, lenses, batteries, filters, memory cards and so on. A tripod is not required for this tour.
Insurance for your photographic equipment while on tour.
Travel vaccinations.
Alcoholic drinks. Please note that alcohol is not available in Varanasi.
All personal expenses and fees, including laundry, medication, incidental meals and snacks.
Any transport and fees outside of the tour itinerary.
An India sim card is available for AUD$25, which can be purchased on your behalf. Please advice when making a reservation if you would like to take up this option. The local sim card will allow you to connect to the Internet and make voice/video calls over IP. The card offers around 2GB of mobile data usage per day.
Tour Price
AUD$7580 per person with single occupancy.
A discount is available if you are attending this tour with a life partner who is also a participating photographer and will be sharing the room with you. Please contact us if you would like to discuss this.
(* Please note: price may be subject to change in the event of substantial shifts in the AUD to USD exchange rate and changes to the cost of the internal flight outlined in the Tour Inclusions.)
Book your Place
A deposit of AUD$1500 will secure your place on this tour. The balance is payable by 31 July 2023. Note that deposits are fully refunded if the tour is cancelled by its organisers (Venture Photography Workshops and Tours).
For details of the Terms and Conditions of our tours, including cancellation charges, please read our Photography Tours Terms and Conditions.
To join this tour or contact us with your questions, please use the form below or email seng [at] venturephotography.com.au or telephone 0417 604 614.