Capture the beautiful landscapes of the Margaret River Region in this weekend workshop for lovers of landscape photography!

Instructors: Seng Mah and Nathan Dobbie
Level: Intermediate
Dates: 17 – 19 March 2023. Start time is about 4pm on Friday 17 March, and finish time is about 8/8.30am on Sunday 19 March.
Cost: $750 (This price is for the workshop only. If you are visiting the region, you will need to arrange accommodation in Margaret River)
Location: Margaret River
Maximum participants: 10 (1 place left!)
The Margaret River Region of Western Australia is one of the most beloved and visited holiday spots. Yet it is also a truly photogenic location filled with a diverse range of gorgeous landscapes perfect for landscape photography. With rocky coves, hidden dams, lush forests and wonderful waterfalls, you can now join us for a weekend in WA's wine region where you can combine a tasty tipple with perfect photographic opportunities!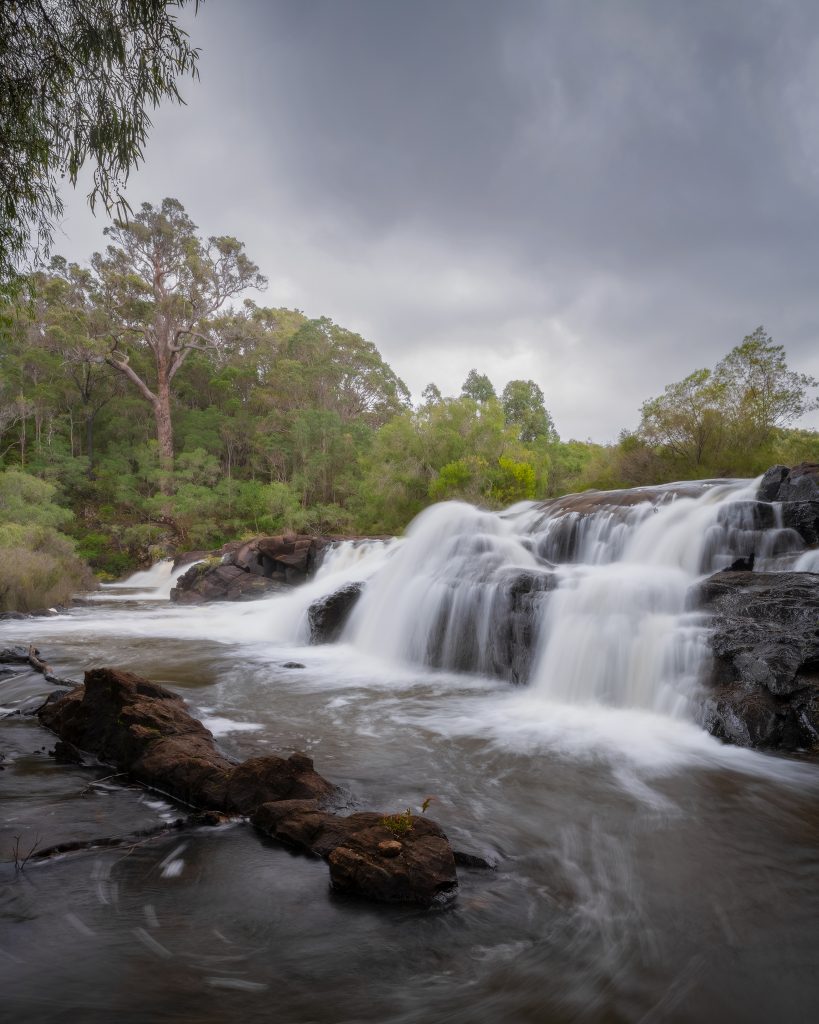 This weekend, dedicated to the art of landscape photography, takes you to a series of professionally curated sites, selected for their natural beauty and photographic appeal. You'll learn about working with a range of different natural and ambient light in landscape photography, as well as how you can envision and compose beautiful, arresting landscapes. Sure, we will teach you how to use your camera, lenses and filters, but more importantly, we make sure that you learn how to "work the scene" to get the best composition you can obtain from a location.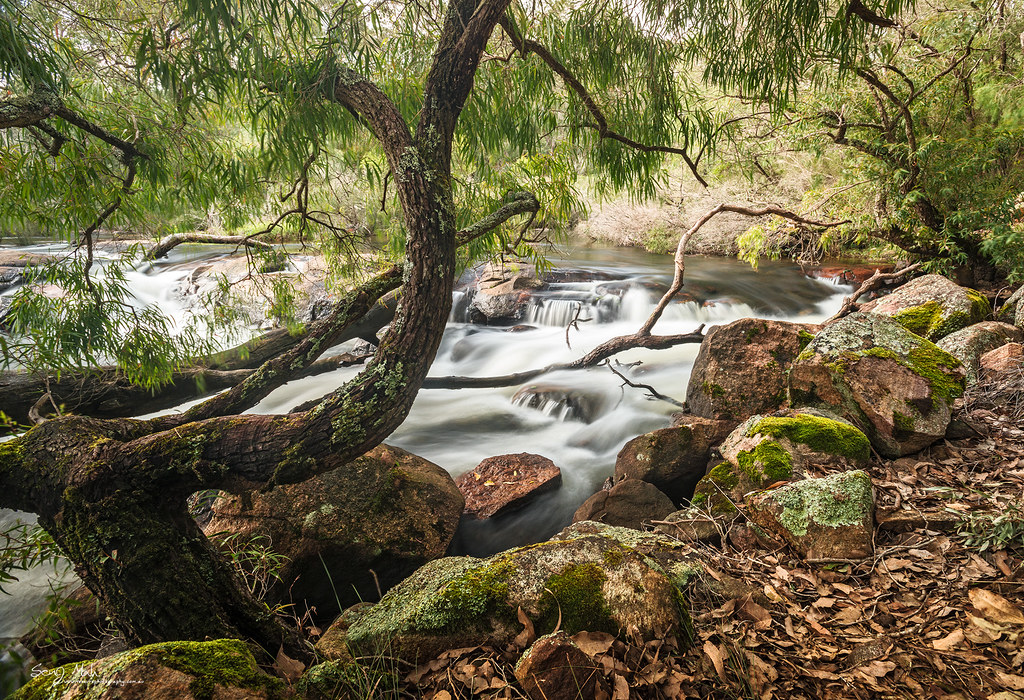 This weekend workshop is based in Margaret River and includes the following highlights:
Sunrise shoot at Margaret River Dam,a quiet, tucked-away scene that features the remnants of trees rising out of still waters.
Sunset shoot at Honeycomb Beach, a beautiful, less-visited coastal landscape of tidal patterns surging around coastal rocks.
Sunrise shoot at Redgate Beach, where you will come to appreciate the power of the Indian Ocean as it slams into the rugged coastline of South West WA.
Sunset shoot at Margaret River Falls and Cascades, where the river surges and burbles over rocks and drops.
Photographing Boranup Forest after the bushfire, as fresh new growth fringes a stark and dramatic landscape.
Shooting and learning on location means that you will develop real world skills and understandings in recognising the way light shapes the landscape and how you can visualise, frame and compose your landscapes to achieve your vision.
Learn to master your camera and find out how to control focus and depth of field to ensure absolute sharpness and clarity in your landscapes. Learn how filters affect your exposures and how you can select the best filters to obtain the effect you're after in your landscapes.
Note: We are limiting this workshop to 10 participants in order to give you maximum opportunity to shoot and have 1 on 1 time with your instructors.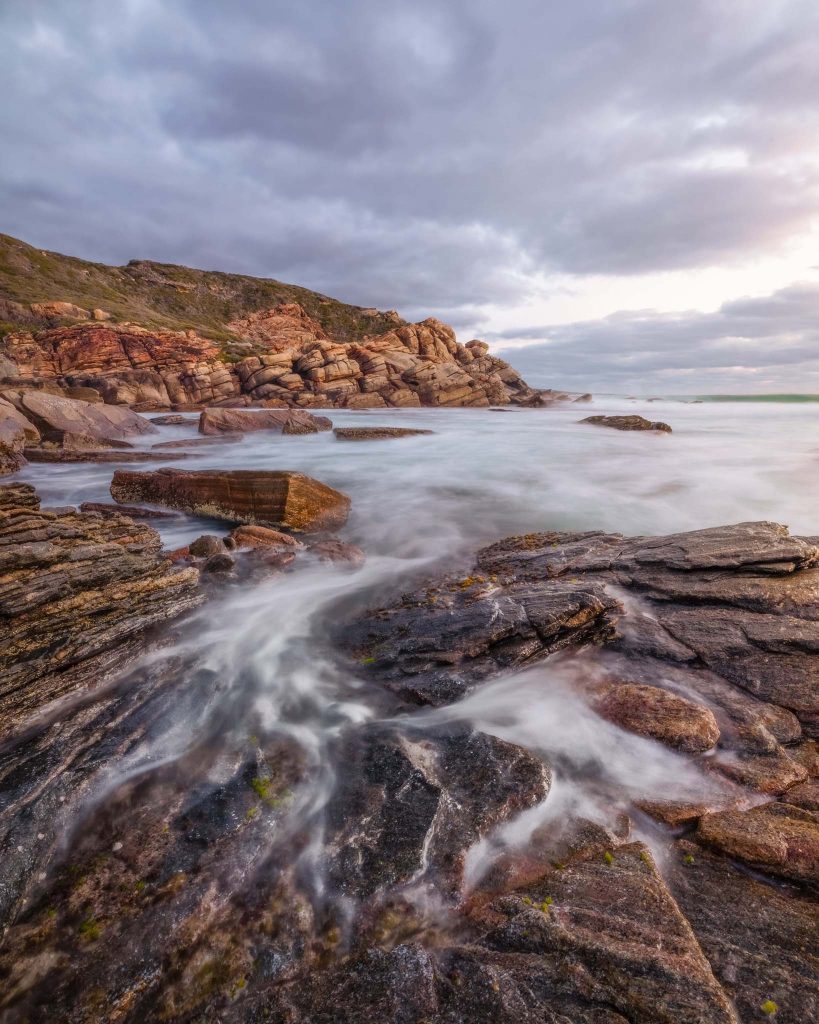 What you need
Your DSLR or mirrorless interchangeable lens camera.
Wide angle and telephoto lenses; typically, lenses that cover the range from 14mm – 200mm if you are shooting full frame, or 10mm – 200mm if you're shooting crop frame. Micro 4/3 camera users should look at lenses in the 8mm – 100mm range. You can also bring a macro lens for detail shots.
A sturdy and stable tripod that will let you adjust the position of the camera on the tripod quickly and easily.
A remote shutter or cable release.
Neutral density (ND) filter: a mid-density filter of around ND32 or ND64.
A circular polariser filter (essential).
A sturdy camera bag that is easy to carry around (backpack or a sling bag).
Spare batteries, battery charger, lots of spare memory cards.
A large plastic bag to protect your camera gear from moisture or drizzle.
Lens cleaning fluid and cloth.
Warm, weatherproof clothing.
Flashlight and insect repellant.
Sturdy, comfortable shoes suitable for walking on uneven and wet surface.
Please dress for the weather and for overland walks (closed hiking shoes or boots with good grip). If you require assistance in hiking on trails or rocks (most of them are easy grade trails, there may be some moderate grade trails especially around cascades and coastlines), bring a set of walking poles to help you.

The Fine Print
Please read the following to make sure you're aware of other details pertaining to this retreat:
You will need to organise your own travel to and from Margaret River and the photographic locations during the retreat.
You will need to cover the cost of your own meals and refreshments.
The workshop organisers reserve the right to change sessions, venue and locations during the workshop (subject to weather, access and availability).
This is an Intermediate level workshop. It assumes that you are able to adjust your aperture, shutter speed and ISO on your camera and are already familiar with shooting in Raw image format.

Safety Points
Your safety is our concern, but it is your own responsibility, so please read the following safety points that will give you a better picture of the types of terrain we will be exploring at this retreat:
You are fully responsible for your own safety and the safety of your equipment during the workshop, and should always observe your own health and safety first.
Some photographic excursions will require physical travel on uneven or even wet surfaces such as trails and across rocky and sometimes slippery surfaces. You will need a good level of mobility and reasonable level of fitness in order to participate in this workshop. You should only go as far as you feel comfortable and safe and avoid taking risks that may lead to injury.

Reserve your Place
Complete and submit the form below to reserve your place in this workshop. For information on refunds and late cancellations, please refer to our Workshops Terms and Conditions.