W I T H E D W A R D L I M
Edward (Ed) Lim is a wedding photographer whose work shifts between photojournalism and fine art portraiture. His photography business, Autumnleaf Photography, captures beautifully touching and honest moments in weddings.
Ed is a remarkably humble person and an exceedingly talented photographer who has made the courageous decision to specialise in wedding photography. While speaking with him about his work, I was struck by the discrepancy between this quietly-spoken man and the eye-poppingly beautiful wedding photographs he creates. At the same time, I could see so much of Ed's elegant, gentle manner in his photography — these are images that brides and grooms (and their families) fall in love with over and over again.
In this edition of Venture Masterclass, Ed shares his insight and approach to wedding photography with us. He unveils many of the secrets of wedding photography, revealing that there is nothing mystical about it: just good old fashioned observation, anticipation, organisation and knowledge. If you're a budding wedding photographer looking for the secrets of the trade, then you must read this!
Let's start with this classic image of the bride. Can you tell us how you shot it?
This photograph was taken on a property in Quindanning, some two hours south of Perth. The image was captured as the bride was walking towards a rocky area on the summit of a small hill. I wanted to do some shots around the rocky area against the dramatic sky, so had asked both the bride and groom to head there. The groom was just behind me. When the bride pinched and lifted her dress to make it easier for her to walk up the dandelion covered fields, I saw a graceful bride, a beautiful and elegant moment. I asked her to look at me and I took the shot.
What time of day was this?
It was late afternoon when the sun was getting a little low. This is definitely my favourite time of the day to do bridal portraits. However, it was also a rather cloudy day and the sky was filled with dramatic dark clouds. The light was constantly changing due to the cloud cover. Shooting manual exposure was definitely challenging in this kind of changing light.
Can you tell us about your camera settings used to get this shot? I noticed also that you converted it to black and white. Was there a reason for this?
This was shot in manual exposure. Aperture f2.8, 1/400 second, ISO 200, focal length about 70mm. I was using my 70-200mm f2.8 lens.
Converting the image into black and white and adding some vignette made the image more dramatic in my opinion.
I feel that black and white images typically bring up the details and texture better than colour images as there are no colours to distract the viewers. This image is an environmental portrait of the bride and I wanted the strong contrast between an elegant bride against the dramatic background. Thus, I feel that black and white works well for this particular image.
For me, it's quite unusual to have a bride on her own in a shot like this. Was there a reason you went with this set up? Why did you opt for an "environmental portrait" style here rather than a close-up portrait?
Traditional wedding photos typically capture people (including the bridal couple) in static poses. They lack the dynamism and often do not tell the story of the day well.
I like capturing images at weddings where the images tell the story of the day. This extends to when I am with the bridal couple doing bridal portraits. I like to add movement and moments. Rather than just doing static poses, I will introduce movement to my images by asking the couple to walk down a path together or get the bride to walk to the groom or vice versa.
With this particular image, I asked the bride and the groom to walk up a small hill a few meters ahead of us. I noticed that the bride was experiencing some difficulty walking through the field that was covered with long dandelions. She lifted her dress and waded through the field (it is definitely not easy for a bride with high heels and a bigger dress and long train). But it looked so elegant, the way she did it. I halted the bride and asked her to look into the camera and took the shot. Like what I have said previously, the image was made to contrast the elegance of the bride against a dramatic backdrop. This image is definitely one of my favourite environmental portraits of a bride.
Okay, I want to talk to you about your wedding photography in general. You've been shooting weddings for, what, five years or so now? How do you stay fresh shooting in the same genre for all these years?
Yeah, since early 2007 if I recall correctly. I find weddings one of the most challenging things to photograph. You can say shooting weddings is like event photography, portrait and photojournalism all wrapped up together. As weddings combine all these different genres, I find the variety always refreshing. You are always switching hats during the day. There's never a moment of boredom. Weddings always keep me on my toes – there is always something new, something fresh to do, to learn and to explore.
Shooting weddings can also be stressful because you only get one shot at things. Do you thrive on the stress (it sounds like it!)?
I won't exactly say I thrive on stress… I learn to cope, to adapt and very often to think on my feet.
Is there something about the subject matter of a wedding that appeals to you as a photographer?
There are a number things about weddings that really appeal to me. First and for most, is the ability to interact with my subjects on the day. Weddings are mostly happy occassions and we usually see the best of people at weddings.
By "interact", I mean that I have the ability to work in such a way as to have an effect on them. For example, I have couples who express that they are not "photo people". To be help them relax, help them "be themselves"and not being self conscious, I reassure them that they are doing great, get them focusing on the day, get them ready for the ceremony, focusing on each other, and so on.
To me it is very important for a wedding photographer to have that rapport with the couple and others who we are documenting, to be able to communicate well, help them through the day and assist in resolving any issues that may arise. The more rapport I can build up prior to the big day, the easier I find documenting their wedding day.
How do you think you have evolved as a wedding photographer over the last five years?
Well, I like to think that technically I am a much better photographer than I was five years ago. I would like think that I now understand light a bit more than I used to, the use of ambient lights and when you need to use strobes.
In terms of understanding how to handle some unforeseen situations that arise during the day, I think that I am now better handle them. It's still a challenge, but I'm getting better at it.
I think I've also developed an understanding of what my clients are after. By this I mean that some couples like their day to be easy and relaxing, the last thing we want to do is to put them through a long formal portrait shoot in five different locations. Being able to read the couple's moods; whether they are happy to do more shots or they are tired and need a drink and relax is very crucial to a successful shoot!
One thing I love about your photography is the way you're able to capture just the right moment. You must be very observant. But in addition to that, you're composing it just right. Is being very observant and very quick to capture the moment something that you have gained in experience? Is it something for which you can train or practice?
Thanks for the compliment; it's really great to hear such great feedback!
As for capturing the moments, I believe it is a combination of both experience and something one can practice.
Let me elaborate a little: I would constantly watch for the fleeting moments. Being observant is one important skill to have and something I constantly practice and try to develop further. Anticipation is the key to capturing these fleeting moments, so being ready (eg. ensuring the camera has the right setting), with eyes wide open and constantly scanning my surroundings, I then try to look at scenes, frame the scenes and at the right moment press the shutter button. I guess what I am saying is: Be Prepared.
Does this mean you scout out the location, eg the bride or groom's house, for potential places from which you can shoot?
Not really. I do it on the day, but I do it more to find places where I can get my formal portrait done.
When I shoot in photojournalism style, I aim to capture things as they happen, as events unfold. I will often look at a scene and decide where I need to be to provide me the best possible coverage, both from the perspective of lighting, as well as the story telling perspective. This is where experience probably comes in a bit more than just practice.
So you're really observing what is going on AND where you can best shoot from. You mention the "fleeting moments" earlier. What do you mean by them?
"Fleeting moments" are moments that probably last just a very short time, sometimes as short as a blink of an eye, eg. that little smile of the bride's face when she first appears in her dress in front of her parents.
I do keep an eye out for fleeting moments and try to capture them. Images of moments that often bring smiles and tears to people.
I like to look out for moments when a bride first looks at herself in the mirror when she put on her dress. That is a special moment for her as she knows that she is ready to present herself to her groom, her most beautiful moment, and she is ready.
I like also watch out for moments when she steps out of her room and appears before her parents. The look on the parents' faces is priceless when they see their daughter in the wedding gown.
Other moments include the time the bride walks down the aisle with her Dad, looking nervous, or happy, the look on the groom's face when he first sees his bride. The moment they exchange vows, many a time, tears will flow. The exchanged looks during the exchanging of rings, the first kiss. There are too many moments to list.
How do you think photographers who want to get into wedding photography can develop their skills in observation and anticipation, in order to catch these fleeting moments?
I guess I will share about my own experience and new photographers may be able to draw some of it.
The way I see it is that I want to document an event, I want to tell a story, so I look out for things that will tell the story of the wedding day.
I ensure that first and foremost, I am ready when the moments present themselves. I ensure that my camera is on the right setting. I observe where the lights are coming from and how that would affect the quality of my shots.
I place myself in a location where I can observe my subjects or the area of my interests without being intrusive. I try to be as unobtrusive as possible in my approach, eg. being in the background as much as possible.
My role as photographer is to watch and record. That is how I approach it. I believe that your rate of success will come with experience and practice. I also encourage new photographers to look at works of more established photographers to get ideas. Jeff Ascough is one such photographer and I absolutely adore his work.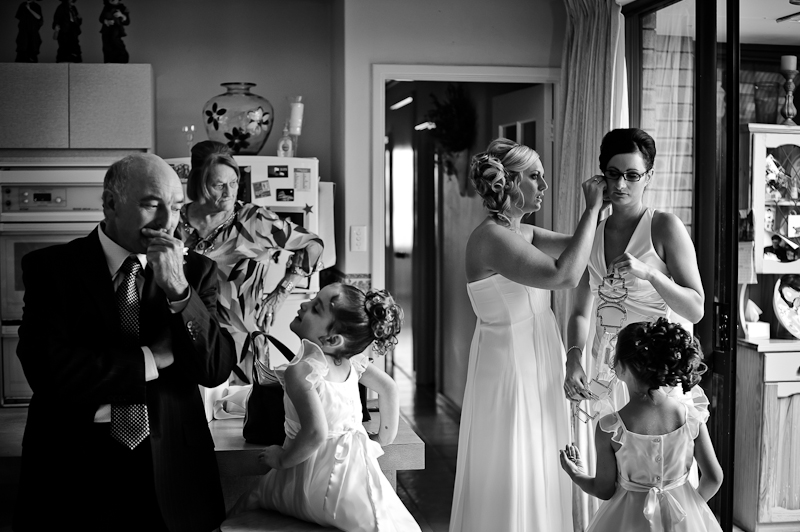 Let's discuss this image, which is very different from your first, because this is a completely candid, photojournalistic image. I love this photo – it just seems to me that there are so many different emotions at play here. Can you tell us a bit about how this came to be? Did you help set up the scene, or was it completely candid?
Scenes like these don't get set up without looking fake. This image was taken as it happened. Things were happening as they were, completely candid.
Photojournalism at weddings is definitely one of the hardest things to do well at a wedding when things always seem chaotic when everybody is on a tight schedule.
With this particular shot, my mindset was to stand back and observe the events unraveling and be ready to take a shot. There was certainly some "luck" involved in every good candid shot. However, I always believe that we will be able to increase the chances of capturing great candid shots if we are prepared and anticipate the moments when they present themselves. Experience plays a big part too.
Is there a part of the day that is your favourite to shoot? Eg. the preparation, the ceremony, the portraits etc?
My favourite would have to be the bride's preparation and the formal portrait on locations. If I do cover the receptions, the first dance would be a close second.
People are always interested in gear that wedding photographers use. Can you tell us a bit more about the equipment you use?
I use two cameras, Nikon D700s, one with a battery pack. I also use two speedlights: a Nikon SB900 and a Nikon SB800. My lenses are: 35mm f1.4, 50mm f1.4, 85 f1.4, 24-70 f2.8, 70-200 f2.8, 105 macro.
What do you use the speedlights for?
Speedlights are used mainly as fill flash, eg. when I shoot the couple during sunset. I use strobes at receptions too and also video lights. I do use my Comer LED Video light quite a fair bit, not as powerful as the Lowel though.
When I use video lights for outdoor shoots, I tend to have it on my monopod which my assistant can carrying easily. The monopod is self standing so I will also be able to place it where my assistant can shoot if need be.
I love using video lights as I can see exactly how much light I am putting on my subjects. Strobes can be more challenging to use and require more set up time unless I have my speedlight mounted on my camera. If it is on a light stand triggered by a wireless remote, I would put it on manual mode and the time to set it up is usually a little longer. I find that wedding photography is about taking images as quickly as you can, and I find video lights a little more convenient and quicker in this regard.
Can you share with us the video light that you use?
It's a Comer CM-LBPS1800 On-Camera LED Light. I got it after seeing a videographer used one of these at the wedding I shot.
This light is powerful enough to light up a dance floor!
Tell us more about the lenses you use. When do you use which lens?
I usually use my primes during the preparation. With detail shots, I rely on my 105mm macro lens. My 24-70mm and 70-200mm come out during the ceremony and the location shoots. At the reception, I switch back to primes, but it really depends on the reception area. If it is bright enough I would use the zooms lenses.
When you're composing detail shots like these what do you look for?
Simplicity. Macro is about isolating the subject from the background, so I like placing my subject on a simple background, like on a table top. I love having the darker wood colour as the background. One thing I love doing with items like cufflinks, is to stack them in a row, creating a repeating pattern and vanishing point. I do the same with shoes and corsages.
Since you have shot so many weddings, sometimes shooting multiple weddings each weekend, how do you make sure your vision is always fresh at every wedding, that you're not repeating shots?
Good question. I see each wedding as unique. One can argue that there are always similar things at weddings, but I like to see that even at the same church, same chain of events, the people in the weddings are different. The weddings are unique to the couples. I also like to challenge myself to do it better, get a better kiss shot, compose differently, try to use the background differently, and so on.
I also like to play a little game with my assistant on each wedding to keep things different and interesting. It would be something like: see who can capture the best church shots, who has the best fleeting moment of that day, who has the best cake shot etc.
What about posing the couple? What do you aim for in the way you pose couples?

My first and foremost aim is to make them relax. I always tell them I pose them but not really pose them. By this I mean I put them in a comfortable position, leave them to enjoy the moment by themselves, and then start shooting. So I can get natural looking posed images.
I do give them some directions. I don't believe in totally unposed images. I don't find too many couples who can pose well naturally without directions. But I do find that once we put them into certain position, certain poses that they feel comfortable, they will them do their thing, kiss and embrace, look at each other. I will also give them directions if I need them to alter their body lines or get them to look away from the camera for example.
Are there any poses that you would deem to be "classic"?
I think most poses I use come from the classic poses, except I try to make them more natural for the couple.
I like the couple to feel comfortable with how they stand, how they embrace. There are a few things which I do watch out for, eg, how to pose my subjects to make them look the best, where the lights are coming from and if the light is harsh or soft. One thing I do encourage male photographers is to learn how to pose women. I learned so much by just watching a YouTube video of a workshop run by Bambi Cantrell.
Tell us a bit about what goes through your mind when you prepare to shoot a wedding (eg. on the day of the wedding), and what goes on in your mind while you're shooting the wedding itself?
For me, it is all about being prepared for the day. By that, I mean that I know the schedule of the day very well. I know my couple well enough to know how to interact with them. I like to feel comfortable talking to my couples, being able to direct them and make them feel comfortable during the shoot. I like to know all the special things that will happen during the day so I am not surprised by unexpected events and get caught with the wrong lenses.
Preparation for me is key to a successful wedding shoot. So I typically have the run sheet for the day, I have got the list of group shots I need to do, list of names of key people, eg. Master of Ceremony, names of parents and family members, etc. I like to know what the weather is going to be like on the day so that I can anticipate if we need a Plan B if the sky opens up.
At the wedding itself, my focus is on capturing the events as they unfold. Constantly making mental notes on checking my settings especially when I am shooting in manual exposure mode. Getting my settings right in camera is very important to me as it allows me to reduce the amount of time I need to spend correcting the images during post processing work.
I also ensure that I do check my images from time to time (ensuring my exposure is right – the histogram tool and the over-exposure blinkers are "Godsends" in my opinion). Oh, don't chimp [review photos] too often as it makes one look really unprofessional!
If we can be technical for a bit – can you explain some of the actual techniques you use when shooting a wedding? For example, do you shoot in Manual Exposure, do you use a single focus point, do you shoot in continuous focus and/or burst mode? Any reasons for these decisions?
I do shoot mainly in manual exposure and single focus point. I don't machine gun my shots. In terms of shooting manual exposure, I find this extremely helpful when we are forced to take photos of people against really a bright background (eg. at a beach ceremony during noon, or under dappled shade). It is not possible as a photographer to demand that couples change their ceremony locations. So being able to absolutely control the exposure is critical. I tend to find that the Aperture Priority mode tend to get the setting wrong under such conditions. The algorithms in the camera that drive the settings in the Aperture Priority mode certainly are not smart enough to compensate for such scenes.
I use single focus point because I like to get the focus as precise as possible. I don't trust that the dynamic focusing algorithm will always get the right focus point.
Single or burst mode? Definitely single. We don't need to machine-gun a scene. Yes, there are scenes that might call for a short burst mode, eg. kissing shots, or throwing the bouquet, but it should be kept to the minimum. I don't think culling too many identical images is a good use of our time. Besides, we will find ourselves constantly reaching for new memory cards during the wedding shoot. I believe in selecting the images to shoot. In most cases, pressing the shutter a few times to capture a couple of identical shots (eg. for group shots) will be sufficient.
What about Auto ISO? Would you recommend using it for weddings?
I did use Auto ISO in the past but not anymore. Like using Aperture Priority, the camera decides the exposure, and in many lighting conditions, I find that they get it wrong more than right.
Do you always have an assistant to help you at weddings?
I have found having an assistant or a better, a partner, is invaluable. Someone who can help during the day to help capture moments, who can capture things that you are likely to miss, things happening on the side, someone who hopefully captures most of the important events if you happen to miss it.
You've covered a lot of ground in this Masterclass. What about common mistakes that a beginner wedding photographer should watch out for? Are there any?
Wow, you certain do ask very good and challenging questions! [laughs]
I think the Number 1 common mistake I see in a lot new photographers is that they forget to change the ISO settings when they go from a dark location (eg. inside a church) to a bright location (eg, outside the church). Focusing problems and wrong exposures are also quite common for new photographers. As wedding is an event, a very fast pace event I may add, it is often tough for new photographers to get the settings right quickly.
Number 2: Photographers not knowing their equipment well enough. They need to know the limits of their cameras bodies and lenses. Hand holding a kit lens at 1/20 shutter speeds is just going to turn up a lot of images with motion blur.
Number 3: Photographers who think that the day is about them and not the bride and groom. Wedding photographers need to always be respectful and professional. I don't think it is good to impose on the couple what we want them to do. We are not shooting a portfolio to make us look good. It is important to realise that we are there to record a day and the experience the couple have with us is very important to not only to our business but the reputation of the industry as a whole.
Number 4: Not being prepared, for example, not knowing the locations well enough, getting lost in traffic, or not knowing how to utilise a location, eg. the lighting conditions.
I guess I have many more, but I think these four are the fundamentals that wedding photographers must be aware of.
Thanks for an excellent interview. You certainly shared a lot of great information and insight into wedding photography.
It is my pleasure and honour. Totally enjoyed it. Challenging questions. Great reflection personally. Glad to share with others too!