A once-in-a-lifetime adventure of truly epic proportions with the Kazakh Eagle Hunters of Western Mongolia! It's a travel experience that will invigorate and inspire the photographer in you!
Tour dates: 1 – 11 October 2020 (11 days)
Tour led by: Seng Mah
7 guests only (1 place left!)
Pace: Moderate
Price: See below for pricing options.
---
Who's up for an adventure to a world class wilderness region known for its stunning mountain landscapes and hardy Kazakh eagle hunters?
This photography tour will take you to "ground level" at the 2020 Golden Eagle Festival in the western mountains of Bayan-Ulgii in Mongolia where, once a year, around a hundred Kazakh Eagle Hunters gather at the foot of Hunter's Hill to celebrate their heritage through a series of competitions and games, including eagle hunting, racing, horseback wrestling and more!
Eagle hunting is an ages old winter sport for the Kazakh nomads of the mountainous regions; it showcases the incredible bond between eagle and human and has recently found international fame thanks to the documentary film "The Eagle Huntress". This tour is your opportunity to be part of an epic two-day event and to come away with stunning images documenting the celebrations and action of the Golden Eagle Festival.
But this tour is more than just about the festival itself; we want to give you a more intimate and authentic experience with the Eagle Hunters and their communities, so we will be spending time with the Kazakh hunters at their ger camps near Ulgii and also in the nearby villages of Sagsai, Altantsugts and Tolbo Lake. Living in these remote regions gives us access to amazing landscapes and photographic opportunities with the Kazakh hunters and their families!
Book-ending this tour is time spent in Ulaanbaatar, the capital of Mongolia, where you'll have time to explore the incredible sights of the city and enjoy some of the luxuries that come with city life (and you'll lap this up after spending time "roughing it" in the remote villages to the far West).
This is a tour for the adventurous spirit and the photographer who wants to document one-of-a-kind images that tell the story of the Kazakh hunters and their eagles and the spectacular landscapes of their environment. If you love the great outdoors, camping and adventure; if you wish to wake up to stunning mountain views and incredible light; if the crisp and rarefied mountain air beckons, then heed the call and join us for a truly sensational 11 days of immersive photography and travel in Western Mongolia!
Tour Itinerary
Day 1: Ulaanbaatar
We arrive as a group in Ulaanbaatar and are transferred to our hotel in the city. Located close to Sukhbataar Square, our hotel puts us within walking distance of some of Ulaanbaatar's (UB) best places to explore and dine. We start the tour with a Welcome Dinner in UB, where you'll sample some of the region's tastiest dishes!
Day 2: Ulgii
Our tour begins in earnest as we board a plane from Chinggis Khan International Airport in UB for a short flight to the town of Ulgii far to extreme west of Mongolia. Ulgii is the capital of the province but it's still very much a "wild west" town. On arrival at Ulgii, we will be transferred to our hotel to check in and refresh. In the afternoon and into sunset, we will visit local herders in their gers and photograph the sunset in the stunning mountainous landscapes of the Western mountains.
Note: Travel in the "Wild West" of Mongolia is often via unsealed roads, so we take is slow, safe and easy; expect interesting views and bumpy rides as we make our way to various camps and villages in the West during the tour.
Day 3 – 4: The Golden Eagle Festival (2 days)
We have an early start on the first day of the Festival, making our way to the grounds at Hunter's Hill for the start of the festivities. Sayat Tube (Hunter's Hill) is a rocky hill that overlooks a vast valley; it's in the valley that the Festival takes place and the eagles launch from the top of Hunter's Hill to seek their human handlers below.
The Golden Eagle Festival kicks off with the arrival of the Kazakh Hunters to the Festival grounds. This is a fantastic opportunity to photograph the Hunters as they ride in, clad in their traditional regalia and bearing their eagles on their arms. The formalities begin with a parade, as all the hunters and competitors make a circuit of the festival grounds, before the games begin in earnest.
Our accommodation during the Festival will be in the same encampment used by a number of Eagle Hunters and their families, which gives us plenty of opportunity to connect with them and to also explore the stunning landscapes of the Bayan-Ulgii region.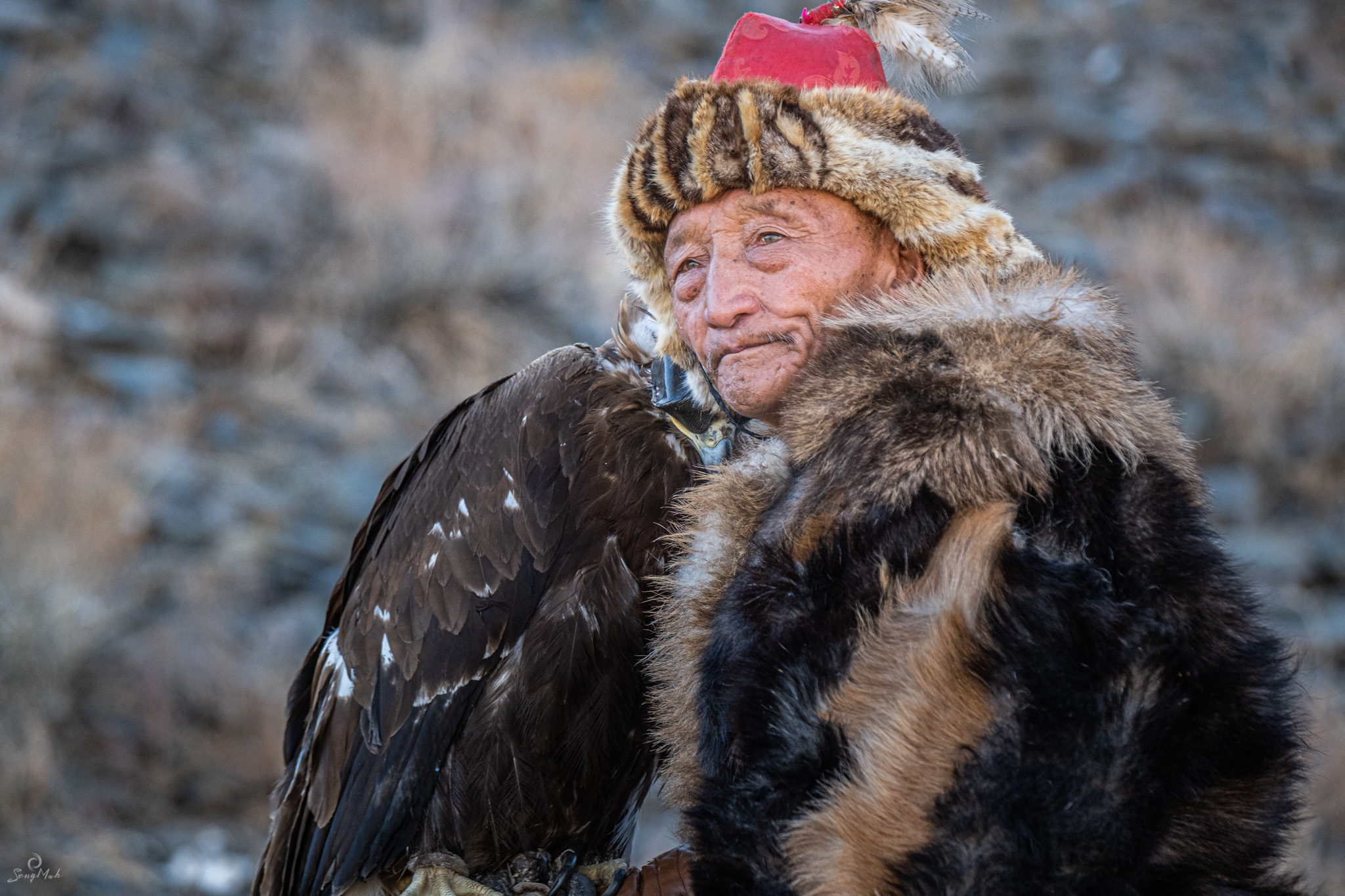 The main feature of the two-day Golden Eagle Festival is, naturally, the eagle hunting contests, where hunters in the valley call to their eagles from their perches high on Hunter's Hill; the winners are those whose eagles respond within record time, flying out to soar down to their handlers or to their quarry (usually a goatskin sack that's dragged on the ground). But there are also other spectacular events to watch and photograph, including Tenge Ilu, where fast riders swoop down to pick up a small pouch of money from the ground as they ride past; Kiz Kuar, a traditional Kazakh horseback game where women riders chase and "flog" male riders; Kokbar, horse-back wrestling where two mounted riders wrestle over a goatskin; camel races and archery competitions.
It's two days of intense photography, so make sure your spare batteries are fully charged and you have plenty of memory cards to fill!
Day 5: Ulgii
After two days of exciting photography (and two days of living in a ger camp), we transfer to our hotel in the town of Ulgii, where you will have the opportunity to relax, shower and review your images from the Festival.
Days 6 – 8: Sagsai, Altantsugts and Tolbo Lake Villages
After our "down time" in Ulgii, we transfer to our next Western Mongolia adventure — where we will spend three nights across three remote villages, living with the local Kazakh hunters in their ger camp communities. Our first two nights will be in Sagsai and Altantsugts, home of ethnic Kazakhs and many Eagle Hunters. Our third night will be at Tolbo Lake, a beautiful location for landscapes as well as photographs of the local Kazakh hunters who live there.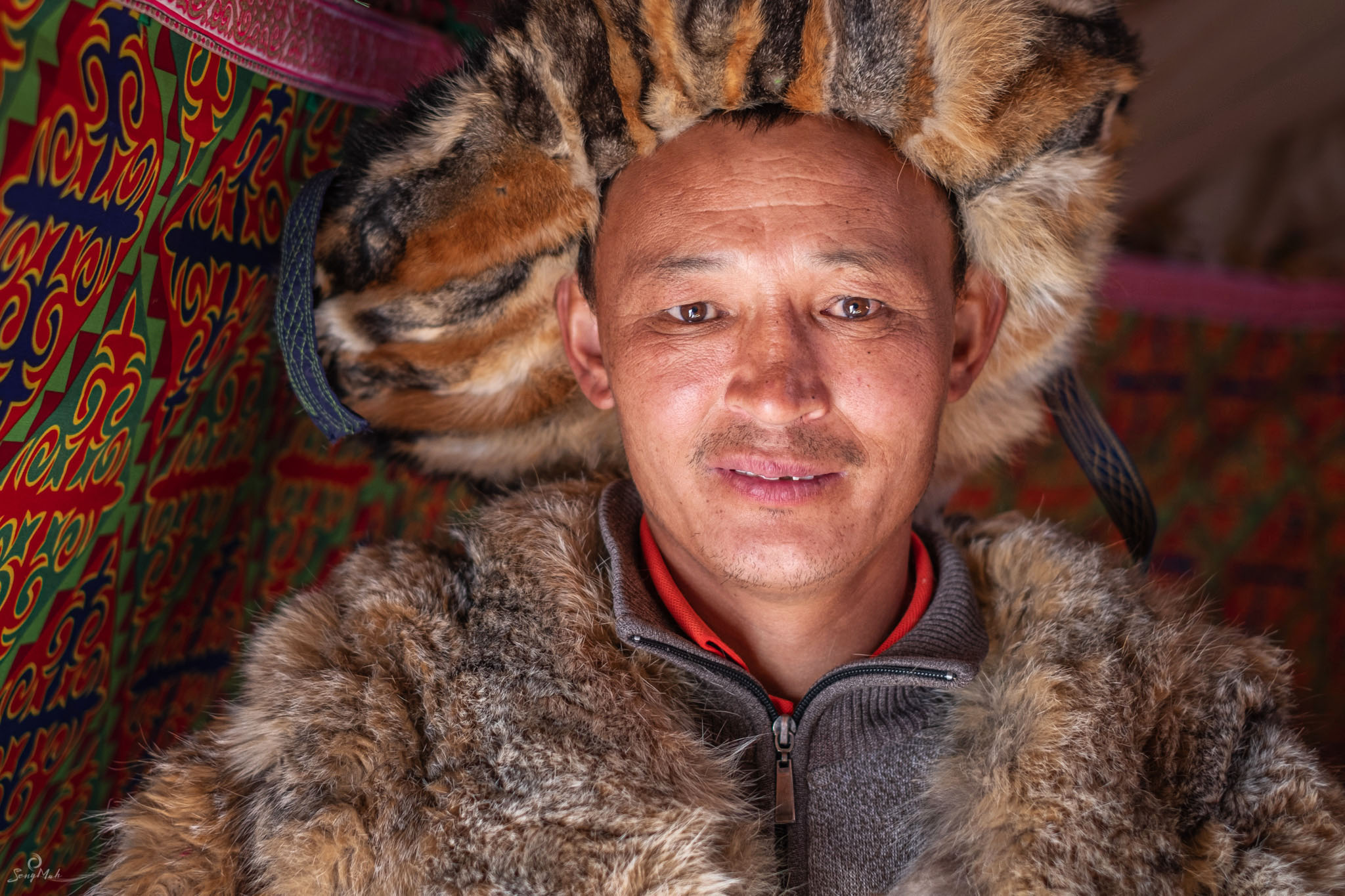 This experience puts us in very close contact with Kazakh families, with the aim of giving us sensational opportunities to create portraits of these hunters in a superbly stark and mountainous environment. Of course, the best portraits emerge after connecting with people, so we will also be spending time engaging with and connecting with our Kazakh friends and their family members — from elderly hunters to rosy-cheeked children.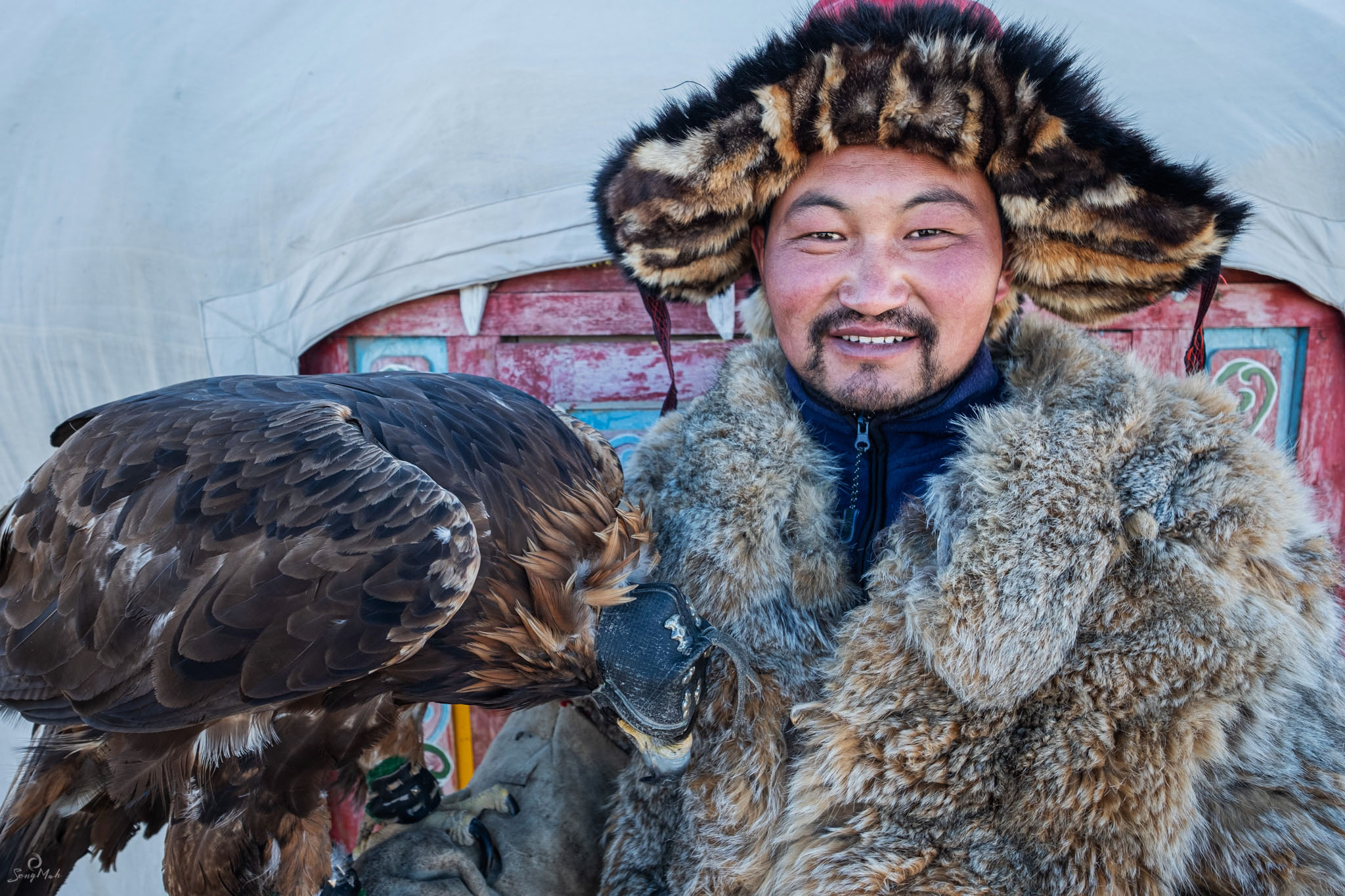 These villages, in particular Tolbo Lake, feature stunning high altitude landscapes, and we will also be making the most of our time here photographing the breath-taking scenery (a travel tripod is a must!), including the night sky over this remarkable landscape.
Day 9: Return to Ulgii
After three days of living with locals in ger camps, we return to Ulgii to check into our hotel for rest, relaxation and a couple of cleansing showers. You will also have the opportunity to review your images from time spent in the three villages.
Day 10: Return to Ulaanbaatar
We have an early flight to catch from Ulgii that will take us back to Ulaanbaatar in the morning. After checking into our comfortable city hotel, we will embark on a local tour to explore UB, including the a visit to the gigantic statue of Chinggis Khan, located in the outskirts of the city, and, time permitting, the Gandan Buddhist Monastery. We wrap up the tour with a farewell dinner at a city restaurant, with memories of our amazing time in Mongolia.
Day 11: Homeward bound
After a morning sleep in to recover from our adventures, we catch our airport transfers to connect with our outbound flight home, or onwards to our next adventure.
Tour Accommodation
Accommodation on this tour will alternate between hotels and ger camps. While in Ulaanbaatar and Ulgii, you will have your own private hotel room. When we are living with the Kazakh Eagle Hunters in their communities, we will be living in gers (yurts) reserved for guests of this tour. Accommodation in gers will be shared: there will be one ger for male guests on this tour, and one ger for female guests on the tour. The gers are warmed by an internal stove. While living in the ger encampment with the Kazakhs, there is no shower and a camp toilet will be set up for exclusive use by tour guests. We have scheduled alternate hotel stays during our time in the Western Mountains to give you the opportunity to rest, shower and relax between out trips out into the Kazakh villages and communities.
Tour Inclusions
All accommodation during the tour as outlined in the Itinerary above.
English-speaking guide from Day 1 to Day 11.
Transfers from and to Chinggis Khan International Airport at the start and end of this tour.
All land transport in a mini-bus (Ulaanbaatar) and 4×4 (Ulgii, Sagsai, Altantsugts and Tolbo Lake).
Internal return flight between Ulaanbaatar and Ulgii.
All meals, including a Welcome Dinner on Day 1 and Farewell Dinner on Day 10.
Entrance fees to the Golden Eagle Festival and all monuments and locations listed in the Itinerary above (single entry).
Photographic guidance and mentoring.
All day tours and activities as listed in the Itinerary above.
Tour Exclusions
Flights to and from Ulaanbaatar. We can help advice you on flights to book once this tour is confirmed as running (ie. when we have booked the minimum number of guests required to run this tour).
Comprehensive travel insurance. All participants are required to take comprehensive travel insurance for this tour. You will need to show proof of travel insurance as a condition of participating in this tour.
Visa to enter Mongolia.
Photographic equipment. You will need to bring/supply your own cameras, lenses, tripods, batteries, filters, memory cards and so on.
Insurance for your photographic equipment while on tour.
Meals and beverages outside those listed in the Inclusions above.
Tips and gratuities.
All personal expenses and fees, including laundry, wi-fi, medication, incidental meals and snacks.
Any transport and fees outside of the tour itinerary.
Tour Price
AUD$6675* per person. This price includes your own private rooms when we stay in hotels in Ulaanbaatar and Ulgii. Accommodation in ger camps is shared (but guests of the same gender have their own ger ie. one ger for male guests, one ger for female guests).
(* Please note: As the tour costs are originally priced in US dollars by our supplier, this price may be subject to change in the event of substantial shifts in the AUD to USD exchange rate and to changes to the cost of the internal flights outlined in the Tour Inclusions.)
Book Your Place
A deposit of AUD$2000 will secure your place on this tour with the balance paid by 30 May 2020. Note that deposits are fully refunded if the tour is cancelled due to not attaining minimum numbers.
For details of the Terms and Conditions of our tours, including cancellation charges, please read our Photography Tours Terms and Conditions.
To join this tour or contact us with your questions, please use the form below or email seng [at] venturephotography.com.au or telephone 0417 604 614.