Are you ready to visit and photograph a land of breathtaking majesty? A country of vibrant blue alpine lakes fringed by rugged, snow-capped peaks; wildernesses glowing with the burnished gold of autumn; dramatic, primal landscapes carved out of the Ice Age. Join us on an incredible photography tour to New Zealand!
Tour dates: 25 April – 4 May 2020
Tour length: 10 days
Led by: Seng Mah and Ty Stedman.
Minimum 6 guests. Maximum 8 guests.
This tour begins and finishes in Christchurch.
Pace: Easy to moderate. Some locations will require hiking (along graded tracks) of between 20 minutes to 50 minutes each way.
SOLD OUT
---
My love affair with the South Island of New Zealand began five years ago and, since then, I have been returning there almost every year, sharing the awe-inspiring beauty of its landscapes with other photographers. Join me in 2020 for 10 days, discovering and photographing the best locations the South Island of New Zealand has to offer.
We will be in New Zealand during autumn, where the change of season brings brilliant, blazing golden foliage for you to photograph. You'll be fully chauffeured by a professional New Zealand driver in a comfortable and roomy minibus, with plenty of space for your luggage and photography equipment. And throughout your tour, Ty Stedman and I will be available to help guide you in your photography, ensuring that you capture the most amazing landscapes and pick up new photography skills and tips on the way!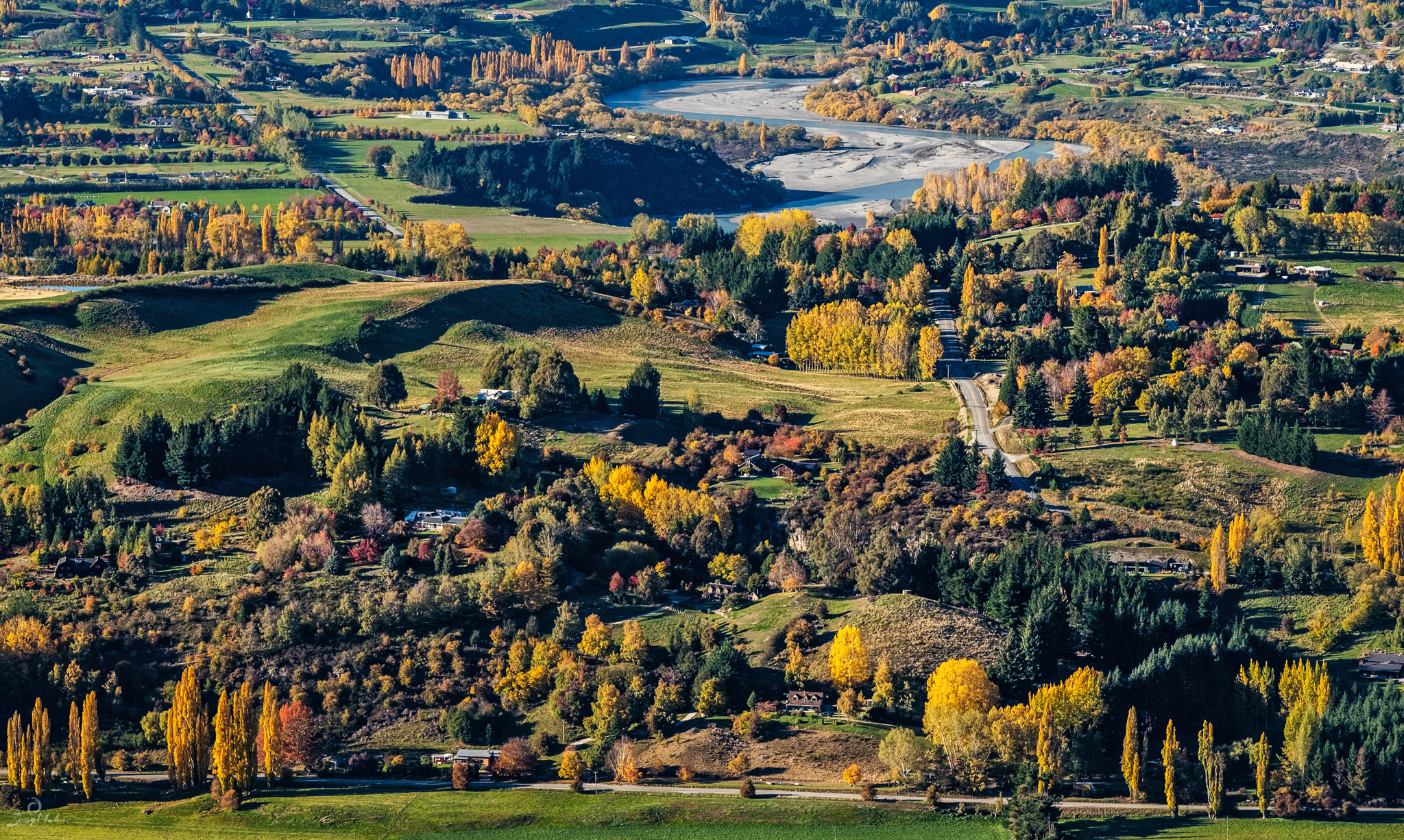 We will be maximising photographic opportunities by "chasing the light" from sun up to sun down at breathtaking locations. Unlike other photography tours where you may be shown a location and left to your own devices, Seng and Ty will be at hand to help you make the most of your experience and to show you how you can refine your camera craft to shoot the best images you can get both in-camera and in post-production. We want you to be completely fulfilled photographically in this tour!
We know that travel is more than just photography; it's also about enjoying the experience and getting to know the country in a more personally enriching way. So, we have included a carefully selected range of experiences for you, including a trip up the Queenstown Skyline to Bob's Peak, an early morning cruise in remarkable Milford Sound, a cruise onboard a 100-year old steamship on Lake Wakatipu in Queenstown, an immersive wildlife tour in the Otago Peninsula, plus a group dinner in Dunedin at the end of the tour! You'll also have leisure time to explore the places we visit – taking in the views or shopping, or receiving image critique from your photography mentors.
"I have just spent an EPIC 10 days on a tour of New Zealand's South Island… If you haven't yet joined a tour or workshop run by Venture Photography I suggest you do so. You will learn all about your camera and how to take your best images with it. Seng always makes all aspects of photography simple and easy to understand and use… I had a wonderful time and learned so much. This was my 5th adVENTURE with Seng and his team and I will be back for more."
Taryn Johnn
Tour Highlights
Days 1 and 2: Into the Mountains
Your New Zealand photo adventure begins with a pick up from your hotel in Christchurch, where we head for our first destination – Mount Cook in the Southern Alps. Traveling through Canterbury, we head into the Mackenzie high country, a region of majestic mountain ranges and deep blue lakes. We'll stop at famous Lake Tekapo to photograph the rich blue waters of this iconic lake, fringed by pine forests and mountains, before continuing on to Mount Cook. Our route takes us around the remarkably blue Lake Pukaki with views of the magnificent Southern Alps in the distance.
Mt Cook is one of the most majestic places in the South Island and an absolute paradise for photographers. We'll be based in the Mount Cook area for two nights, which gives us plenty of opportunity to explore and photograph the mountains from various vantage points, including Peter's Lookout, which provides a view towards the mountains across the gorgeous expanse of Lake Pukaki, Kea Point, White Horse Hill Campsite, the Hooker Valley Track and Tasman Lake, where you'll be able to photograph Mount Cook across the roaring Hooker River. Mount Cook is also a "dark sky" region, which means that there will be opportunities for us to look for and photograph the Milky Way in the mountains.
Day 3: Lake Wanaka
We take the road from Mount Cook to beautiful Wanaka, the home of the iconic and much-photographed Wanaka tree and beautiful Lake Wanaka. This route takes us through beautiful country, filled with scattered reflective lakes and autumnal colour. We will go through the magnificent Lindis Pass, which presents a dramatic landscape for photography. Our time in Wanaka will be devoted to sunrise and sunset photography at the lake while we enjoy the vibrant buzz of the town itself. If the opportunity presents itself, we will also shoot the Milky Way rising or setting over the lake.
Day 4-5: Central Otago and Queenstown
From Wanaka, we journey along the scenic Crown Range Road to Queenstown in Central Otago. We'll stop for photography en-route as there are many commanding views to be seen and photographed as we make our way through the ranges. Queenstown sits on the shores of the vast Lake Wakatipu, and is a hip and happening adventure resort town surrounded by soaring mountains. Here, we will photograph some of the most beautiful settings that Queenstown has to offer, including a ride up the Skyline Gondola to Bob's Peak above Queenstown, to photograph the vista at sunset, and a cruise on the TSS Earnslaw, a 100-year old steamship, where we will be able to capture the majestic mountains from the lake. We will also enjoy an early sunrise shoot at Moke Lake, with its mirror-surface reflecting surrounding mountains, and enjoy day trips to the villages of Glenorchy (home of the famous water willows) and Arrowtown (famous for its blazing autumn colour).
Day 6-7: Te Anau and Milford Sound
Our journey next takes us to Te Anau, the gateway to magnificent Milford Sound, one of the most stunning and dramatic locations in the South Island for photography. Te Anau is a charmingly photogenic lakeside town, with beautiful views across the lake, and we'll be based here for two nights to give us ample time to visit and explore Milford Sound.
Milford Sound is a highlight of our time in New Zealand and we will make the most of a full day to chase the changing light and incredible landscapes that appear to have emerged from the mists of prehistory. We begin with a sunrise shoot at Milford Sound, photographing the nascent light cresting over Mitre Peak and its surrounding mountains. We then enjoy a two-hour morning cruise of the Sound, where we can view the incredibly steep cliffs of the surrounding mountains up close and photograph the majestic waterfalls that cascade from their heights.
We will also take the opportunity to photograph the dramatic landscapes and numerous waterfalls along the Milford Road, including The Chasm, a thunderous gorge through which a swift flowing river plummets and Hollyford Falls, a powerful series of cascades surrounded by lush temperate rainforest. If we're lucky, we will encounter the famous kea, the mountain parrot known for their intelligence and cheekiness!
Days 8-9: Nugget Point and Dunedin
Our New Zealand adventure next takes us to Kaka Point on the South coast. Here, we will photograph the lighthouse and incredible ocean rocks at Nugget Point; this is a place to truly appreciate the wild and unadulterated power of the sea as it crashes against cliff faces, carving rock formations and caves over centuries.
Our onward journey takes us to Dunedin, where we will spend two nights, to allow us to explore the city and embark on a spectacular wildlife tour in the Otago Peninsula, where we will explore private conservation areas to observe (and photograph) native wildlife, including seabirds, albatross, penguins, fur seals, sea lions and more. If we're lucky, we'll be able to spot and photograph the rare hoiho, or yellow-eyed penguin!
Dunedin is a city with a Scottish heart and history which provides many interesting heritage streetscapes for photography, including the historic train station, Victorian-era facades and street art. It is in Dunedin that we will have our group farewell dinner where we share our experiences and celebrate our time in this amazing and beautiful country!
Day 10: Moeraki Boulders and return to Christchurch
The final day of our tour dawns with a very early morning departure from Dunedin in order to travel to the iconic Moeraki Boulders in time for sunrise. These unusual, spherical boulders lie half-buried in the sand and make exotic photographic subjects in a coastal landscape.
After breakfast at a nearby cafe, we hit the road for our return journey to Christchurch, with a stopover at the quirky town of Oamaru, home of the Steampunk Museum and a heritage Victorian Quarter.
The tour ends with your return to Christchurch and drop-off at your hotel for your onward travels…
Testimonials
My Trip to New Zealand with Seng was my first photography tour, so I had a little hesitation in that I didn't know what to expect. I couldn't have asked for a better experience! Seng is not only a great photographer and teacher, he is a great person and fun to be around. An added bonus to the trip is that Seng knows what good food is, so a recommendation from him never disappointed. New Zealand is a beautiful country, Seng taught me how to add that bit extra to my photography, so my images captured both the beauty and the feeling you had being there. I can't wait to travel with Seng again."
Marina Fort
"My first visit to the South Island of New Zealand was met with the same excitement level of a kid on Christmas Eve. Will it meet my expectations? Hell bloody yes!! Coming from a city as flat and featureless as Perth we get pretty excited with a cloud in the sky sometimes. Don't get me wrong I love Perth, but when the grand designer was putting it together he was not thinking about landscape photographers… The size and scope of the scenery can only be described as epic and I knew as my foot stepped onto the chilly tarmac this was going to be a great tour. I had never been to New Zealand before and now I have, I want … no, need more!"
Michael Lee
What's included:
Land transport with a professional New Zealand driver.
All national park fees and concessions.
All accommodation during the tour.
All photographic tuition and guidance during the tour.
Queenstown Skyline Gondola entry.
Milford Sound cruise.
TSS Earnslaw Lake Wakatipu Cruise.
Wildlife tour in the Otago Peninsula.
Farewell dinner at Dunedin (alcohol not included).
Exclusions:
Flights to and from Christchurch, New Zealand.
Transfers to/from airports.
Meals and drinks (except the welcome dinner).
Travel insurance. All participants are required to take comprehensive travel insurance for this tour. You will need to show proof of travel insurance as a condition of participating in this tour.
Insurance for your photographic equipment while on tour.
Photographic equipment. You will need to bring/supply your own cameras, lenses, tripods, batteries, filters, memory cards and so on.
Personal expenses, including laundry, wi-fi, medication and incidental meals.
Any transport or activities outside of the tour itinerary.
Price of Tour
AUD$6800 twin share for guests travelling with a friend or partner who is also a paying guest and participating photographer. Non-photographer friends/partners are welcome: If your accompanying friend or partner is a non-photographer, please contact us for the special price for non-photographers.
A single supplement addition of AUD$940 for guests requesting their own room or who are not travelling with another paying guest.
Book your Place
A deposit of AUD$1500 will secure you a place on this tour. This deposit is refundable if the tour is cancelled by the organiser (we require a minimum of 6 guests to run this tour).
Final payment of the balance is due by 10 January 2020.
For details of the Terms and Conditions of our tours, including cancellation charges, please read our Photography Tours Terms and Conditions.
To join this tour or contact us with your questions, please use the form below or email seng [at] venturephotography.com.au or telephone 0417 604 614.
Enquiry Form