Guided by: Seng Mah and Stephen Humpleby
Tour dates: 7 April – 15 April 2016 (9 days)
Maximum 6 participants. SOLD OUT
AUD$3140 inclusive of accommodation (single occupancy in your own room), land transport and photography guidance. Note: A double occupancy price of AUD$2640 is available if you are sharing with a friend or partner who is also a paying customer on the tour. See below for more detail.
Note: Bookings close 31 December 2015.
---
This tour has Sold Out! The 2017 Tour (6 April – 15 April) has just been released. It features a different itinerary and you can find out more about it and book in here.
---
The South Island of New Zealand is a land of magnificent photographic opportunities. Surrounded by soaring mountains, vast glacial valleys, deep blue lakes and roaring waterfalls, you'll find photographic inspiration everywhere. Join us on an epic photography tour that will take you from one inspiring location to another, as you discover and experience the rugged beauty of the South Island from its central Lakelands to the ancient majesty of Milford Sound and onwards to wonderfully scenic Lake Wanaka.
This tour is your passport to photograph in some of the best locations the South Island has to offer and be supported in your photography throughout your tour experience. Unlike other photography tours where you may be shown a location and left to your own devices, your photography guides will be available to help you make the most of your experience and to show you how you can refine your camera craft to shoot the best images you can get!
You'll be visiting in autumn, where the change of season promises gorgeous golden foliage for you to photograph, and we will be maximising photographic opportunities by "chasing the light" from sun up to sun down at locations that will take your breath away. You will also have the option of joining in group sessions focusing on camera craft, macro photography, night photography and post-processing techniques. We want you to be completely fulfilled photographically in this tour!
Tour Highlights
Day 1
You arrive in Queenstown and check into your hotel. Meet other tour participants and and your photography guides, Seng and Steve, before we head out to shoot the late afternoon and sunset on the shores of Lake Wakatipu. Autumn will be in full swing and we will make the most of the gorgeous golden foliage on the shores of the lake, using them to frame views of distant mountains.


Day 2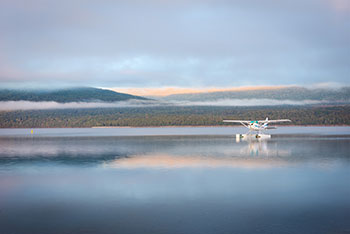 We load our minibus for the trip to Te Anau in Southland, taking a scenic road that winds around the southern arm of Lake Wakatipu and then westwards to Te Anau. There will be opportunities to stop en route for photography. After settling into our hotel in Te Anau, we will head out for a shoot on the shores of Te Anau's placid lake.



Day 3
The morning kicks off with a sunrise shoot at the lake, before we load up the bus for an early start to Milford Sound. It's an early start because there are many photographic stops on the way to Milford, starting with the very epic Eglinton Valley that presents jaw-dropping views of a vast valley edged by immense mountains. We will also stop by Mirror Lakes, a series of ancient bow lakes with mountains reflected in their still surfaces. We'll also stop at Lake Gunn, a quiet, smaller lake along the way, before we make the climb up the mountain road to Milford Sound. We check into our accommodation at Milford Sound and head out to photograph the dramatic landscape of the sound at sunset.



Day 4
This is a full day devoted to photography at Milford Sound. You will shoot the sunrise at Milford Sound, in time to see and photography the incoming tide and morning light on clouds scudding over iconic Mitre Peak. The day also features a boat cruise of Milford Sound to view the inner landscape of the Sound with its plunging waterfalls and wildlife that gathers on its shores (including seals, dolphins and penguins).



Day 5
Today sees us travelling from Milford Sound back to the Lakelands in Otago, as we journey to beautiful Kinloch, right on the northern tip of Lake Wakatipu. We'll spend the afternoon exploring lakeside Kinloch and embarking on a sunset shoot to make the most of the light in this isolated corner of the lakelands. If weather permits, we'll embark on night photography on the shores of the lake.



Day 6
We have a full day to pursue epic photography, kicking off with a sunrise shoot at Kinloch followed by a trip out to explore the Rees River Valley, where the Rees River meanders beneath high peaks. We have the afternoon in Glenorchy, a very scenic village on the opposite shore of the lake to Kinloch and will photograph the iconic water willows of Glenorchy and the iconic Glenorchy Jetty.



Day 7
We bid farewell to Kinloch and travel from the lakeside village to Lake Wanaka. We will stop at a lookout that presents a stunning view across the northern arm of Lake Wakatipu. En route to Wanaka, we will visit the frontier town of Cardrona. After checking into our accommodation at Wanaka, we spend the afternoon exploring the lakefront to photograph the poplars in their autumn splendor as they blaze with colour in the late afternoon light.



Day 8
Our final sunrise shoot on the tour takes us to the shores of Lake Wanaka and the iconic Wanaka Tree, one of the most unique and most photographed landscapes of the region. We then load up the bus for the leg back to Queenstown, where we will stop over at Arrowtown known for its autumn colours. We return to Queenstown and check into our hotel for our last night of the tour.



Day 9
We bid each other farewell and good journey onwards as we wrap up the tour and return home with stunning images of the places we have visited.
Tour Inclusions
Land transport (in a mini bus) during the tour.
Accommodation: The cost of this tour includes your single occupancy in your own room (double occupancy is also available for photographers traveling with a partner or friend who is also a paying customer). Accommodation type varies from hotel/motel rooms to cabins/chalets at holiday parks or lodges. Some accommodation have shared bathroom facilities.
Milford Sound boat cruise.
Photographic guidance and assistance during the tour from Seng Mah and Steve Humpleby.
What's Not Included
Flights to and from Queenstown, New Zealand.
Transfers to/from airports.
Meals and drinks.
Travel insurance. All participants are required to take comprehensive travel insurance for this tour. You will need to show proof of travel insurance as a condition of participating in this tour.
Insurance for your photographic equipment while on tour.
Photographic equipment. You will need to bring/supply your own cameras, lenses, tripods, batteries, filters, memory cards and so on.
Tips.
Personal expenses, including laundry, wi-fi, medication, incidental meals and snacks.
Any transport or tips outside of the tour itinerary.
Cost of Tour
AUD$3140 (single occupancy in your own room).
AUD$2640 (double occupancy if you are travelling with a partner or friend who is also a paying guest and are sharing the room with them).
We require a deposit of AUD$780 to secure your place (non-refundable) with the balance paid by 10 February 2016. The deposit can be paid by cheque, direct deposit or Paypal* (*Paypal attracts a 2.5% surcharge). Please contact Seng Mah by using the form below and Seng will be in touch with details (you can also call Seng on +61 417 604 614). A detailed itinerary on this tour will be provided closer to the departure date.