Instructors: Tristan Cameron and Seng Mah
Level: Intermediate – Advanced
Duration: 1.30pm – 6.30pm
Date: Saturday 11 October
Cost: $398
Location: Up on High Studio, Suite 3 (Upstairs), 133 High Street Mall, Fremantle. (Find us here!)
Maximum participants: 8 (2 seats available)
The Butterbomb Workshop is back for 2014! If you LOVE photographing kids and those special family moments, then join us for this very special workshop devoted to the art of family photography!
You may love photographing your own kids, or you may be starting out as a family photographer or you're already a family photography looking to enhance your style and grow your business — The Butterbomb Workshop will show you how it's done by Butterbomb, one of Perth's most passionate and successful family photographers. Prepare to be inspired, to learn new photography techniques and to gain new skills as a children and family photographer.
What you'll learn:
Tristan and Butterbomb's approach to children and family photography.
Finding your style as a family photographer.
Using your passion to drive your creativity.
The equipment (camera, lenses) you need for stunning children and family photography.
The importance of location in photographing families and children.
Shooting to tell a family's story.
Lighting and using natural light at different times of the day.
Camera control for photographing families and children: from focus to exposure to capturing those elusive moments.
Making connections: interacting with your clients and their kids.
Creating a visual style in your final images.

The Butterbomb Workshop is an intimate workshop and shoot experience for all participants – hence, we are limiting the number of participants to 8. This workshop includes a 2-hour hands-on shoot with a family at a selection of locations in Fremantle, where you'll have the opportunity to shoot under the guidance of Tristan and Seng, build your portfolio images and gain field experience in location use and lighting!
What you'll need:
Your camera (DSLR or equivalent camera) and manual.
Lenses – preferably fast lenses in the 35mm – 135mm focal length range that can obtain an aperture value of f4.0 or lower (eg. f2.8, f1.8, f1.4). Zoom lenses and prime lenses will be suitable.
A pen and notebook. Some notes will be provided but you might like to make additional notes.
Good walking shoes – as we'll be shooting around the West End of Fremantle.
Note: You do not need a tripod for this workshop.
About Butterbomb and Tristan Cameron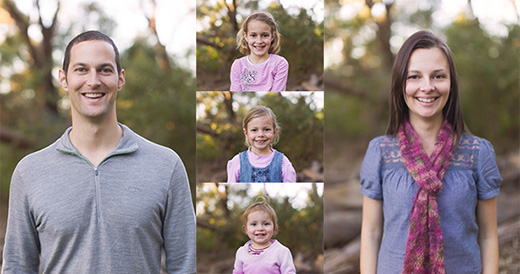 Butterbomb's slogan is "We're big kids with cameras" and Butterbomb's Tristan Cameron is a big kid who loves being a photographer. With wife, Monika, Tristan has developed and run a very successful family and lifestyle photography business, shooting Western Australian kids and their families for many years. Butterbomb style is fun, giggles, laughter and being crazy as only kids can be! As Tristan and Monika says: "We believe it is the quirks and idiosyncrasies that make our children who they are, so Butterbomb's photography isn't about sitting pretty in Sunday's best and smiling at strangers. It is about a family spending a little time together creating the memories that last a long time."
BOOK WORKSHOP
For information on bookings, cancellations and booking transfers, please view our Workshops Terms and Conditions.