Level: Intermediate
Duration: 10.30am – 4.30pm
Date: TBA
Cost: $299
Instructor: Seng Mah
Location: TBA
Maximum participants: 10.
Do you get confused or frustrated by your flash speedlight? Do you struggle with getting the right flash exposure or the right look when you're using your speedlight? Come join us to uncover the secrets of your flash speedlight and turn your fear of flash into a love of flash!
Flash Fast Track will demystify flash photography for you. In this one-day workshop, you'll learn how to take control of your flash speedlight and use it to add impact and intensity to your photographs. Whether you like shooting portraits or want to get into creative off-camera flash (strobing), you'll get a lot out of this workshop!
We start by giving you a solid understanding about the way your flash works, the bits and pieces attached to it and how you can drive your flash to get the right flash exposure. You'll learn about balancing flash and ambient exposure, how to use bounce flash and bounce surfaces effectively, how to work flash exposures compensation and flash manual zoom, and how to get your flash working when shooting in full sun using high speed sync.
Then, we take the flash off-camera for some creative strobing. You'll learn how to work your flash on its Manual mode: what the numbers (and fractions) mean, how to set up and use off-camera flash, and how to make use of lighting modifiers such as softboxes and umbrellas to shape the light from your flash.
Throughout the day, you'll be learning and shooting in real world situations, working with our workshop model to build your understanding of flash lighting, location lighting and creative use of off-camera flash!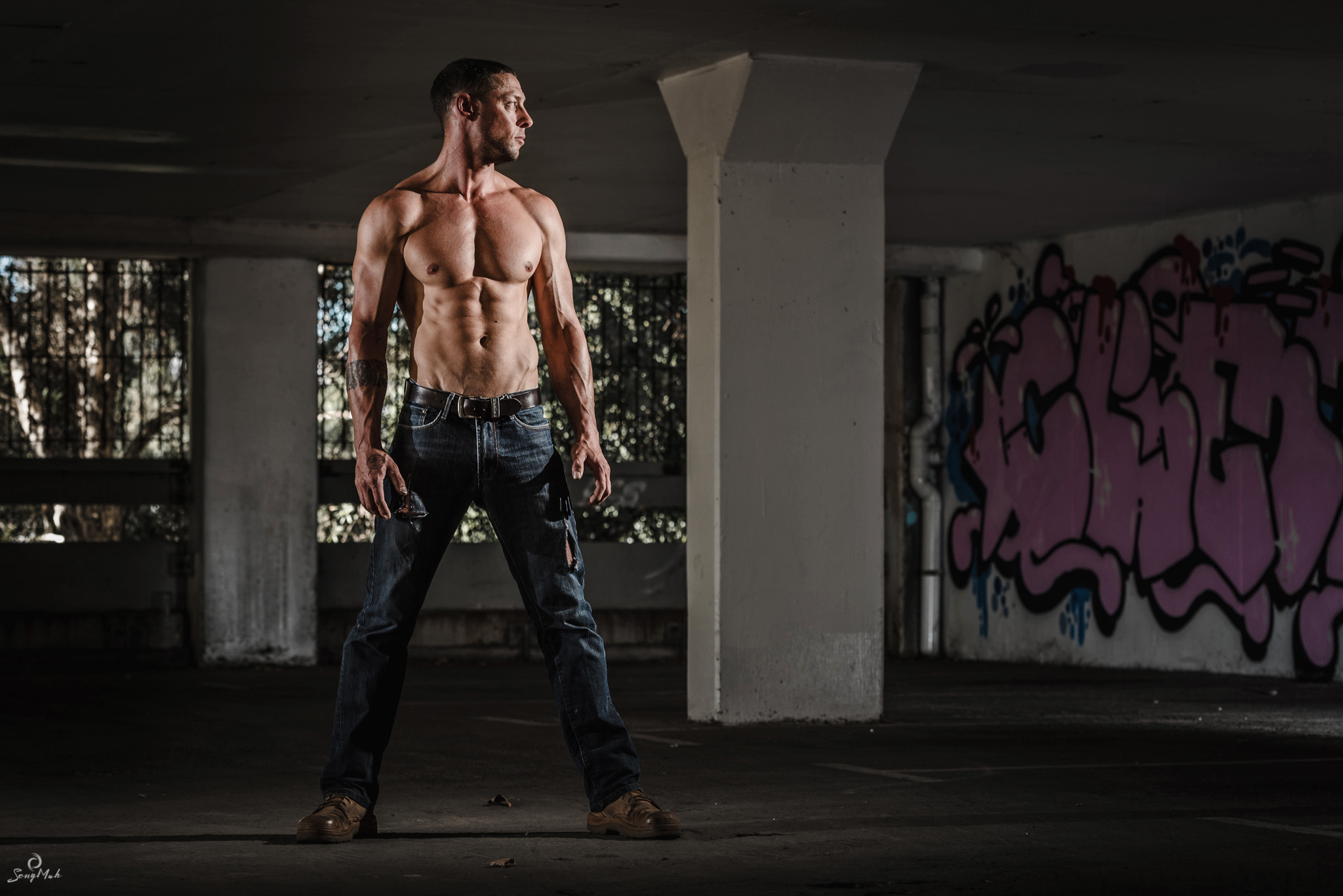 Our creativity intensifies in the afternoon, as we head out into Fremantle where you'll learn how to use your flash outdoors — shooting to balance with ambient light, and to make use of flash with sun back lighting. We'll then take the flash off camera and show you how you can create amazing images using off-camera flash.
This is the workshop that will fasttrack your understanding of your flash from zero to hero!
You will learn about:
Using your flash in its e-TTL/i-TTL modes
Flash exposure – and how to control flash exposure
Using slow-synch flash
Front (first-curtain) vs Rear (second-curtain) flash
Flash sync speed and using high speed sync on your speedlight
Using the flash power zoom effectively
Using your flash as key light vs fill light
Using flash exposure compensation
Using bounce flash indoors and outdoors
Using reflectors
Using flash modifiers
Balancing ambient and flash exposures for outdoor shooting
Using off-camera flash with wireless triggers and receivers.
Best practice approaches for off-camera flash lighting.
Combining flash lighting with location lighting – creating the outdoor studio.
This workshop includes your shooting with a model on location.
If you've ever wanted to learn about using your flash effectively, then sign up for this workshop!
Note: You will need your own camera, lenses and speedlight flash (external flash) with both TTL and Manual Modes on them. Your speedlight needs to have a flash head that can tilt and rotate. Sony Alpha DSLR users please note: you may need a hotshoe adaptor in order to make use of our remote wireless triggers in this workshop. Adaptors can be purchased from local camera stores such as Team Digital and Camera House.
TESTIMONIALS
I have previously attended a couple of flash photography workshops (not with Seng) I've also researched and read some books but I just could't grasp the whole concept of flash. All that changed after attending this workshop. Seng has a way of breaking the subject into bite size pieces and explaining things so they make sense. Don't waste your time and money on other courses go straight to Seng and learn all you need to know in one day. (Sylvia Cavanagh)
"Flash Fasttrack", definitely my favourite workshop. Easy learning and I felt I walked away with an immediate improvement in my portrait photography. This is the best workshop I've been on. (David Harley)
Another great workshop by Seng Mah, who manages to get a lot of information across in an interesting and enjoyable way. This is one of the best value workshops I have ever attended. Thanks Seng. (Wendy Jacobs)
I have enjoyed the flash course by Seng very much. Seng is not just a very good photographer who knows all in and outs, but he is also very capable of teaching it in a clear and uncomplicated way. Money well spent! (Peter Bles)
Thanks for a fantastic day Seng! I have the confidence to use my flash on camera, and had my eyes opened up to huge possibilities off camera! You provide such good service it makes me want to come back and do more workshops in the future! I can't wait, and I'll be contacting you soon! (George Coldham)
Great day out at the flash photography fast track course! Very well presented, very knowledgable and the techniques learnt will certainly improve my shots. (Adam Phillips)
I enjoyed the great workshop last Saturday on Flash Photography. So good to have it explained without all the math. Highly recommended peeps. Thanks Seng. (Nola Sumner)
Brillant workshop yesterday about flash photography. I had absolutely no idea on how to use my flash. I learnt a lot yesterday and many thanks to Seng and his helpers. (Sera Minchin)
Thanks Seng, and Dave. I thoroughly enjoyed the Flash Fast Track workshop. Before the workshop I didn't know much about how to use my flash but now I can say I feel fully confident about how to use my flash to bring out the best in my photographs and how to effectively use my flash in tricky lighting situations. Once again you hit the mark in making a tricky subject very easy to understand and apply. Thanks to the models too – you guys were great especially on such a hot day. (Taryn Johnn)
Hi Seng, I just wanted to say a very big thank you for passing on so much knowledge at the Flash Photography Fasttrack Course. I learnt so much and had a lot of fun. I will highly recommend your courses to others and I look forward to doing some more in the near future. (Ben Griffiths)
A big thank you to Seng and David for the great experience that was the "Flash Photography Fasttrack" workshop in Fremantle. This was not the first Venture Photography Workshop I have attended but I think it was the most enjoyable. As with the other incredible experiences with Venture Workshops, I think for me the most valuable part of the whole thing is that it is very hands on. You don't just get a pile of information thrown at you, you get the opportunity to try it out, & ask questions & actually learn the processes. The simple, easy to understand language & terms that are used to teach are also something I really appreciate & find very very helpful. No question is too hard or ever deemed silly, & you are always treated respectfully and given as many answers as you like to understand. Seng even interpreted a question I was trying to ask but couldn't quite articulate, for which I was ever so grateful. I can thoroughly recommend any Venture workshop ( & frequently do) as a fabulous and enjoyable learning experience. I always come away feeling enriched and inspired. (Vicki Princep)
After attending the Flash Photography Fasttrack Workshop I felt so much more confident using my speedlight. The instructors are so helpful and very experienced, and generous with their time. The workshop structure is planned out in a easy to understand format, with plenty of photo shoots to practise the techniques. Seng & Dave made learning speedlight techniques so much fun too. I would recommend this course to everyone. (Linda Temperton)
I attended the flash photography workshop in Fremantle. Seng did an amazing job of explaining everything a photographer could possibly want to know about how to use on camera and off camera flash. I walked away really confident that I could use my flash professionally and confidently in any light situation. I'd highly recommend this course to anyone who wants to know how to use a flash correctly. (Peta Santoro)
I have taken a few photography courses but your presentation of Flash Photography was by far the best. I have found it difficult to understand from the number of books I have read on this topic, but after your excellent representational I am now able to go back to these books and actually understand what I am reading. Great informative course which was reinforced by the street photographs at the end of the day. Congratulation so your the presentation…. first class. (Bob Levy)
I just wanted to let you know I did my first outdoor shoot today since doing the class with you, and I went in with so much more confidence and knowledge. I am so happy with the results! Lots of good shots! So, thanks again for a great class and I look forward to doing more in the future, worth every cent and many more of them! (Yvonne Doherty)
Just a quick note to say thanks again for the very informative Flash Photography workshop yesterday. You have a way of explaining things in a very simple terms that even I can understand. I took the kids off to the beach in the afternoon and practised with the zoom setting. Love that!! (Tara McRae)

For more customer feedback and testimonials, please check out our What Participants Say page.