Venture out yonder to WA's oldest wilderness and experience its rugged landscapes under the light of the full moon and the wash of its massive tides.

Tour dates: 13 June – 19 June 2022
Tour length: 7 days
Led by: Seng Mah and Pamela Jennings
This tour begins and finishes in Broome.
Pace: Easy. Some locations will require hiking (along graded tracks) of between 15-20 minutes each way.
A world of vivid colours and spectacular landscapes awaits in the Western Australian Kimberley region! This is a photographer's dream location, where stark colours mingle with rugged coastlines, dramatic outback vistas and incredible birdlife.
Join Seng Mah and Pamela Jennings on a memorable photography tour of the incredible Kimberley, and experience the wonder and richness of its landscape. You will discover inspiring locations both by day and night, in the company of like-minded photographers, learning new skills and being guided by two multi-accoladed professional photographers and tour leaders.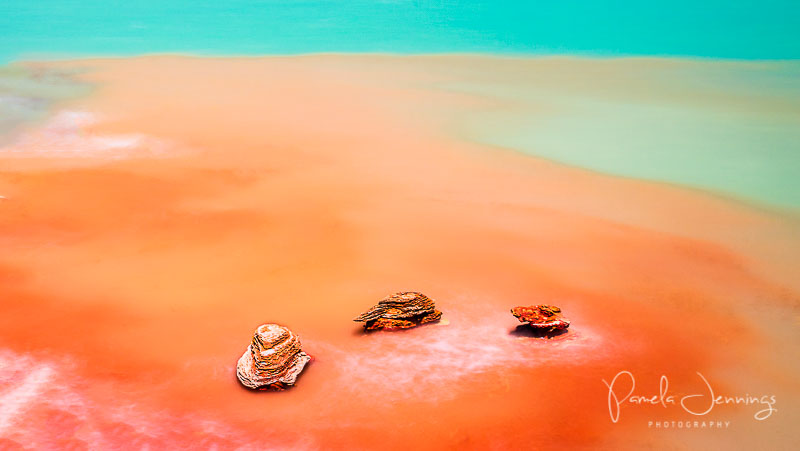 This tour has been timed to coincide with the full moon and big tides occurring in the Kimberley — in fact, the region has the biggest tides in the Southern Hemisphere!
One of the unique opportunities offered in this time is the experience of photographing the iconic stairway to the moon along the coast, with the light of the moon reflecting off the ocean, creating a shimmering illusory staircase to the moon. The big tides that come with the full moon also give us the opportunity to photograph the wash of turquoise waves over red rocks and earth at Roebuck Bay, creating alluring and surreal-looking images rich with vivid colour and textures.
Our itinerary captures the vibrant colours of the region, along with photographic opportunities that are second to none. You'll be traveling with Seng and Pam in two 4WD vehicles, which means this tour will be an exclusive, small group tour — limited to only 6 participants. Your experience and learning on this tour will be immersive and personal. It's something not to be missed!
Tour Highlights
Day 1: Broome
Our first day begins with a group catch up in Broome, where you'll have the opportunity to meet your fellow photographers and discover the photographic opportunities that lie ahead. We then grab our gear and head to out for unforgettable sunset shoot of the super moon rising with the beautiful colours of sunset. What a fantastic way to kick off this tour!
Day 2: Broome and Roebuck Bay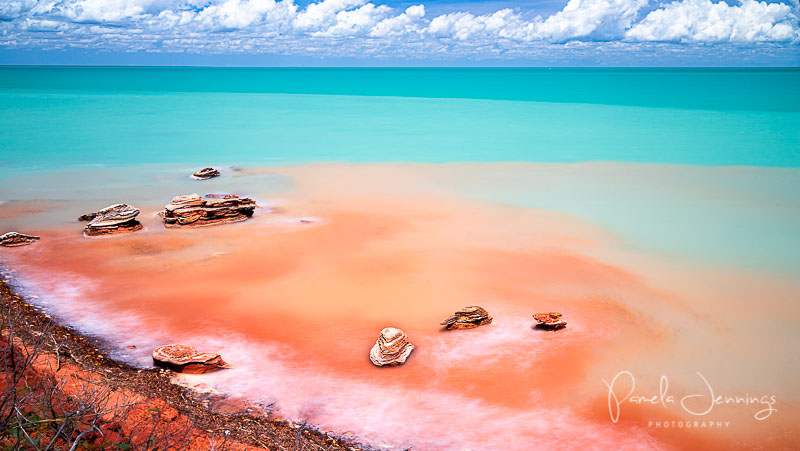 Our morning begins with a sunrise shoot near Broome, with beautiful colours of the sunrise reflecting off wet sand at low tide.
After breakfast, we take the 4WD to Roebuck Bay along the Crab Creek Road. You'll be treated to 10 metre tides pushing over the tidal flats at Roebuck Bay, washing up against rock formations and red Pindan cliffs. With long exposures, you'll capture the incredible merging of colours (the rich blues of the ocean into the intense reds of the cliffs). This location is great for long exposures, as well as bird photography, and we'll make the most of our morning here.
We finish the day with another iconic sunset shoot, along with shooting the Stairway to the Moon.
Day 3: Broome to Cape Leveque
The morning sees us travel from Broome to Cape Leveque, with photographic stops where opportunities strike. We will be staying at the award-wining Kooljaman Wilderness Camp at Cape Leveque, which puts us right at the forefront of the spectacular colours and beauty of the region. Kooljaman overlooks the burnished red Pindan Cliffs, white sand and the vivid blues of the Indian Ocean.
We'll have some time to relax before venturing out for our sunset shoot at the breathtaking West Beach, where we will photograph the full moon rising over red cliffs.
Day 4: Cape Leveque
Our full day at Cape Leveque takes in all that this remarkable setting has to offer — from sunrises and sunsets along the coast to the rich birdlife that inhabit this stretch of Kimberley coastline.
Throw in photographing the high tide at West Beach, using neutral density filters to enact long exposures, and a visit to the Eastern side of the Cape for further exploration, and you have a day that's packed with photographic adventures. But it's not all work; there's time to play and relax with a sundowner shoot at sunset.
Day 5: Cape Leveque to Derby
We bid farewell to the red cliffs of Cape Leveque and transverse the countryside, through cattle station country, for the Kimberley town of Derby. Here, the landscape is different and iconic: the Fitzroy River flood plains, salt marshes, open plans of termite mounds, crumbling buildings that speak of a storied history, wildlife, birds and, of course, the very unique Derby Jetty stretching across tidal mudflats.
This is a land of boab trees dotting the landscape and we will allow ample opportunity to get the best sunset landscape to add to our collection of images from this tour.
Day 6: Derby to Broome
An optional helicopter flight is available in the morning for those keen to capture the amazing patterns of the tidal flats near Derby. This is an aerial photography flight, doors off and with a clear view for each photographer (note, this is tide and numbers dependent — please indicate in the booking form below if you would like to include the optional helicopter flight).
We return to Broome from Derby in time to check into our hotel and head our for our final sunset shoot in Broome. Following this, we meet for our group dinner (included in the price of this tour) where we can reminisce about our memorable photographic adventures!
Day 7: Broome sunrise and end of tour
We start the morning of the final day of the tour with a sunrise shoot near Broome, before breakfast. The tour concludes after breakfast, as we check out of our accommodation and prepare for our journey home.

What's included:
Land transport in air conditioned 4WD vehicles (three guests per vehicle).
All accommodation during the tour (6 nights)
All photographic tuition and guidance during the tour.
Expert Kimberley guide and photography tutors.
Group dinner on the evening of Day 6 of the tour (in Broome). Note this does not include alcoholic beverages.

Exclusions:
Flights to/from Broome.
Meals and drinks (except the group dinner noted above).
Helicopter flight – optional (from $490 for 50 minutes, minimum of three photographers per flight — see below for more information).
Alcoholic drinks (Note that alcohol must be pre-purchased in Broome for the Cape Leveque section of the tour).
Photographic equipment. You will need to bring/supply your own cameras, lenses, tripods, batteries, filters, memory cards and so on.
Personal expenses, including laundry, wi-fi, medication and incidental meals.
Any transport or activities outside of the tour itinerary.

Travel insurance
Travel insurance remains your responsibility for this tour.

Price of Tour
AUD$5200 per person if twin-sharing with your partner or spouse, or a photographer friend who is also a paying guest on this tour. Note that because of the limited number of participants on this tour, non-photographer partners/spouses will still need to pay the full price for the tour.
AUD$5950 per person with your own room during the tour.
Optional helicopter scenic flight in Derby: from $490 (50 minutes) based on three photographers per flight. The price will be higher if there are fewer photographers per flight.

RESERVE YOUR PLACE
A deposit of AUD$1500 will secure you a place on this tour. This deposit is refundable if the tour is cancelled by the organiser (we require a minimum of 6 guests to run this tour). The final payment of the balance is due by 31 March 2022.
Before booking on this tour, please read our Photo Tour Terms and Conditions, especially our Covid-19 refund policy if this tour cannot run due to the impact of Covid-19 induced lockdowns or travel restrictions.
To join this tour or contact us with your questions, please use the form below or email seng [at] venturephotography.com.au or telephone 0417 604 614.