Experience a photography tour like no other to Madagascar: a land lost in time, rich with age-old tribal cultures and amazing, unique wildlife!
---
Tour dates:
16 - 27 July 2020 (12 days)
Led by:
Seng Mah and Craig Franke
Number of guests:
Minimum 6, maximum 8
Pace:
Easy to Moderate.
---
Experience one of the most unique and exclusive destinations in the world -- Madagascar -- a land steeped in human cultural history and ecological diversity, where traditional beliefs and values are as yet untouched by the modern world.
This photography tour focuses on the rich tapestry that Madagascar has to offer -- from its 18 tribes to its endemic flora and fauna found nowhere else in the world! Lemurs, rare birds, majestic boabab forests fill our photographic itinerary; and if you enjoy connecting with people from different cultures, than the time we spend in villages and communities will give you an utterly enriching experience!
You'll embark on a journey of cultural and photographic discovery of the island and be enriched by a fulfilling and rewarding travel and photography experience.

Tour highlights:
Day 1: ANTANANARIVO AND WELCOME TO MADAGASCAR

On arrival at at Antananarivo (Tana), the capital of Madagascar, you will be met and transferred to your hotel for some time to rest and acclimatise. Tana is perched on top of a mountain range and has a rich historical heritage as well as a bubbly nightlife. You'll meet your fellow guests get to know your photographic tour leaders over dinner.

Day 2: LEMURS, CHAMELEONS, OH MY!

We leave Tana and make for the town of Andasibe to the East, traveling past rice paddies and forests. Andasibe is surrounded by a belt of protected rainforest and several parks boasting incredible natural scenery and an array of exotic Madagascan wildlife. We visit a reptile conservation area in Marozevo where we will have the opportunities to view several species of Madagascar's famous chameleons, along with the island's endemic insects and amphibians.
We will also visit Lemur Island, where lemurs that have been rescued from captivity are cared for and rehabilitated These lemurs are used to human contact allow us to interact with these unique inhabitants of the temperate rainforest. Time permitting, we will also visit a small village to mingle with people of the Betsimisarka tribe, one of the friendliest tribes in Madagascar.
Before dinner, we will also go on a night walk to search for nocturnal animals, such as the mouse lemur, wooly lemur and chameleons in the rainforest.

Day 3: RAINFOREST ADVENTURES IN ANDASIBE

In the morning, we take part in a guided walk through the rainforests of Andasibe, where we will look for the magnificent Indri, the largest of the lemur species, that make the treetops their home. We may also find more chameleons in their natural environment in the forest.
After lunch, we return to Antananarivo, stopping where possible at local villages on the way. We have the evening in Tana at our leisure.

Day 4: ANTSIRABE - THE VICHY OF MADAGASCAR

We bid farewell to the capital and head southwards towards Antsirabe, a town known for its colourful characters and even more colourful rickshaws (known as pousse-pousse). You'll enjoy a number of photographic stops en route, to view local craftsmen at work and to spend time at local markets and villages. Antsirabe is known as the "Malagasy Vichy" because of its numerous hot springs and thermal baths. It's Madadgascar's third largest city and offers visitor a bustling atmosphere that's reminiscent of the Belle Epoque.

Day 5: POUSSE-POUSSES IN ANTSIRABE AND A JOURNEY TO RANOMAFANA NATIONAL PARK

A surprise awaits you in the morning as you join the group in exploring Antsirabe via a very traditional mode of transport. It's an experience that's full of colour and brimming with photographic opportunities. Have your camera in hand and your eyes peeled for interesting street life as you experience this unique mode of traveling about town.
We then leave Antsirabe and head for Ranomafana National Park, with a stopover in Ambositra, a town known for its beautiful and intricate wood carvings. You will be visiting the workshops where craftsmen cut out intricate patterns from wood using a hand-operated jigsaw.
Ranomafana National Park is a haven of rare and exotic flora and fauna and is one of Madagascar's most spectacular national parks. It was established to conserve the unique biodiversity of Madagascar (it's declared a World Heritage Site in 2007) and is home to 12 species of lemur, one of which is the critically endangered golden bamboo lemur.

Day 6: RANOMAFANA WILDLIFE SAFARI

We have the luxury of a full day to discover the many corners of this national park, exploring the trails in our search for lemurs, chameleons, spiders, frogs, varieties of orchids and flora. There are more than 100 species of birds in this park, so keep your eyes peeled for them!

Day 7: AMBALAVAO - ZEBU MARKETS, PAPER-MAKING AND RING-TAILED LEMURS!

We head from Ranomafana National Park to Ambalavao, the last major town in the highlands of Madagascar and renowned for its folk art and craft.
This trip has been scheduled to coincide with the zebu markets at Ambalavao, so that you can see the markets in full swing! It's a very colourful and lively event, with hundreds of zebus controlled by men with sticks. We may also have the opportunity to visit a paper-making workshop where delicate, hand-made, flower-decorated paper is made from fibres of the Avoha tree and treated using the ancient process developed by the Arabs.
We will also visit Anja Park, which has the highest concentration of ring-tailed Katta lemurs (made famous by the "Madagascar" animated movie) in their natural surroundings. The ring-tailed lemurs are very social creatures and will often be as curious about you as you are about them!

Day 8: THE GRANDEUR OF ISALO NATIONAL PARK

We leave the highlands and journey South; the road takes us to Isalo National Park, through a striking landscape of granite domes and grasslands. Centuries of wind and rain erosion has whittled the landscape here into a series of deep gorges, wide canyons and bizarre sandstone rock formations, within which nestle palm-lined oases and sprawling grasslands. Isalo National Park is a place for hiking and landscape photography and we will spend the late afternoon visiting the famous "natural window" known as Le Fenestra and its rugged surrounds for landscape photography.

Day 9: ENTER A JURASSIC WORLD AT ISALO
"

This is a full day in Isalo, spent exploring and photographing the awe-inspiring Jurassic sandstone formations in the National Park. We will venture into canyons and dip our toes in cool waterholes, while marvelling at the endemic flora and fauna (the uniquely shaped Pachypodium, aloes and, of course, lemurs).
We finish the day with another sunset shoot in this craggy and dramatic setting, capturing the landscape as it glows in the last light of day.

Day 10: TO THE COAST OF IFATY

We make our way from the rugged settings of Isalo and head for the coast, traveling through high bush, thick forests and a setting dotted with the tombs of the Mahafaly tribe. Here, the landscape is scoured by rivers in which we can view miners panning for emeralds. Our journey takes us through a dry landscape of baobab trees before finishing at the turquoise waters of the coast, at Ifaty on the Straits of Mozambique. We have the evening at leisure, to soak in the atmosphere and perhaps enjoy a dip in the waters of the Straits.

Day 11: IFATY, FISHING VILLAGES AND BAOBAB SPLENDOUR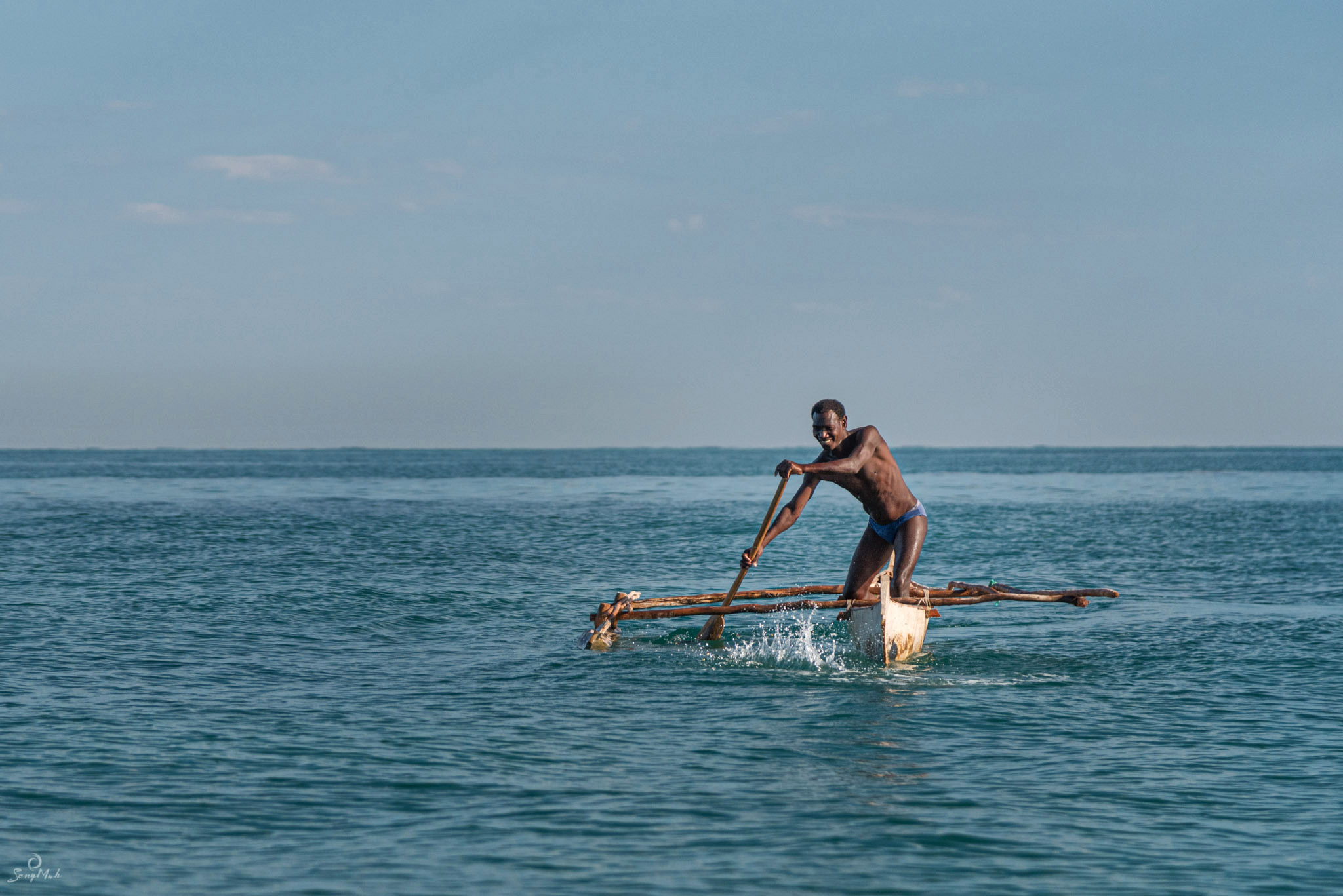 Your day at Ifaty kicks off with a wonderful boat ride on the Mozambique channel as we visit a local fishing village to experience and photograph life there. En route, we'll have a swimming stop, where you'll have the opportunity to dip into the clear, warm waters of the Channel.
The afternoon will be spent at Reniala National Park, a delightful location for photographing the unique plant life of Madagascar, including the baobab and octopus trees. The spectacular boababs with their unusual shapes make for stunning photography at sunset, and we will spend the evening here, photographing this amazing landscape. We will also partake in an amazing farewell dinner in Ifaty, as we wind up our time in Madagascar.

Day 12: GOODBYE AND FAREWELL

This morning, we farewell Ifaty and travel to Tulear, where we board our flight to Antananarivo for our onward journey home, with memories (both real and digital) brimming with our enviable experiences in Madagascar.

Inclusions
Photography guidance and education by professional, award-winning travel and wildlife photographers.
All accommodation in Madagascar (Day 1 to Day 11 inclusive).
Airport transfers on arrival at Madagascar.
All land transport and transfers in Madagascar.
Breakfast, lunch and dinner (Day 1 to Day 11 inclusive).
Domestic flight from Tulear to Antananarivo on Day 12.
The service of local guides and entrance fees to national parks and reserves.
An English-speaking guide.
Tourist levies and VAT.
Exclusions
Visa for entry to Madagascar (which can be obtained at the airport on arrival) - around 35€ for 30 days stay.
Comprehensive travel insurance. All participants are required to take comprehensive travel insurance for this tour. You will need to show proof of travel insurance as a condition of participating in this tour.
Flights to and from Ivato International Airport in Antananarivo, Madagascar.
Accommodation before or after the tour (before Day 1, and after Day 11). This tour finishes on after your flight from Tulear to Tana; we recommend that you reserve at least one night's accommodation at Tana prior to flying home the next day.
Insurance for your photographic equipment while on tour.
Photographic equipment. You will need to bring/supply your own cameras, lenses, tripods, batteries, filters, memory cards and so on.
Alcoholic drinks.
Tips and gratuities.
All personal expenses, including laundry, wi-fi, medication, incidental meals and snacks.
Any transport or activities outside of the tour itinerary.
Tour price
AUD $10,490* twin share for guests who are traveling with a friend or partner and sharing a room.
AUD $11,930* inclusive of single supplement (your own room) during the tour.
(* Please note: Tour price may be subject to change in the event of substantial shifts in the AUD to EURO exchange rate and to changes to the cost of the internal flights outlined in the Tour Inclusions.)
JOIN IN!
Our Agent, Globetrotter, would be happy to assist in booking your international flights, travel insurance and any pre- or post-tour options, such as holidays in Mauritius en-route to/from Madagascar.
If you would like assistance in booking your flights and pre/post-tour experiences, please let us know in the Comments section of the booking form below and we can put you directly in contact with Globetrotter.
A deposit of AUD$2200 will secure you a place on this tour. This deposit is refundable if the tour does not go ahead (we require a minimum of 6 guests to run this tour).
For information on cancellation charges and refunds, please read our Photography Tours Terms and Conditions.