Join us on a journey to vibrant and colourful Morocco, a land of culture, contrast and cuisine! Explore bustling souks, thriving medinas, palatial mosques, desert camps, ancient fortresses and hidden oases. Discover and photograph its landscapes, cities and people – village families and the berbers in the Atlas Mountains and Sahara Desert! This is a dream-trip of a lifetime and one not to be missed!
Tour dates: 18 – 28 September 2019 (11 days)
Tour led by: Seng Mah
Minimum 4 guests. Maximum 6 guests. This tour is suitable for photographers of all levels.
Pace: Easy to moderate.
Price: See below for pricing options.
---
Step into the magical, marvellous world of Morocco on a photography tour that will create lasting memories and brilliant photographs for you. This tour has been designed for both photographers and travellers who would like to experience the many facets of Morocco — from life in the old, vibrant medinas, to time spent in the desert with local villagers and berbers and opportunities to explore the rich and layered history of this stately and commanding country.
You'll enjoy staying in superbly appointed and comfortable hotels, many of them featuring traditional designs and layouts or set within the dunes and swaying palms of an oasis, and experience a luxury desert camp in the middle of the stunning Erg Chebi Desert. To help you with your photography are your mentors, award-winning travel photographer, Seng Mah, and wildlife/nature photographer, Craig Franke, who will be your guide in seeing, visualising and capturing the amazing scenes that unfold each and every day.

Tour Highlights
Day 1: Casablanca
Welcome to Morocco and to the bustling city of Casablanca. Called the "White City", Casablanca is a metropolis where the new mingles with the old, and where modern and traditional Moroccan life exists side by side. Our tour begins in Casablanca, with an afternoon visit to the Hassan II Mosque, a stunning architectural monument that seems part monument and part maze. The largest mosque in Morocco (and the fifth largest in the world), it boasts the world's tallest minaret.
Our accommodation in Casablanca is the Kenzi Basma Hotel located in the centre of the city.

Day 2: Casablanca – Chefchaouen
We begin our journey into the heart of Morocco, with our first destination being the stunning city of Chefchaouen, a fantastic destination for photography. A veritable rabbit warren of blue-washed lanes and street, Chefchouen is ringed by the majestic Rif Mountains, making it one of the most beautiful cities on which to cast your eyes. We will enjoy time exploring the old city with its gorgeous blue buildings, Andalusian-inspired art and remarkable photo opportunities. It's for this reason that Chefchaouen is nicknamed "The Blue Pearl of Morocco".
Our hotel in the "Blue Pearl" is the Lina Ryad and Spa, located in the heart of the city and with a rooftop terrace that overlooks the town medina and with views into the surrounding mountains. For those brave enough, you may book yourself into the hotel hammam for a rigorous scrubbing (great for the skin, apparently).

Day 3: Chefchaouen – Fez
We begin the day with a morning's exploration of Chefchouen's medina, to photograph life unfolding as the day begins. After breakfast, we transfer to Fez, arriving there in the afternoon, where we will have the afternoon at leisure to explore the area around our hotel, the Riad El Amine.
The Riad El Amine is located right in the Fes Medina, so we will be surrounded by markets, stalls and street life, and are within walking distance to monuments and souks. The hotel offers a view of the Palace Gardens and comes complete with a host of amenities, including an indoor swimming pool, massage centre and a hammam.

Day 4: Fez
Our full day in Fez will be spent exploring the many and diverse facets of this ancient, historical city. The Medina of Fez al Bali beckons and we will also explore pottery, dye pits, weaving and the Fes J'did and the mellah (Jewish quarter) of the city. For history buffs, a visit to the Dar Batha Museum and Karouiyine mosque will reveal much about the city's past.

Day 5: Fez – Erfoud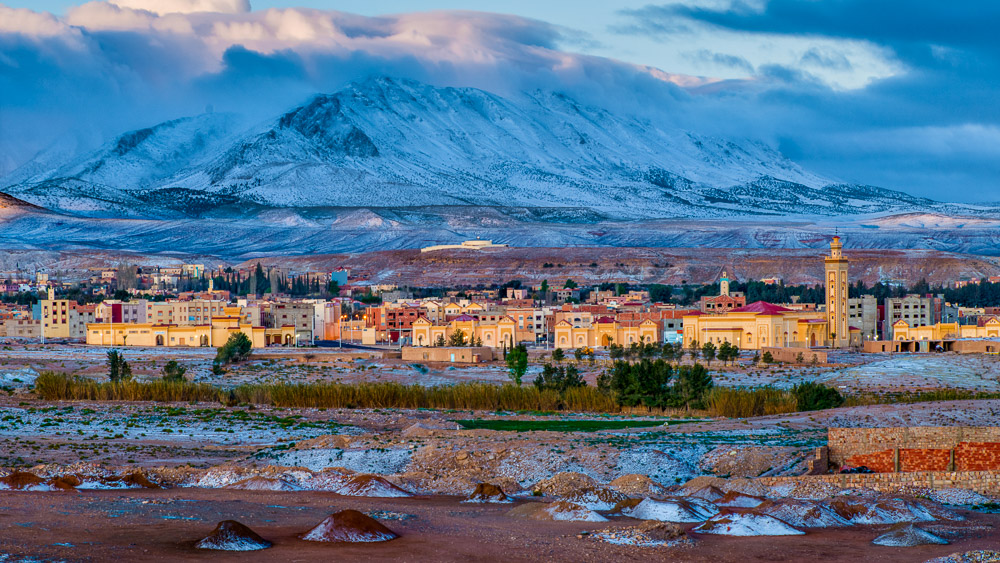 After breakfast you will set out for Erfoud, stopping enroute at Midelt for a break before continuing through the high Atlas Mountains via the Ziz Gorges and Errachidia. We arrive into Erfoud in the late afternoon
One of the largest oases in all of Morocco, this region is famous for its almost one million date palm trees. Known as "the Door to the Desert", Erfoud sits at the entrance to the Sahara Desert and is ringed by the desert on one side and the massive Atlas Mountains on the other.
In Erfoud, we stay in a kasbah (a desert fortress), the Kasbah Xaluca Erfoud. This hotel is set among the dunes and palms and is built with adobes, traditional Moroccan building bricks.

Day 6: Erfoud – Merzouga
After breakfast at the hotel, we will board a 4×4 to visit the fossilized marble factory. Then, we embark on a 12 kilometre loop of Rissani's famed palmeraie and a glimpse of life as it is lived on the edge of the desert. This drive takes you past several ruined ksours (or castles) like Ksar Qulad Abdlhalim and the scant ruins of the fabled city of Sijilmassa. Some sections of the road can be a bit bumpy, but what an adventure this will be!
We end the drive in Merzouga and continue to our desert camp for the night where we will be served a Berber dinner under the stars and have a sunset experience in the desert with the local Berbers.
Our accommodation, the Merzouga Luxury Desert Camp, is located in the middle of the Erg Chebi Desert. The desert's clear skies, sparkling vistas and huge dunes can be enjoyed from this desert camp. Each Haima (traditional tent), is made of camel skin and is equipped with en-suite facilities, wall-to-wall rugs, solar powered lighting and handcrafted furniture.

Day 7: Merzouga – Ouarzazate
We wake up early to photograph the sunrise over the dunes of the Sahara Desert. After breakfast, we board our 4x4s for our return journey to Erfoud, where we transfer to Ouarzazate. Our journey will take us through the scenic Todra Gorges and the Dades Valley. We will see Kasbahs (fortresses) and wild roses, and along the way we will stop at a date oasis and take a walk through one the Kasbahs before arriving at your hotel in Ouarzazate, the Le Berbere Palace.

Day 8: Ouarzazate – Marrakech
After breakfast, we transfer to Marrakech via the Tizin'Tichka Pass, a road that will take us through the High Atlas Mountains. The views from this journey are stunning as you gaze across the rugged mountainous landscapes that form the gateway to the Sahara Desert.
En-route we will visit Kasbah Taourirt which is one one of the most significant kasbahs of the area and the stronghold of the Glaoui chiefs in the 1930s. We will also visit the UNESCO-restored kasbah of Ait Ben Haddou which has been used as a setting in many classic movies.
Our hotel in Marrakech is the Les Jardins De La Medina, located in the heart of Marrakech. Nestled in the ancient Kasbah district of the Medina, this hotel gives us easy access to the sights, sounds and experiences to be had in the medina.

Day 9: Marrakech
Our day in Marrakech will be a busy one, with a full day's exploration of this thriving, vibrant city. We will explore the souk and Djemâa El Fna Square, and visit the beautiful settings of the Majorelle Gardens and El Bahia Palace.

Day 10: Toubkal National Park
Our last full day of this tour is dedicated to an off-the-beaten path experience which will take us to the Toubkal National Park for a couple of hours of trekking with a local guide and muleteers. This is "ground-level" experience that offers stunning views of the Atlas Mountains.
Our first stop en route to Toubkal is the village of Imlil. En-route we will stop at a Berber village and visit a local family which will give you an opportunity to chat about their daily routine and participate in a mint tea making ceremony.
On arrival in Imlil we will meet the guide and muleteers and start your trek. We will follow the course of the Reraya River, passing the village of Aremd and cross over to the other side of the Ait Mizane Valley returning to the Kasbah du Toubkal for lunch. Our trekking time will be approximately two hours.
After lunch, we will transfer back to Marrakach, arriving in the late afternoon, where you will have leisure time to shop, partake in some street photography or just relax at the Les Jardins De La Medina.

Day 11: Return to Casablanca
The last day of our tour sees us transfer from Marrakech back to Casablanca (about three hours), with our hearts and memories full from an amazing 10 days of travel, adventure, discovery and photography.

Tour Inclusions
All accommodation during the tour as outlined in the Highlights above.
English-speaking guide from Day 1 to Day 11.
Travel in a 14-seater minivan with driver from Day 1 to Day 11.
Breakfasts at all hotels.
Dinners at Erfoud, Ouarzazate and the Merzouga Luxury Desert Camp.
Lunch at the Kasbah du Toubkal (mountain trekking).
Desert sunset experience with the Berbers.
Entrance fees to all monuments and museums listed in the Highlights above (single entry).
Photographic guidance and mentoring.
All day tours and activities as listed in the Highlights above.
Tour Exclusions
Flights to and from Casablanca. Our agent at Globetrotter Lifestyle that can help you book your flights – see below for more information.
Comprehensive travel insurance. All participants are required to take comprehensive travel insurance for this tour. You will need to show proof of travel insurance as a condition of participating in this tour.
Australian citizens do not need a visa to enter and stay in Morocco for less than 3 months. If you are visiting from another country, check with your local consulate re: visa requirement for Morocco.
Photographic equipment. You will need to bring/supply your own cameras, lenses, tripods, batteries, filters, memory cards and so on.
Insurance for your photographic equipment while on tour.
Meals and beverages outside those listed in the Inclusions above.
Tips and gratuities.
All personal expenses and fees, including laundry, wi-fi, medication, incidental meals and snacks.
Any transport and fees outside of the tour itinerary.
Tour Price
AUD$8395* per person twin share for guests traveling with a friend or partner who is also a paying guest and participating photographer. Non-photographer friends/partners are welcome: If your accompanying friend or partner is a non-photographer, please contact us for the special price for non-photographers.
A single supplement of AUD$1595* for guests requesting their own room or who are not travelling with another paying guest.
(* Please note: price may be subject to change in the event of substantial shifts in the AUD to USD exchange rate and to changes to the cost of the internal flights outlined in the Tour Inclusions.)

Need help with flights and other travel requirements?
Our Agent, Globetrotter, would be happy to assist in booking your international flights, travel insurance offering a 20% discount off policy cost (subject to terms and conditions of policy provider) and other travel requirements. If you would like assistance from Globetrotter, please let us know in the Comments section of the booking form below and we can put you directly in contact with Lori Burns at Globetrotter.

Book Your Place
A deposit of AUD$2000 will secure your place on this tour with the balance paid by 30 May 2019. Note that deposits are fully refunded if the tour is cancelled due to not attaining minimum numbers.
* Please note that a credit card service fee may be charged if you are paying via credit card.
For details of the Terms and Conditions of our tours, including cancellation charges, please read our Photography Tours Terms and Conditions.
To join this tour or contact us with your questions, please use the form below or email seng [at] venturephotography.com.au or telephone 0417 604 614.