Explore the unique landscapes of New Zealand's West Coast and Southern Alps in this photography tour that takes you to the South Island's glacial valleys, impossibly blue streams, primeval lakes, impressive waterfalls and the pristine majesty of the Southern Alps!
Tour dates: 6 – 13 September 2020
Tour length: 8 days
Led by: Ty Stedman
Minimum 6 guests. Maximum 8 guests.
This tour begins and finishes in Christchurch.
Pace: Easy to moderate. Some locations will require hiking (along graded tracks) of between 20 minutes to 50 minutes each way.
---
New Zealand's West Coast of the South Island is a remarkable landscape rich in amazing photographic potential!
Join internationally awarded landscape photographer, Ty Stedman, for a tour that takes you across the hinterland of the South Island on the Trans Alpine route, where you'll discover the rugged highland country of Arthur's Pass, before exploring the unique environments of the wild West Coast.
Here, the Tasman Sea carves a landscape of isolated beaches and sea stacks, while ancient glaciers sculpt deep valleys and still lakes surrounded by craggy peaks and lush rainforests. Your photographic journey takes you to the awe-inspiring heights of the Southern Alps and the Mount Cook region, where icebergs calved from glaciers float on glacial lakes and where you'll find the unmistakable peak of Mount Cook – called Aoraki, the cloud-piercer, takes centre stage in the sky.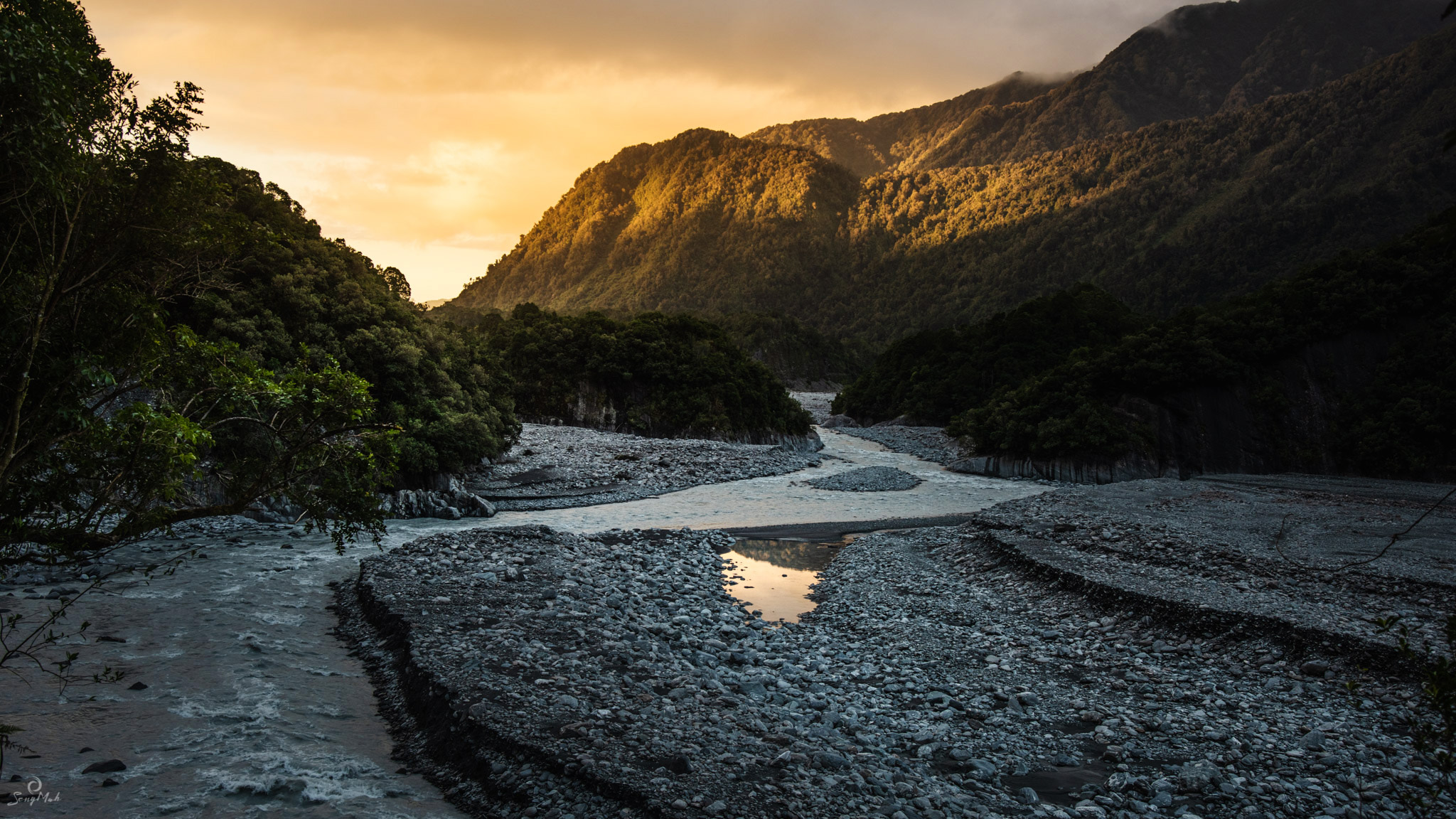 This eight-day photography tour has been designed to showcase the diversity and richness of New Zealand's landscape, sculpted by eons of glacial and tectonic forces to create scenes that often beggar the imagination.
We will be maximising photographic opportunities by "chasing the light" from sun up to sun down at breathtaking locations. Unlike other photography tours where you may be shown a location and left to your own devices, Ty will be at hand to help you make the most of your experience and to show you how you can refine your camera craft to shoot the best images you can get both in-camera and in post-production. We want you to be completely fulfilled photographically in this tour!
We know that travel is more than just photography; it's also about enjoying the experience and getting to know the country in a more personally enriching way. So, we have included a selected range of experiences for you, including a scenic flight over mountains, a hot springs soak in Franz Josef and — as an optional extra — a glacier heli hike where you'll have the once-in-a-lifetime experience of flying and landing on the Franz Josef Glacier and going on a hike on the ice!
View the key highlights of this tour below!

HIGHLIGHTS
Day 1: Across the South Island
Your photographic adventure of New Zealand begins with a pick-up at your hotel in Christchurch, where you'll join other photographers on a journey across South Island on the Trans Alpine route. This takes us through high country of hills and vales and braided rivers, with stops at famous Castle Hill and Devil's Punchbowl Falls in Arthur's Pass. This is a land of stark contrasts — cold rainforests, alpine landscapes and verdant valleys. We will traverse mountains as you cross the South Island, finishing in the town of Hokitika with a sunset shoot across Lake Mahinapua.
Day 2: The West Coast
Our journey on the West Coast of New Zealand's South Island begins, as we explore the highlights of this rugged region, including the eye-catchingly blue waters of Hokitika Gorge, and scenic Lake Iolanthe. Our destination is Fox Glacier, where we will spend sunset at beautiful Lake Matheson, photographing the Southern Alps reflected in the mirror-like surface of the lake.
Day 3: Glacier Country
Today, we explore glaciers!
A Glacier Heli Hike tour is available as an optional extra for photographers keen to enjoy a truly epic experience! You'll board a helicopter and fly to a glacial landing on Franz Josef Glacier. Here, we'll embark on a hike across glacial ice, in a breath taking experience that takes you close to the icy peaks of this massive glacier. Look for ice crevasses and the vibrant hues of glacial blue ice!
For those who prefer more grounded adventures, we will explore the Franz Josef Glacier valley, a landscape of rugged cliffs and icy rivers carved by the slowly retreating glacier. You'll discover waterfalls and small icebergs as you hike along the valley, surrounded by ancient mountains and the view of the Franz Josef Glacier terminus.
After a well and truly epic morning, we will spend the afternoon soaking in the hot springs of Franz Josef, finding time to relax and to soothe weary muscles.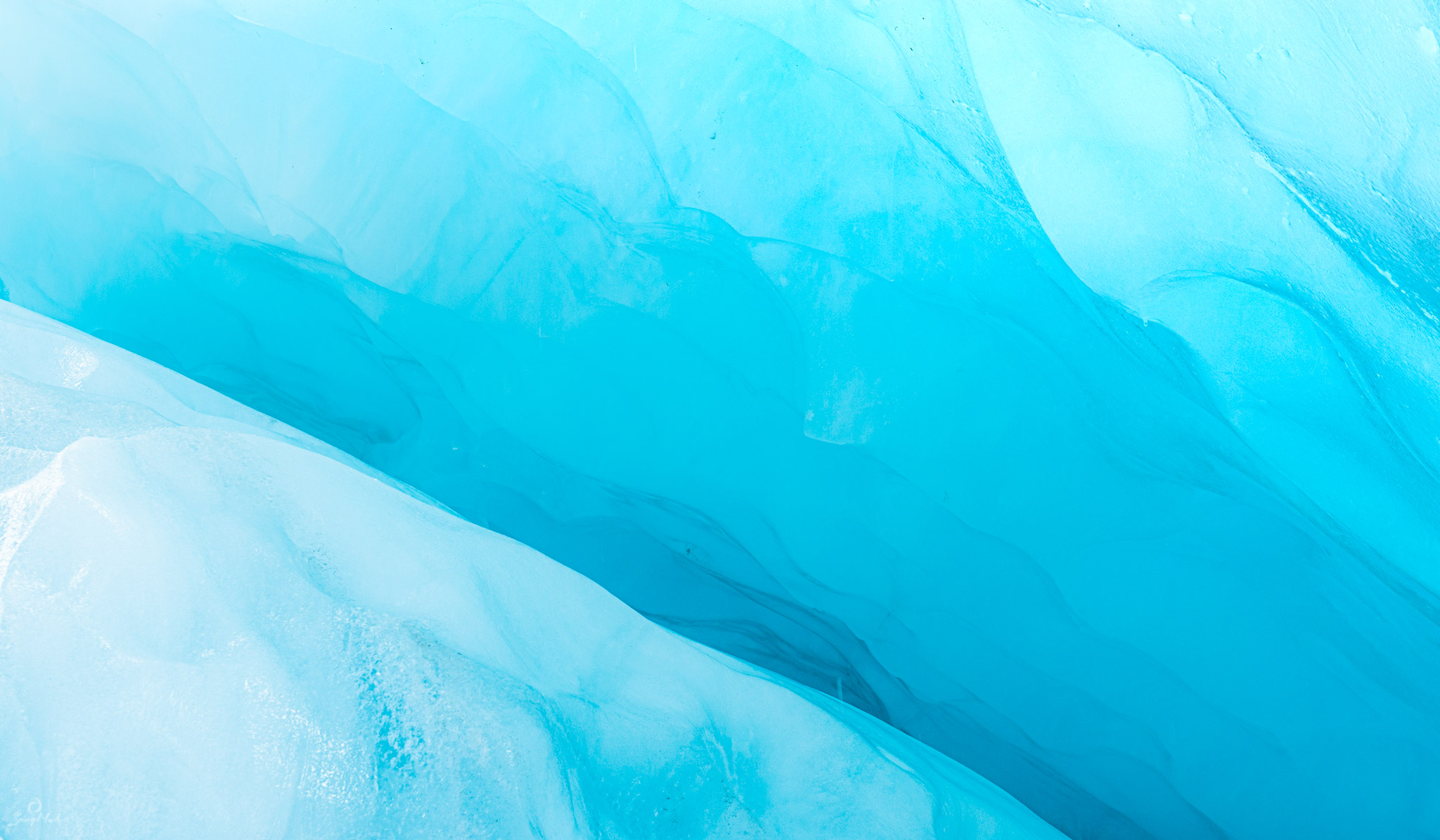 Day 4: Peaceful Lakes and Rugged Coastlines
We continue our adventure along the West Coast, beginning with a sunrise shoot at beautiful Lake Mapourika near Franz Josef. Our journey takes us south along the coast, where we will have the opportunity to photograph Lake Paringa and to see and photograph the wild coastlines from various lookouts. Our destination is the small town of Haast on the coast, where we finish the day with a sunset shoot at Haast Beach — a wild and wooly beach covered with the skeletal remnants of trees washed to the coast by winter storms and floods. This is a setting with much potential for interesting, dramatic and artistic compositions, and you'll truly appreciate why the New Zealanders hold the West Coast with such awe.
Day 5: Waterfalls Galore, and sunset at Lake Wanaka.
The West Coast of New Zealand's South Island receives much rain, which translates into a landscape rich with waterfalls and cataracts. We will be photographing a number of falls, including Thundercreek Falls and Fantail Falls. We will also embark on a hike through beautiful country to find the Blue Pools — which, as its name implies, is full of impossibly blue, crystal clear water!
Our journey to the West Coast ends later this day, as we delve inland to Lake Hawea and then to Lake Wanaka, home of the famous "Wanaka Tree". Our sunset shoot later in the afternoon is on the shores of Lake Wanaka. Weather permitting, we will also photograph the Milky Way above Lake Wanaka – either later in the night, or early at pre-dawn.
Day 6 – 7: The Wanaka Tree and Into the Mountains
Sunrise sees us on the shores of Lake Wanaka to photograph the Wanaka Tree and the mountains around the lake as they are lit by the light of the rising sun. From Wanaka, we head for the Southern Alps. We will go through the magnificent Lindis Pass, which presents a dramatic landscape for photography, before arriving at Aoraki Mount Cook.
Mt Cook is one of the most majestic places in the South Island and an absolute paradise for photographers. We'll be based in the Mount Cook area for two nights, which gives us plenty of opportunity to explore and photograph the mountains from various vantage points, including Peter's Lookout, which provides a view towards the mountains across the gorgeous expanse of Lake Pukaki, Kea Point, White Horse Hill Campsite, the Hooker Valley Track and Tasman Lake, where you'll be able to photograph Mount Cook across the roaring Hooker River. Mount Cook is also a "dark sky" region, which means that there will be opportunities for us to look for and photograph the Milky Way in the mountains.
Day 8: Lake Pukaki, Flight Above the Glaciers, Lake Tekapo and Return to Christchurch
The final day of our photography tour sees us take the cross-country route where we will be able to view and photograph the Southern Alps across the rich blue waters of Lake Pukaki. We will also stop at Lake Tekapo where you're in for a very special treat — a scenic flight above the glaciers! This flight will give you a bird's eye view of the amazing aerial landscape of the glaciers and peaks of the Southern Alps! Surely a memorable experience!
We spend some time in Lake Tekapo after the flight, taking in the famous and much-photographed Church of the Good Shepherd on the shores of the Lake, where we will take the opportunity to capture the stunning setting of the lake surrounded by mountains of the high Mackenzie Country.
After Lake Tekapo, we make our return to Christchurch, where you will be dropped off at your Christchurch hotel or the airport for your onward travel.

WHAT'S INCLUDED
Land transport via mini bus during the tour.
National park entry fees and concessions.
All accommodation during the tour.
Photographic tuition and guidance during the tour.
Glacier Hot Springs experience at Franz Josef.
Scenic Flight at Lake Tekapo.
Glacier Heli Hike Tour Option: Enjoy a breath-taking helicopter landing on Franz Josef Glacier, where you will have the opportunity to hike on glacial ice, taking in the awe-inspiring glacial landscape and search for blue glacial ice! Experience up to two hours with a glacier guide on the ice! Price: $485
To include the Glacier Heli-hike as part of your tour, just select this option in the booking form below.

EXCLUSIONS
Flights to and from Christchurch, New Zealand.
Transfers to/from airports.
Meals and drinks during the tour.
Travel insurance. All participants are required to take comprehensive travel insurance for this tour. You will need to show proof of travel insurance as a condition of participating in this tour.
Photographic equipment. You will need to bring/supply your own cameras, lenses, tripods, batteries, filters, memory cards and so on.
Personal expenses, including laundry, wi-fi and medication.
Any transport or activities outside of the tour itinerary.
PRICE OF THE TOUR
AUD$5980 twin share for guests travelling with a friend or partner who is also a paying guest and participating photographer. Non-photographer friends/partners are welcome: If your accompanying friend or partner is a non-photographer, please contact us for the special price for non-photographers.
A single supplement addition of AUD$640 for guests requesting their own room or who are not travelling with another paying guest.
BOOK YOUR PLACE
A deposit of AUD$1500 will secure you a place on this tour. This deposit is refundable if the tour is cancelled by the organiser (we require a minimum of 6 guests to run this tour).
Final payment of the balance is due by 15 July 2020.
For details of the Terms and Conditions of our tours, including cancellation charges, please read our Photography Tours Terms and Conditions.
To join this tour or contact us with your questions, please use the form below or email seng [at] venturephotography.com.au or telephone 0417 604 614.