Tamron's Monster 150-600mm f5.0-6.3VC Reviewed
Tamron takes a big (pun intended) step into the telephoto zoom lens arena with their new 150-600mm f5.0-6.3 VC lens. It replaces the older Tamron 200-500mm and buck for buck, the lens competes with the more established Sigma 150-500mm OS. Question – is it a worthy competitor in the telephoto zoom stakes?
Short answer: Absolutely and so much more.
The Tamron 150-600mm has the longest reach in its class – at 600mm it offers a 4°8′ angle of view on a full frame sensor and 2°40′ on a crop frame; on a crop sensor, this takes your equivalent 35mm focal length to 900mm (on a 1.5x crop) or 930mm (on a 1.6x crop). The good news is that it performs well even at 600mm – images of birdlife below were often taken at full 600mm telephoto with little degradation in image quality (the images were shot at around f6.3 – f8.0). Clearly, Tamron's low dispersion lens technology has come to the fore here, affording cleaner, crisper images even at the long end of the lens.
The 150-600mm performs well on autofocus; it tracks focus quickly and seamlessly for its class and far outdoes the Sigma 150-500mm in this area. I had the opportunity to shoot the Tamron on a Canon 1DX and 5D Mark III and it performed beautifully with the Canon's AI Servo and Zone Auto Focus. Wildlife photographers will rejoice in the greater reach and autofocus performance of the Tamron 150-600mm when coupled with cameras sporting advanced AF features (essentially a greater array of AF points and Zone Focusing / AF Tracking). The AF is very quiet, which can be a bonus for photographers who are chasing noise-sensitive subjects.
Tamron's vibration compensation (VC) has always impressed me since I reviewed the 24-70mm f2.8 VC and the VC in the 150-600mm lives up to this reputation. The images below were taken hand held at up to several stops below reasonable hand-held shutter speed with only minor softening of the image:
600mm, 1/200 hand held, 100% crop

600mm, 1/80 hand held, 100% crop
Like most telephoto zooms, the 150-600mm is a solidly built monster, weighing in at close to 2kg (with removable tripod mount). Attached to a worthy camera, the combination will give your arms a good muscle work out. It present well, with a slick, polished finish. Like most of its class, it sports switches for AF/MF, Vibration Compensation (VC) and a focus distance and zoom lock. The manual focus ring is located closer to the camera-end of the lens, with the zoom ring at the further end, which is opposite to most mid-range zoom lenses, so may take some getting used to if this is your first telephoto zoom. Annoyingly, the location of the AF/MF switch makes it very easy to accidentally switch it from AF to MF; a better design would have placed it out of reach of fingers handling the lens or made the switch a little tighter, so that a little more effort was required to switch between auto and manual focus.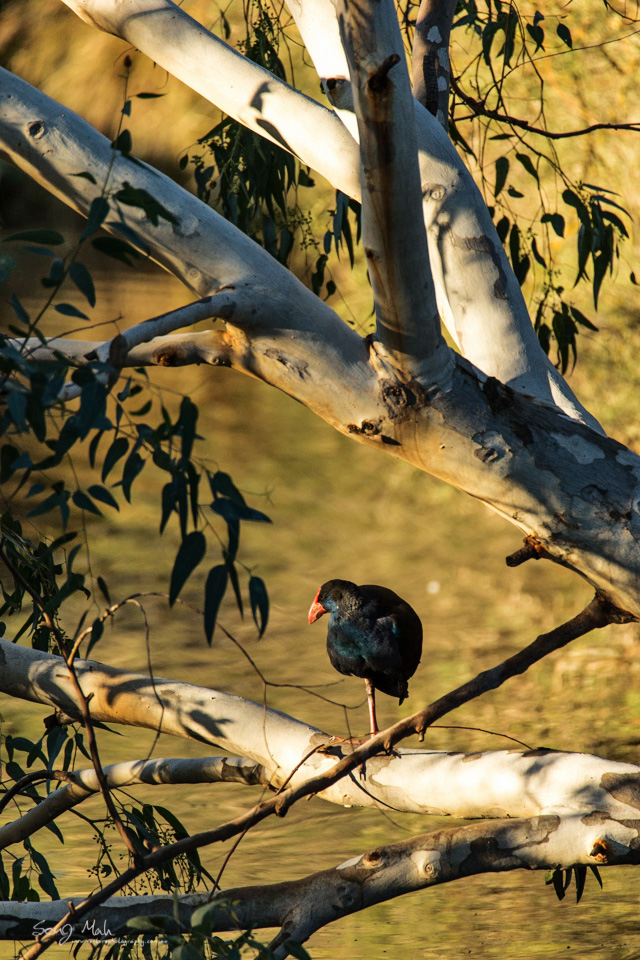 Clearly, the Tamron 150-600mm has been designed for wildlife and sports photographers who have been hankering for a 600mm reach. At f6.3 widest aperture at 600mm however, you will want your subject well-lit to obtain the kinds of shutter speeds required when shooting sports action or moving wildlife. I photographed wildlife in late afternoon light and in the shade at f6.3 and had to ramp the ISO up to around 1600 and 3200 in some instances to obtain the shutter speeds required to catch them in motion. If you're looking for an ultra telephoto that can open wider, it's best to save your pennies and look at the 200-400mm f4.0, 400mm f2.8 or 500mm f4.0 lenses (which are easily within 4-6 times the price of the Tamron 150-600mm).

Continuous autofocus with the Tamron 150-600mm.
I couldn't find an athlete so had my mate, Glenn, walk briskly towards the camera. 🙂
Hands-on, the Tamron 150-600mm is a clear winner above its Sigma and older Canon and Nikon brethren. I'd recommend it over the established Canon 100-400mm any day, and its extra +200mm reach makes it a serious contender for the new Nikon 80-400mm f/4.5-5.6G lens. It's definitely a lens I'd recommend for anyone looking for a serious ultra telephoto zoom for wildlife and sports (and it would have been a great addition to my kit when I was on safari in Kenya, had I the opportunity to test it then).
It performs best when kitted with a high-performance DSLR body (either APS or APS-C) that boasts Zone Focusing (Dynamic Autofocus), a large array of focus points and great high ISO performance (eg. Canon 70D, 5D Mark III, 1DX; Nikon D7100, D610, D800/E, 1D3s, 1D4/s).
The Tamron 150-600mm's price point puts it well within the range of the serious enthusiast looking for a quality ultra telephoto lens that will not break their budget and does not require the kind of financial commitment (and re-mortgaging of your property) of the 400mm f2.8 and 500mm f4.0 primes. It is a bit more expensive than it's Sigma competitor, but the price difference is well worth it for the extended reach and superior AF performance.
The 150-600mm completes Tamron's winning streak. Along with the 24-70mm f2.8VC and the 70-200mm f2.8VC, it completes the Tamron Holy Trinity of lenses.
Acknowledgment: Thanks to the guys and gals of Team Digital for the Tamron 150-600mm VC used in this review. If this review has convinced you to add this lens to your collection, please contact Ben, Jenny or Trevor at Team Digital – they're the friendliest and most supportive camera retailers in Perth.
Specs:
Compatible with full frame (APS) and crop frame (APS-C) digital SLRs.
Available with Nikon, Canon and Sony mount.
Maximum aperture: f/5.0-6.4
Minimum aperture: f32.0-40.0
Minimum focusing distance: 2.7m
Weight: 1.95kg